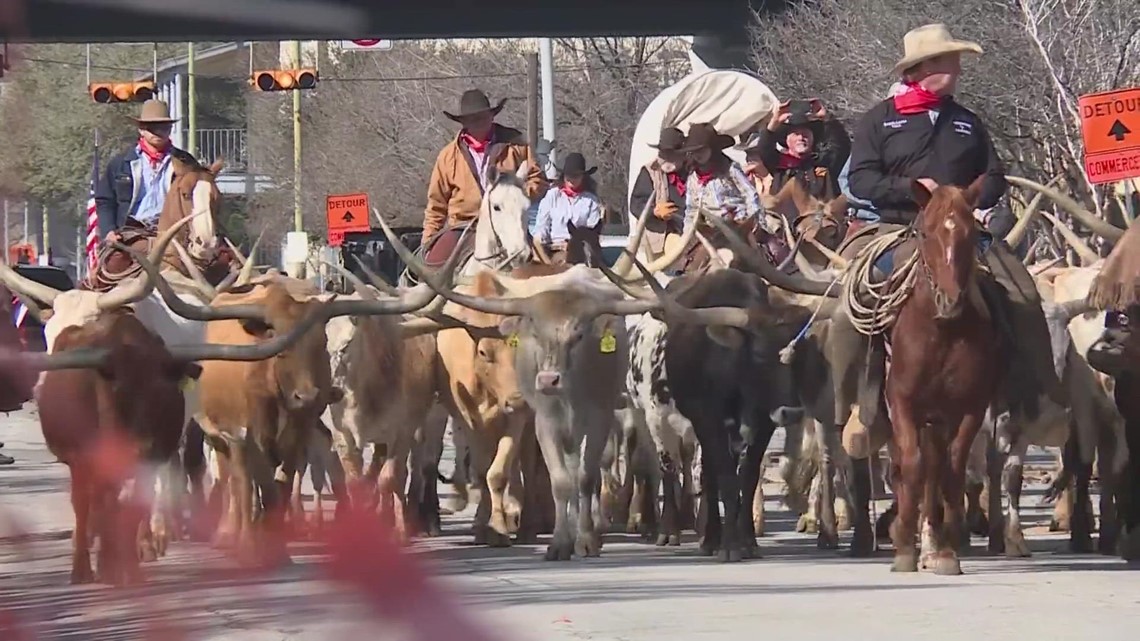 The San Antonio Stock Show and Rodeo kicked off their livestock events with a parade and cattle drive Saturday morning.
SAN ANTONIO — Livestock events for the 2023 San Antonio Stock Show and Rodeo kicked off Saturday Morning with the Western Heritage Parade and Cattle Drive. Mounted deputies from the Bexar County Sheriff's Office were in attendance as well as Texas A&M Parson's Mounted Cavalry and the Texas Heritage Riders.
The Kimble Cattle company provided Iconic Texas longhorn cattle for the cattle drive event. Co-owner Scott Kimble told KENS 5 they worked hard to bring a heard of 200 cattle that would stay calm on the San Antonio streets. Kimble has worked in the event for at least seven years. He said the best part is being able to show off his livestock to kids who have never been that close before.
"Most people have never seen longhorns. As we were driving up, people were taking pictures in the trailer," Kimble said. "To see the expression on the people's faces when they have never seen stock, never smelled a cow, never heard a cow…they will be in touching distance."
Kimble said their were almost no motorized vehicles in the parade to make it as historically accurate as possible.
The Texas A&M Parsons Mounted Cavalry also participated in the event and brought cavalry soldiers, a covered wagon, and horse-towed artillery. Parsons Cavalry Section Officer Chris Arrasmith said it was a privilege to take part and show off Texas history.
"This town was created, and fought, in the battle of the Alamo. Remembering all that military history and seeing these artillery pieces roll though town, it just really brings out what San Antonio was created on," Arrasmith said.
Arrasmith told KENS 5 he has visited the Alamo ever time he's been to San Antonio.
"I've been raised in Texas all my life so it's good to make that pilgrimage every so often and come down and see the history that we fought for. To me, it's a sense of pride," Arrasmith said.
San Antonio Parent Monica Knolls has been to the parade events multiple times and is bringing her young children. Knolls said it was a great way to show her kids Texas history.
"San Antonio is full of great history, Texas history, I want my kids to be surrounded by that and be really proud of being from San Antonio," Knolls said. "I think it's a great history lesson for the kids and something they can see every year."