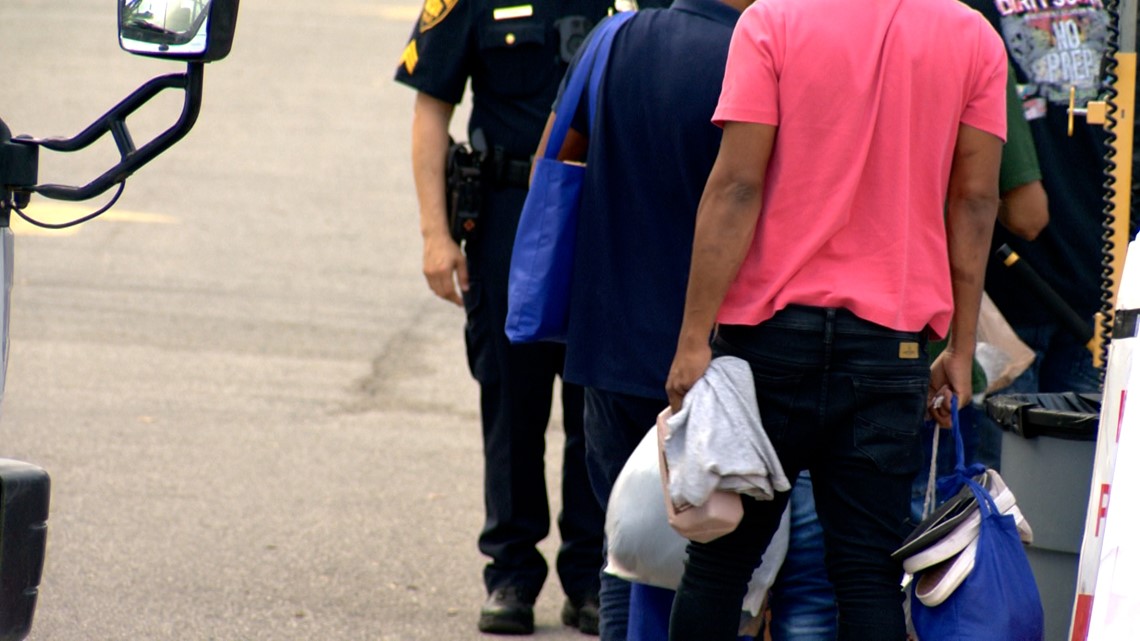 With Title 42 set to end one week from Thursday, San Antonio is bracing for a surge of migrants. KENS 5 asked the city about their plan moving forward.
SAN ANTONIO — All eyes are on the U.S.-Mexico border as Title 42 is set to expire in one week, on May 11—and in San Antonio, volunteers and city officials are bracing for a surge in migrants.
City officials tell KENS 5 the Migrant Resource Center at 7000 San Pedro is already over capacity. And, they say, the number of migrants at the center and the airport has quadrupled in recent days.
Administrators say what's complicating this situation even more is that most people arriving at the Migrant Resource Center don't have a ticket to get to their host city either by bus or train. Many don't have a sponsor to pay for their travel, either.
"I came here by myself," said Manuel Román, who traveled to the United States from Colombia.
Román says San Antonio's Migrant Resource Center was talked about often during his journey here. Most migrants refer to the center as siete mil, or "7000," after the facility's address.
"We can bathe here, they treat us very well here at this center, 7000," said Román. "I am so grateful for this city."
When asked about the situation at the border right now, Román says the facilities are bursting at the seams.
"There are so many people coming in, the shelters are completely full of people of all nationalities, from so many countries," Román explained.
His flight to Orlando is set for Saturday morning.
"We all came here with the same dream, with the same goal: To be in this marvelous country, that, thanks to the Lord, opened doors for us, and to continue to help our families."
Pedro Pacheco and Anthony Mendoza traveled to the United States from Venezuela. Pacheco from Valencia en route to New York, and Mendoza from Caracas en route to Miami.
Both say they can't walk freely in the streets of Venezuela.
"Every day it gets worse there," Mendoza explained.
As both made their way to the United States, they say they experienced horrific conditions traveling through the jungle for five days. They also witnessed the deaths of children.
"There are a lot of kids trying to come here too, many people with disabilities," said Mendoza. "A boy drowned crossing the river. Nothing about it was on the news, no one talked about it."
In addition to the physical hardships of migrating to the United States, Mendoza explained the difficulties using US Customs and Border Protection's application site to make a court appointment. He says the site won't allow him to schedule an appointment, on top of other technical issues he's experienced.
"You always here 'The American Dream' and you can feel it," said Mendoza. "From the moment I stepped foot here, I could feel it."
In a statement from the City of San Antonio, when asked about the effects of Title 42's end, they said:
"This situation [at our shelter] is not sustainable and continued funding from the federal government is uncertain. The City, in collaboration with Catholic Charities, will continue to operate the center at capacity for as long as it is able, yet without federal funding, its long-term operations is unknown. San Antonio must balance compassion with limited capacity."
Friday, Congressman Henry Cuellar will host a joint press conference with J. Antonio Fernandez, the President & CEO of Catholic Charities. They will discuss Title 42.
It's set for 10 am. at Catholic Charities. Stay tuned for coverage on KENS 5.
Original News Source

Running For Office? Conservative Campaign Management – Election Day Strategies!