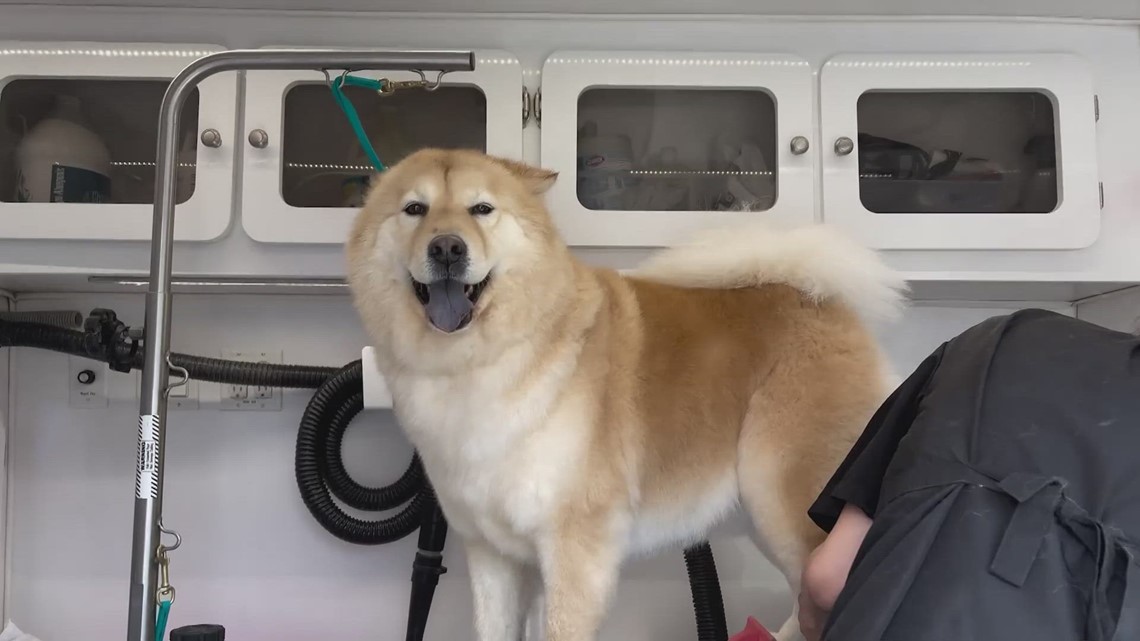 Why go to the groomer when the groomer can come to you? One San Antonio business woman asked that same question, then got to work.
SAN ANTONIO — We all love our pups but sometimes they get to looking a little 'ruff'. A local dog grooming business is making keeping your pet kempt, convenient.
Pup Town Spaw, a mobile dog grooming business caters to pet owners by coming to them.
They say their mobile salon is fully equipped to provide a full grooming service with a hydrotherapy bath with soft water, natural shampoo and conditioner, teeth brushing and more.
Priscilla Coral, the owner, says that mobile grooming is a win-win for both the pet and the owner.
"Pup Town Spaw is a mobile pet grooming business. So, we come out and pamper the pets at the customer's home. It's convenient, it's less anxiety for the dog. So, less stressful for both of them really."
Lucky, the Chow Chow mix, has been getting groomed at the mobile spa for about a year, it happened because her owner followed their groomer of several years to Pup Town. Now, they love it.
"I've actually used her for about three to four years. She is very patient with me. I am very picky. She was very patient with me, she knew what I liked, she talked to me how I wanted," Lisa Ho said.
In the event that you have more than one pet, Pup Town Spaw can take two pets inside their salon. They also groom our senior furry friends, disabled pets or our spoiled furry friends.
The Spaw Packages includes the following as mentioned on their website:
Hydrotherapy bath with soft and filtered warm water
Natural shampoo
Tearless shampoo for the face
Leave in conditioner
Blow dry
Gentle brush out
Professional nail trim
Clean up of sanitary area
Light trim of hocks, paw pads and pads
Gentle ear cleaning
Spritz with fragrance
Bow or bandana
Dog baths for short hair dogs start at $70 and increase to $80 for long-haired dogs.
For cats, the costs start at $95.
There are additional costs as well for example, if your pet is aggressive and requires more than one groomer.
Military members get a free upgrade of either nail grinding, teeth brushing or an upgraded shampooing.
There is a charge to go to someone's house, and the website says that is usually around $25.
Regardless of what you choose, community support benefits everyone, Coral says.
"I would say support small businesses most definitely. Whether you use us or not, mobile pet grooming is a wonderful experience for the pet," Coral says.