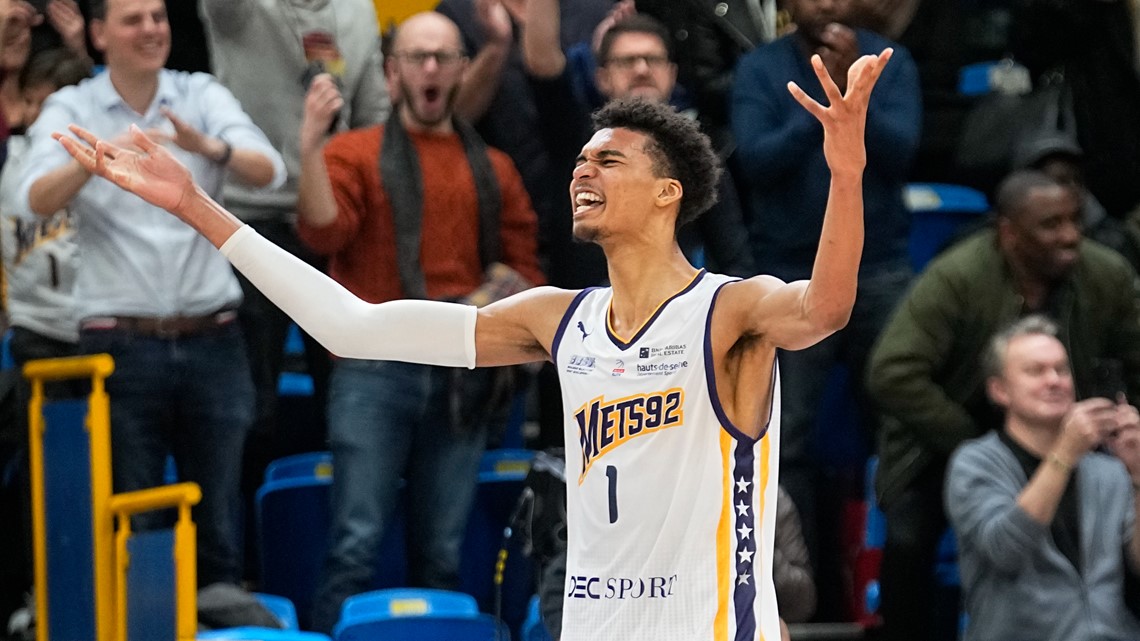 The 7-foot-5-inch French phenom is widely regarded as the best prospect since LeBron James, who called the 19-year-old "an alien."
SAN ANTONIO — The Spurs won the NBA Draft Lottery on Tuesday night, and with it the right to bring generational talent Victor Wembanyama to San Antonio.
The French phenom is widely regarded as the best draft prospect in the 20 years since LeBron James came out of high school. The league has simply never seen a player 7 foot, 4 inches or taller with a skillset as strong and diverse as Wembanyama's.
The 19-year-old uses all of his size to maximum effect on both ends of the floor. He does traditional big man things like protecting the rim and finishing inside, but he can also handle the rock, shoot a bit and defend in space. He averages over 21 points, 10 rebounds and 3 blocks per game for Metropolitans 92, but he's the consensus top pick in a talented draft class because of how he does it.
In every game he played in France this season, Wembanyama did something that seemed impossible and reminded fans just how special he is. LeBron said in the beginning of the year that everyone talks about the "unicorn" big men who have diverse skillsets, but Wembanyama is more like an alien.
The Spurs just finished one of their worst seasons ever at 22-60, but that gave them the best possible odds at landing the top pick.
Still, that's only a 14% chance. When the ping-pong balls bounced the right way Tuesday night, it was without exaggeration one of the most fortunate things that has ever happened to a San Antonio team that has won five titles. Before any banners were hung, they used a couple of No. 1 picks on a couple of the greatest big men in basketball history.
Most of the basketball world agrees that Wembanyama can and should be one of the best of all time unless injuries derail his career. That sort of hype breeds expectations, and San Antonio now hopes the young Frenchman can lead the Spurs back to contention.
Wembanyama won't instantly make the Spurs a favorite, but his arrival would have an immediate impact. After a brutal season with one game on national TV, San Antonio is officially back on the map with a compelling cornerstone.
Basketball fans and media across the world will fixate on his rookie season. It will be much easier to sell tickets and merch. And it will be easier to sell quality free agents on joining the team. One business expert estimated that the team lucky enough to draft Wemby would gain a half a billion dollars in value.
This is because he's an incredible basketball player, the kind who can win rings and even anchor a dynasty. If that happens, and how quickly that happens, depends on a few things. How quickly can Wembanyama impact winning in the NBA? How quickly can the Spurs build a contender around him? Can he avoid the knee, ankle, and back problems that often impact players his size?
Wembanyama has been durable this season, and keeping him healthy will likely become the primary focus for a team of people in San Antonio.
There are no guarantees, and the Spurs still need a lot of hard work and luck to return to championship glory. But on Tuesday night, the basketball gods smiled on the Alamo City once again.
Bienvenue à San Antonio, Victor.
[embedded content]
Original News Source

Running For Office? Conservative Campaign Management – Election Day Strategies!