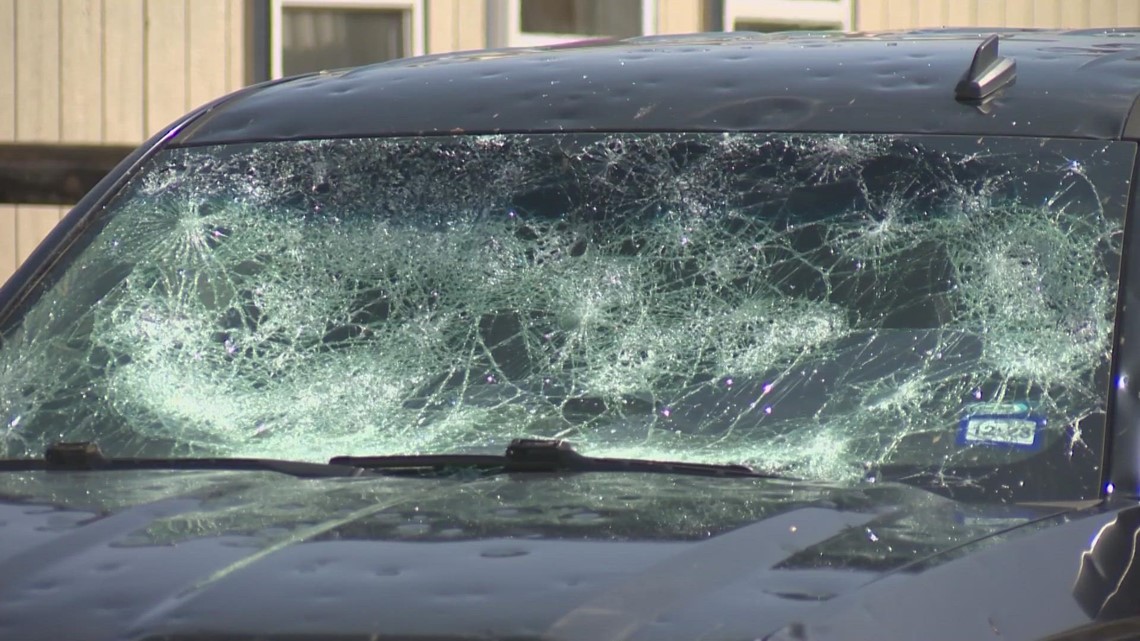 Large hail damaged roofs, shattered windows and destroyed siding on homes.
Emergency Management Officials are going door to door in the Hilltop subdivision in Dilley to about 75 to 100 homes to assess damage to see what residents may need. People are still in shock after the devastating hailstorm.
Vicente Correa has lived in Hilltop for 18 years. He told us, "I mean, I felt bad for my kids. They've never witnessed something like this. They were shaking, brother, they were really shaking. They got scared man."
He said the hailstones that hit his home were the size of tennis balls, and shattered his windows, tore up the siding and wrecked his roof. Correa added, "Never in my lifetime, that I could recall… I've seen hail, but not this kind of hail."
Fast-moving storm dropped hail in parts of San Antonio area Thursday
Rochelle Lozano Camacho, the Frio County Judge added, "We've had citizens, elderly, who felt alone, felt like they weren't going to get any help."
Throughout the subdivision, car windshields were shattered, homes looked like they were riddled with bullets, and countless windows were broken or missing. Camacho told us, "We have offered some plywood so they can board their windows until they can get their repairs done. Those who have been forced out of their homes, we have also provided hotel."
They also have ready-to-eat meals with many still without power. However, there is hope for recovery. Camacho said, "It is awesome to see. It is the unity I see that is happening in our community now and this is what we are about."
As far as Correa's home goes, the repairs began late on Wednesday. But the roof will have to wait. Correa said, "If I don't have any leaks, I might as well just leave it like that, but if I do start having leaks, I'm going to have to do something about it."
If you would like to donate to help this community recover, you can call the Frio County Judges Office at 830-334-2154.