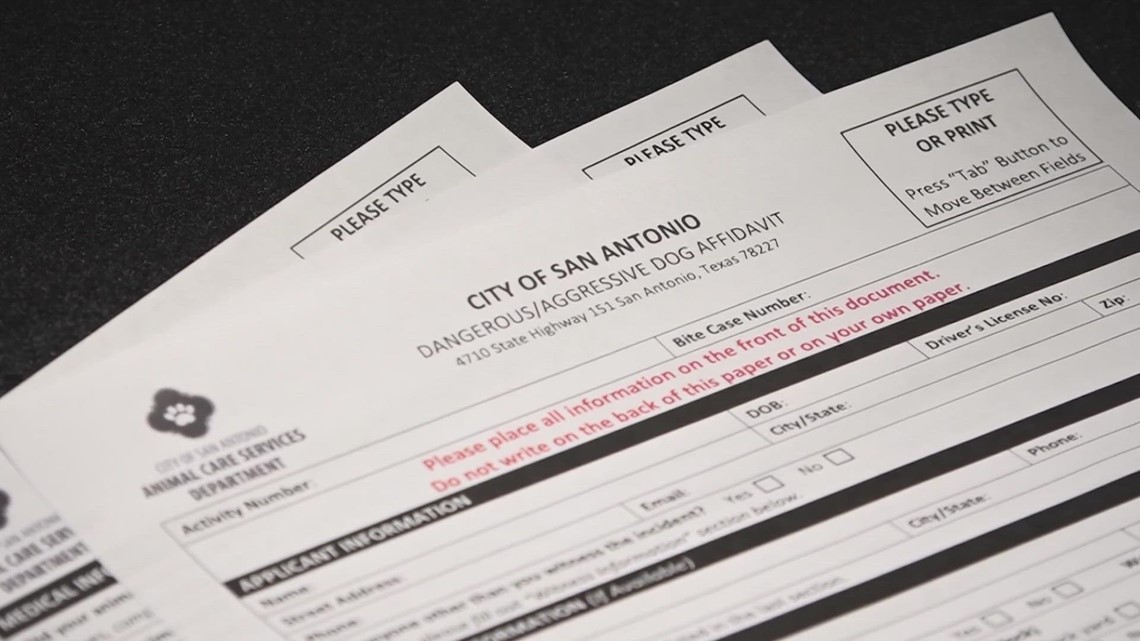 Since 2018, ACS has received 14,343 bite complaints from city residents. Out of those complaints, only 1,097 affidavits were filed by victims.
SAN ANTONIO — Under Texas law, an affidavit must be filed by a victim of a dog attack or a witness before San Antonio Animal Care Services (ACS) can investigate the animal.
ACS officials say the dogs involved in last month's deadly mauling on an elderly man never had affidavits filed despite a history of attacks in the west-side neighborhood.
According to information obtained through an open-records request, ACS has received 14,343 cite complains from San Antonio residents since 2018. Of those, just under 1,100 affidavits were filed by victims.
Currently, there are 111 dogs deemed dangerous by ACS. Heather Ginsburg lives next door to four of them on the north side. ACS designated the dogs dangerous last year after Ginsburg was attacked and she filed an affidavit.
Despite the designation, state law allows the dogs to return to their owners if they abide by certain requirements. Owners can also surrender their animals to ACS.
"The dangerous dog affidavit has done absolutely nothing for us to protect our safety," said Ginsburg.
She said the affidavit has only served to create tension between her and the neighbors.
State Sen. Jose Menendez is working on legislation to improve the affidavit process. Some ideas include making the reporting process anonymous or making the filling-out of the affidavit the duty of the responding officer at the scene of a dog attack.
"Who is going to put their family at risk? No one. We have to find a way where we pull the reporting and the action on a dangerous dog out of the hands of the victims because we don't want to make a situation worse for neighbors," Menendez said.
ACS spokeswoman Lisa Norwood said current state law is specific about why the statement is needed from a victim to move forward with an investigation.
"It's meant to provide checks and balances to ensure that the actual victim of the crime is able to tell their story. And then we can use that story to make sure that that owner is being responsible," she said.
Menendez is also reviewing the current process of filing and notarizing the affidavit. Ginsburg said she had to take time off of work to drive down to ACS to file hers; she believes the affidavit should be done the same day of an attack when the officer responds.
"Maybe while they are already there, I could have filled it out and they could have notarized it," said Ginsburg.
Menendez said an easy solution would be for all ACS officers to become notaries or to remove the requirement completely.
The state senator is continuing to take input and has already met with advocates, the city attorney and city manager for feedback. In a statement, Norwood said ACS is looking forward to partnering with Menendez is the coming weeks:
"This is a conversation we are having not only with our Senator but other animal control authorities throughout the state who are faced with similar issues of addressing irresponsible pet owners with menacing dogs threatening our neighborhoods and residents.
"Whether it's revised legal processes or entirely new legislation to strengthen accountability, the aim will be to prevent any more families from facing the tragedy of a dog attack."
[embedded content]