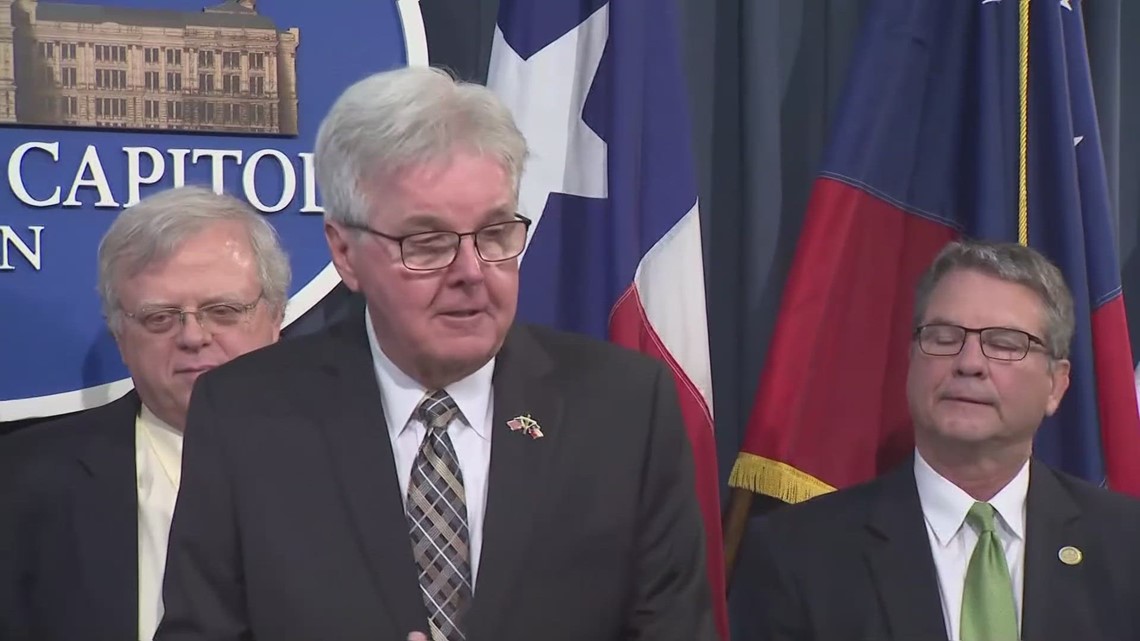 Lt. Governor Dan Patrick proposed using nearly half of the state's surplus to increase homestead exemptions for all Texans. San Antonians could save hundreds.
SAN ANTONIO — Texas Senate leaders propose what they call the biggest property tax relief package in state history. Lt. Governor Dan Patrick and other Republican leaders of the higher chamber held a news conference Tuesday announcing $16.5 billion in relief to Texans in the form of increased homestead exemptions.
Although the relief uses half of the state's record surplus to do it, political experts say its not necessarily the biggest package passed by state legislators.
"Over a 12-month period its not a substantial amount of money. It's not nothing, but it's not like it's some massive amount," Jon Taylor, chair of the Political Science and Geography Department at UT San Antonio said.
The bill would increase homestead exemptions up to $70,000 on the taxable value of your home for school districts. A homestead exemption for people over 65 years old would increase up to $30,000, totaling $100,000 for seniors.
The savings vary depending on the school district and assessed value of your home, according to Bexar Co. Tax Assessor-Collector Albert Uresti.
"A person who lives in Northside ISD that lives in an average home of $308,000 is going to see a savings of about $357 per year over last year's taxes. If you're a senior citizen, you're going see a savings of $436 over last year," Uresti told KENS 5. He estimates seniors who live in Southside ISD with a similar home value could save $626. He is happy about the relief to citizens and says this will shift the school funding burden to the state.
Although numerous bills have been filed to address school funding and teacher pay, Taylor says the property tax cuts could impact the maintenance and operation portion of the tax rate.
"There is going to be the concern that we are not thinking about the long-term health and fiscal future of K-12 education in Texas. Some would argue though, but we also have to have property tax cuts…it is a real conundrum," Taylor adds.
The bill also provides property tax relief to businesses, but Taylor is concerned that relief may not be passed onto renters.
It differs compared to the bill filed in the Texas House, which focuses on capping home appraisals to address property tax relief. Taylor says debate between the House and the Senate is likely, as Lt. Gov. Dan Patrick and House Speaker Dade Phelan differ in their approaches.
"They both want to cut property taxes. The question is how they get there," Taylor said.
Patrick said during the press conference he wants to work with the lower chamber to get the bill passed, but didn't seem keen on including appraisal caps.
"The appraisal values are not nearly as significant as they once were, they're almost nonexistent," Lt. Gov. Patrick said.
The bill is scheduled to be discussed in the Senate on Wednesday.
Original News Source

Running For Office? Conservative Campaign Management – Election Day Strategies!