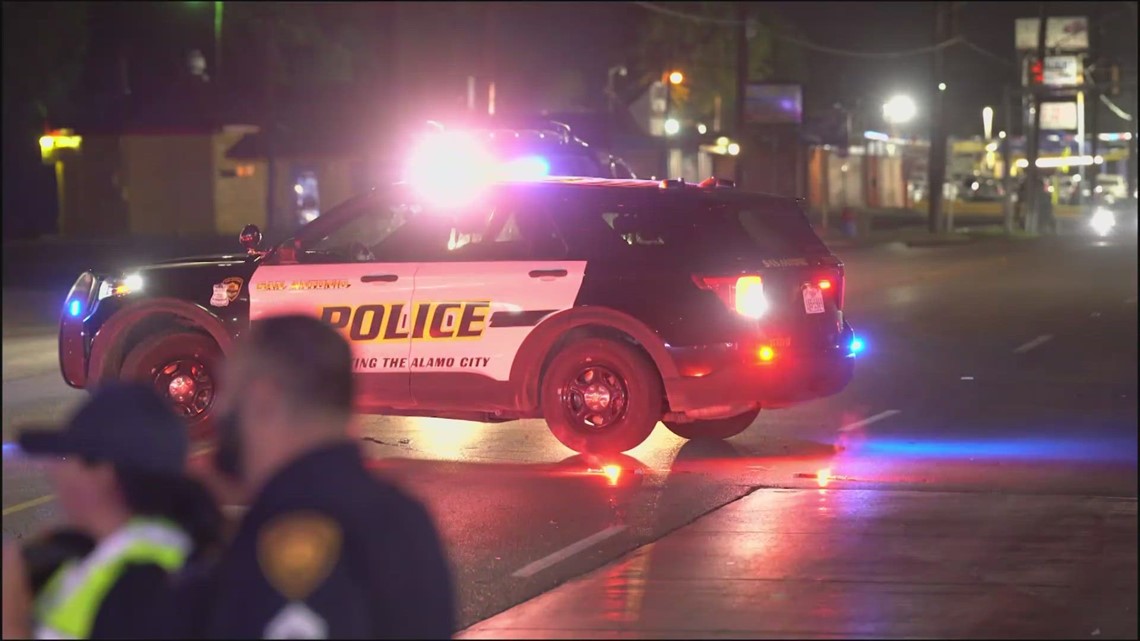 The 16-year-old was bringing a Mother's Day gift to his grandmother when he was struck by a vehicle. It happened late Sunday night on Culebra Road.
SAN ANTONIO — Police are searching for the driver who hit a skateboarder and left the area San Antonio's west side late Sunday night.
It happened around 10:30 p.m. along the 3600 block of Culebra Road, near St. Mary's University.
Police say the victim, identified by relatives as 16-year-old Dreyven Espinoza, was in the middle of Culebra Road while trying to cross when he was hit by a vehicle.
Darlene Cruz says she witnessed the crash and called police.
"I saw the car that was in front of me just hit this kid; I didn't know he was a kid at the time," said Cruz. "I saw them speed off, but unfortunately I wasn't able to get a license plate. I know that [Espinoza] was standing in the middle of the street, ready to cross the other half of the street. So, I don't know if that vehicle may have swerved into that lane to hit him. I would say the vehicle was like a modern white SUV, something similar to a Tahoe."
Marisol Valenciana says her nephew spent Mother's Day with close family friends. Then, he headed to his grandmother's house to bring her a present. That's when he was struck by the vehicle.
"We found out on the news," said Valenciana. "We saw that somebody got run over who was holding a skateboard; that's how we found out this morning. We had to look at the hospitals."
Valenciana was horrified to learn the driver left her nephew lying on the pavement.
"They left him like nothing," she said. "Like he didn't matter, but he does matter. He is loving, caring, he loves to skate, he has a good sense of humor, he is just a great boy. He is a first grandchild, a first nephew."
Witnesses told police that some other people tried to follow the vehicle that was involved, but the driver was able to get away from them.
Valenciana says her nephew remains in extremely critical condition. She is asking the community for prayers.
"If anybody saw anything, can you please just come forward?" asked Valenciana. "He needs justice."
Anyone with information is urged to call Crime Stoppers at 210.224.STOP.
Loved ones also have set up a GoFundMe to help with medical expenses.
Culebra Road, a 13-mile corridor, is notorious for collisions. Already this year, there have been more than 200 crashes on Culebra, according to the Texas Department of Transportation (TxDOT).
On Monday, the Public Work's Department released the following statement:
"The Public Works Department has a project early in the design phase for a pedestrian crosswalk on Culebra Road in the vicinity of St. Mary's University. Construction for this crosswalk is anticipated to begin by Summer 2024.
In addition, the City of San Antonio has a 2022-2027 Bond Project for Culebra Road (Bandera Road to General McMullen Drive). Improvements will include roadway reconstruction with sidewalks, curbs, driveway approaches, lighting, traffic signals, bicycle facilities, landscaping, and utility upgrades. The design phase for this project is anticipated to begin by Summer 2023.
The City of San Antonio has also submitted a grant application for the 2023 Rebuilding American Infrastructure with Sustainability and Equity (RAISE) Discretionary Grant Program, managed by the U.S. Department of Transportation. The grant request totaled $7.7 Million. If awarded, this funding will be used by the City for a planning study for similar improvements along Culebra Road (General McMullen to Loop 410).
The current budget for improvements to Culebra Road is $18 Million. $3 Million will be used to leverage the RAISE Grant and the remaining $15 Million will be used for the 2022-2027 Bond Project."
Since going on the air in 1950, KENS 5 has strived to be the best, most trusted news and entertainment source for generations of San Antonians.
KENS 5 has brought numerous firsts to South Texas television, including being the first local station with a helicopter, the first with its own Doppler radar and the first to air a local morning news program.
Over the years, KENS 5 has worked to transform local news. Our cameras have been the lens bringing history into local viewers' homes. We're proud of our legacy as we serve San Antonians today.
Today, KENS 5 continues to set the standard in local broadcasting and is recognized by its peers for excellence and innovation. The KENS 5 News team focuses on stories that really matter to our community.
Original News Source

Running For Office? Conservative Campaign Management – Election Day Strategies!