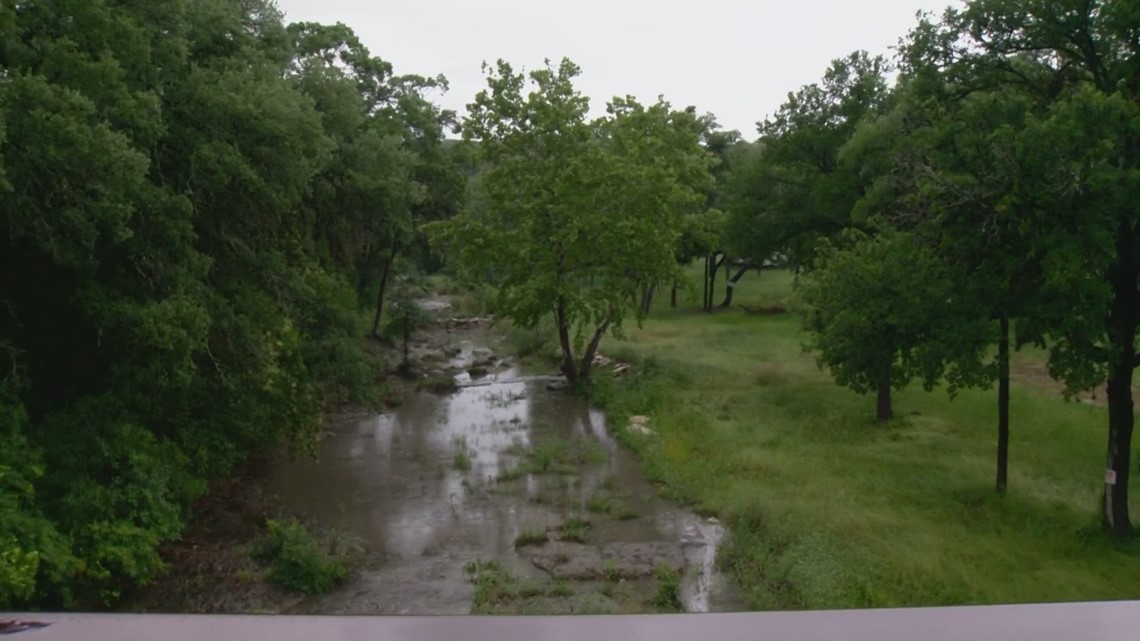 Lennar Homes is looking to build nearly 3,000 homes in the city. But its plan would involve pumping 1 million gallons into the creek on a daily basis.
HELOTES, Texas — Up to 1 million gallons of treated sewer could soon flow through Helotes Creek every day if a permit is approved by the state.
It isn't without controversy, however, and it comes as Lennar Homes looks to build 2,900 homes on 1,160 acres of property near Scenic Loop Road and Babcock Road. The proposed Guajolote Ranch development would help address housing needs in Bexar County, after the U.S. Census Bureau recently ranked San Antonio the fastest-growing city in the country.
But the new housing comes at a cost many aren't willing to pay.
"We were down here every day," said Jennifer Webster, pointing to Helotes Creek on Tuesday afternoon. "We have a little swimming hole right here. We would come down here to catch crawfish and fish."
Webster's parents bought a property on the banks of Helotes Creek in the 1960s. She spent her entire life on the property near Old Bandera Road and Floore Drive.
Now it's her own children who play in the creek when it flows. Unfortunately, it isn't flowing very much these days.
"There is no water in it right now," Webster said. "So if 100% of the water that was coming through here was from a wastewater treatment plant, I just have a lot of concerns on how that would affect my well. I don't have city water, I have a well; that's my only source of water. I would be concerned about the animals around here, and I would be concerned about my property value."
Lennar Homes recently applied for a Texas Pollutant Discharge Elimination System (TPDES) permit from the Texas Commission on Environmental Quality (TCEQ). In Tuesday, the commission held its first public meeting to gather input.
A few hundred people from Helotes and neighboring communities attended, and dozens waiting in line to voice their frustration.
"This isn't about, 'Not in my backyard,'" said Michael Schick, who lives next to Guajolote Ranch. "This is about, 'Not in my water faucet.' And it's not about, 'You've ruined my view.' It's about, 'You could potentially ruin my health and the health of too many people.' This is a serious issue."
Annalisa Peace, executive director of the Greater Edwards Aquifer Alliance, said Lennar Homes's plan to build a treatment plant and release hundreds of thousands of gallons into the Helotes Creek water system would impact all of Bexar County—and not in a positive way.
"What you are doing is recharging the aquifer with sewage effluent, which we think really degrades the water quality," Peace said.
At the meeting, a consultant for Lennar Homes said the plan is more environmentally friendly than installing a septic system.
"What we are doing is so many orders of magnitude more protective of human health and life in the aquifer than putting a septic system in," said Troy Hotchkiss, engineering manager for Integrated Water Services. "I would say we are putting in a treatment system that will improve the environment and reclaim the water. Water is a commodity. So, the idea here is rather than import more water, we can reclaim the water and reuse it for irrigation or what have you."
Lennar Homes must first obtain a permit to discharge the wastewater before applying for a permit to reclaim it. However, a TCEQ spokesperson said the agency cannot force a developer to seek the second permit.
"The immediate impact would be on the stream," said Ronald Green, a groundwater hydrologist. "It's going to be degraded with a low-oxygen content, it will have algae, it's not going to smell very good. The other issue is the greater impact, from my perspective, and that's if it sets a precedence in northwest Bexar County.
"Then, other developments will come in and you will have more and more effluent coming in. That will get into the Edwards Aquifer and degrade it."
"There's not enough guarantees that this is not going to cause a lot of harm," said Marylee Williams, a Helotes resident. "Helotes Creek runs into Leon Creek, which goes through Leon Valley and San Antonio. There's a lot of animals that drink water out of it. Florida University has been doing research that shows the fish they are harvesting have two to five pharmaceuticals in them."
The permit application process is lengthy. TCEQ officials said it could take several months, if not years, to reach a decision.
>TRENDING ON KENS 5 YOUTUBE:
[embedded content]
Original News Source

Running For Office? Conservative Campaign Management – Election Day Strategies!