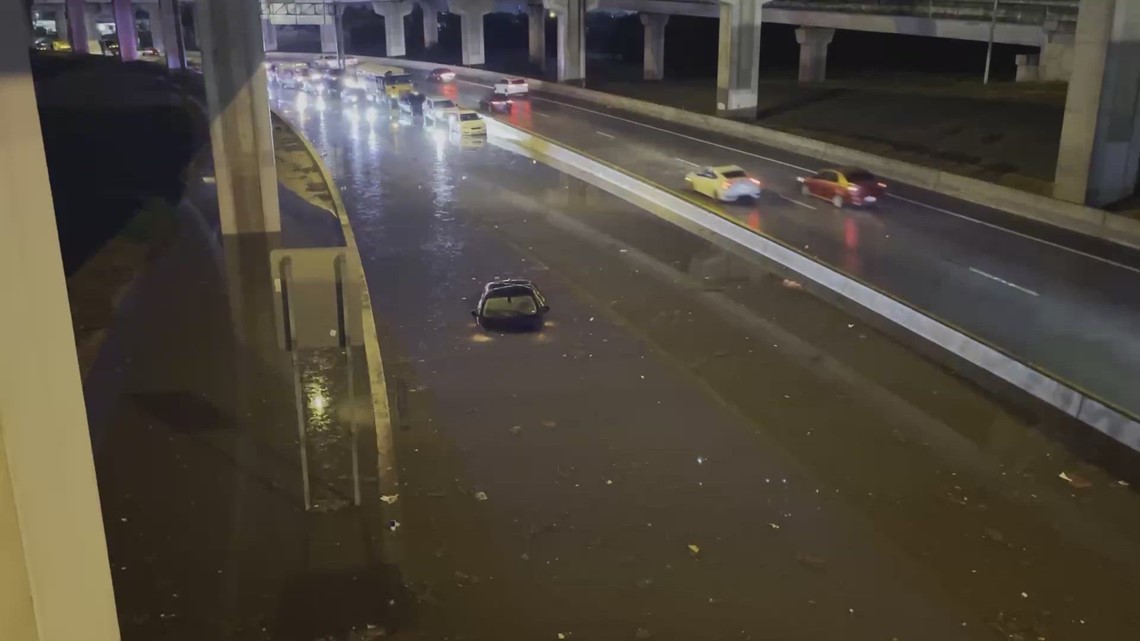 Due to excessive rainfall up to five inches of rain is possible in the Alamo City on Saturday.
SAN ANTONIO — Get ready, San Antonians, for some pounding rain this weekend that should provide relief to a drought-stricken South Texas region while creating a flood risk for the Alamo City.
Rain and thunderstorms are possible through next week, with flooding potential likely for Mother's Day weekend. In fact, San Antonio is one area included that could receive the most rainfall in Texas.
This is the time to start planning for low water crossings and possible road closures. Remember: Never drive through flooded roadways.
The National Weather Service has issued a Flood Watch set to last from Friday evening through Saturday evening. And a Severe Thunderstorm Watch was issued Friday afternoon for counties west of San Antonio as storms get set to arrive.
The heavy rainfall is due to an upper level low in combination with other factors that will move close to San Antonio in combination with excessive gulf moisture. This convergence will take place right over the Alamo City and hang in place for days bringing up to four or more inches of rainfall to the area.
Here's what to expect over the next four days:
Friday (High 87 and Low 73): There will be a plenty of factors in place to support the development of heavy rainfall Friday evening. Friday morning San Antonio could see dreary conditions with mist and fog and cloudy conditions will likely prevail through the day.
By late evening a trail of thunderstorms will develop out west and move towards San Antonio after 10 p.m. This trail could bring large hail, damaging winds and heavy rainfall as the primary threat. This line of storms will continue to develop over San Antonio overnight Friday into Saturday morning.
Saturday (High 78 and Low 69): This will be a wet and stormy day. Stay off the roadways if flooding occurs. The atmosphere has plenty to work with as a frontal boundary, upper level low and high moisture levels will be in place to create a possible flooding situation for San Antonio and surrounding areas.
The heaviest rainfall totals are expected on this day. Due to excessive rainfall up to five inches of rain is possible in the Alamo City. Once the ground becomes saturated any extra rain will turn into runoff leading to flooding risks. Look out especially for low water crossings.
There could be small breaks from the rain in the afternoon before another cluster of storms develop. Early morning runners may have to stay indoors.
As some storms develop they could be strong with lightning. Remember, when thunder roars, go indoors. By late afternoon San Antonio could see a small break from the rain but don't expect to head out on the roadways as there could be multiple road closures, especially in low water crossings.
San Antonio could be in the central spot to receive the most rainfall on Saturday but other cities such as Pleasanton and New Braunfels could still receive over four inches of rainfall.
This is the day to stay weather aware by staying informed on our website and the KENS 5 app where you will receive weather alerts.
Mother's Day (High 79 and Low 67): The rainfall will continue for Mother's Day, therefore, have a backup plan in case of road closures as flooding could still be an issue. Rain and storms will continue through Sunday evening.
Over the next seven days parts of some weather models are predicting five to seven inches of rainfall could be in store for Bexar County over the next seven days.
Original News Source

Running For Office? Conservative Campaign Management – Election Day Strategies!