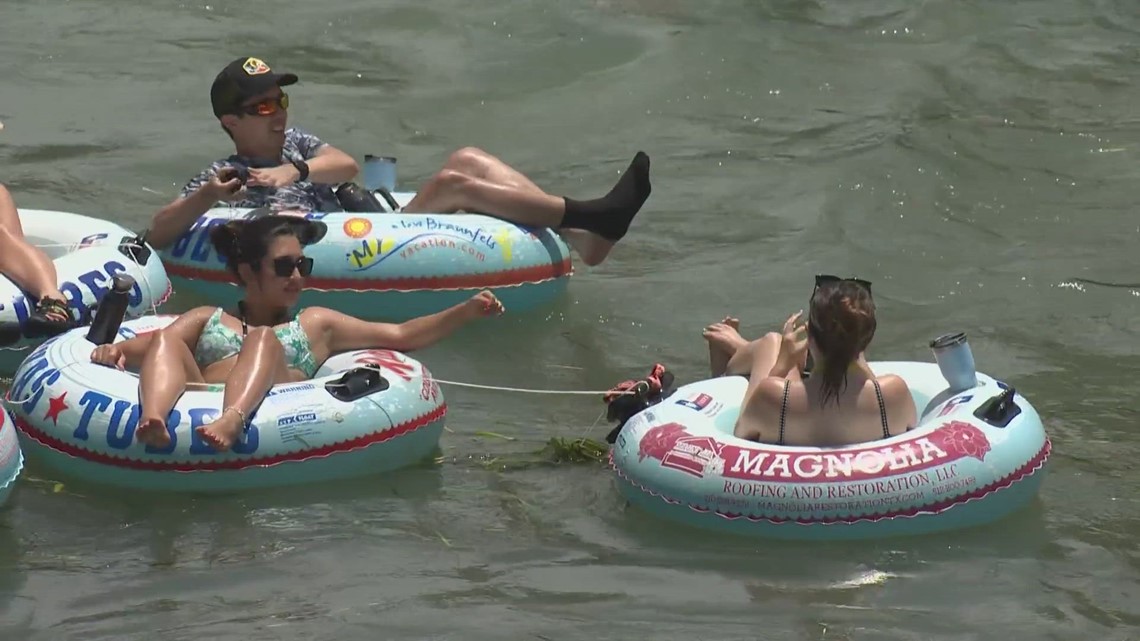 Officials in New Braunfels are excited for the start of their tourism season, but they want visitors to heed their advice.
NEW BRAUNFELS, Texas — With Memorial Day Weekend around the corner, the City of New Braunfels is planning ahead for it's summer tubing season, and they say you should too.
Here's what you should be thinking about if you plan to lay out on the Comal River.
Comal County is still in severe drought despite the recent rainfall, but New Braunfels city leaders don't expect their summer tubing season to run dry.
"We're still a little below average, but there's still a lot of flow for us," New Braunfels River And Watershed Manager Amy Niles said, describing the condition of the Comal River.
New Braunfels Mayor Rusty Brockman has no shortage of advice on how to enjoy a float down the river.
"If you put in up by Wurstfest grounds and take the longest float on the Comal and you get to go through the tube chute and you get to go through another chute down by Schlitterbahn," Brockman said. "That's my favorite. That's probably one of the most exciting days."
He was pleased with the impact the recent series of storms has had on the river his town has become known for.
"That makes an impact on our rivers when it fills up the the aquifer," Brockman said. "We're getting more water coming down our rivers here."
He said tubers help keep the city's economy above water. Between the outfitters, hotels, restaurants and the jobs those businesses require, he said the economic impact of visiting tubers is in the millions
"I don't want to just put a dollar figure on that," he said. "But the importance of it is it is sustaining the businesses, the small businessmen and women who have made a commitment to our community as well as all those that they employ."
To anyone planning to tube the river: he wants to float some advice.
Tubers can borrow life-jackets from the parks and recreation department free of charge. What they don't provide is sunscreen or long sleeves to cut down on exposure. It's important to keep hydrated, but using a disposable container could land you with a fine up to $500.
"I don't think you could find a better place to be on Memorial Day Weekend or any weekend this summer, for that matter, than New Braunfels, Texas," Brockman said.
Officials are confident that as long as people take their advice, they can look forward to the holiday weekend without having to worry someone ends up in troubled waters.
"This is a natural body of water. It is a river," Niles said. "And so we ask that people treat it like a river and not a pool."
The City of New Braunfels produced a short video laying out in more detail what people need to know before tubing down on the Comal River.
[embedded content]
Original News Source

Running For Office? Conservative Campaign Management – Election Day Strategies!