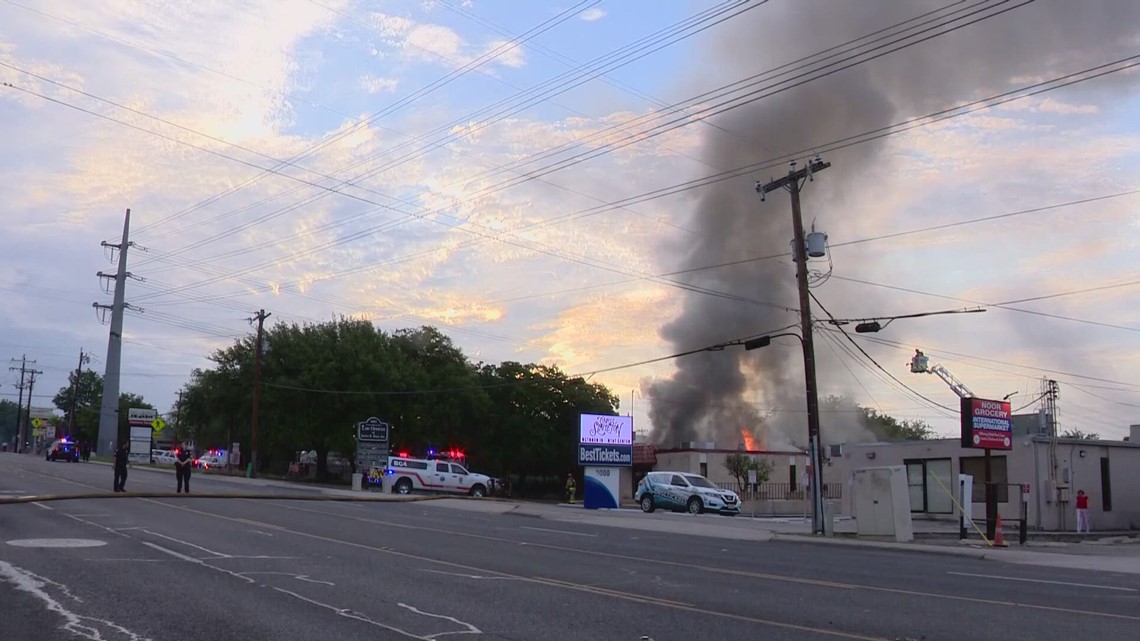 The 2023 Point-In-Time count shows a 5% increase in people experiencing homelessness from last year. Vacant buildings often become magnets for those seeking shelter.
SAN ANTONIO — A string of fires at abandoned buildings in San Antonio is pointing to a bigger problem.
San Antonio firefighters have responded to at least five vacant structures fires over the past two weeks. Two of the most recent blazes may have been started by people experiencing homelessness, according to witnesses and fire officials.
A spokesperson for the city's Development Services Department told KENS 5 these types of fires typically increase during inclement weather.
"We had concerns," said Hunter Bass. "I had had concerns and my father had concerns."
Bass owns J. Hunter Bass CPA, PLLC on Wurzbach Road. Just feet from his business is a heap of charred wood and metal that used to be a Japanese restaurant before it went up in flames Tuesday morning.
"I got in the car and came over here," said Bass. "By the time I got here, firefighters had the blaze pretty much under control. There was a secondary fire that started up; within three hours of me getting here, they started tearing the building down. I knew it was the homeless community next door, the impromptu homeless community."
Bass says his late father built the J. Hunter Bass CPA facility in 1976. He says there were always people experiencing homelessness in the area, adding his father would offer them water and let them charge their phones.
During the pandemic, though, the neighboring business went under. He says that's when people moved in.
"I've counted at least a dozen individuals," said Bass. "I know of five or six that we would see daily. They would go out, do whatever their business was and they would come back at night. The windows would be open. We saw things that made us suspicious, and we were in constant contact with Council Member Palaez and our SAFFE (San Antonio Fear Free Environment) officer."
Bass says the abandoned business became a safety hazard.
The San Antonio Fire Department (SAFD) tells KENS 5 the structure that formally housed the Japanese restaurant caught fire three times over the past year. This time, firefighters demolished it.
"There are clothes, you know, there's food items," said SAFD Battalion Chief David Prado. "So we do believe that people were squatting in this structure."
An SAFD spokesperson says vacant buildings pose additional risks to firefighters because they are sometimes unstable, and crews don't always know if there are people inside who need to be rescued.
We asked the Development Services Department why the city doesn't demolish all vacant buildings that are a fire hazard. A spokesperson told us Code Enforcement officers work closely with property owners to ensure buildings are safe and vegetation is not overgrown.
Once a fire has sparked, though, it becomes a different issue. At that points, it's up to the fire department to determine if the building is structurally sound or needs to be torn down.
Bass is just relieved no one was hurt, and that the fire danger next door has been extinguished for good.
"People would have moved back in otherwise," he said.
>TRENDING ON KENS 5 YOUTUBE:
[embedded content]
Original News Source

Running For Office? Conservative Campaign Management – Election Day Strategies!