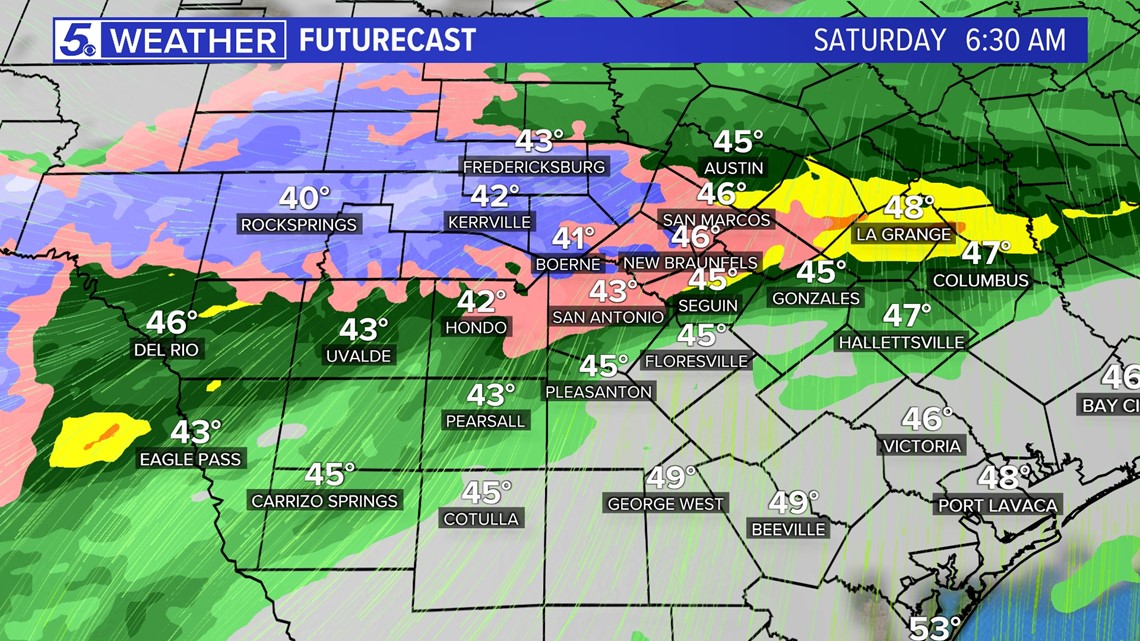 One major risk with this cold front are straight-line winds with possible wind gusts of 60 mph.
SAN ANTONIO — Get prepared San Antonians, as a cold front will bring severe weather and chances for some areas around Bexar County to see a wintry mix this weekend.
Thursday – Friday: Tonight will be loud with rumbles of thunder, lightning, hail and damaging winds over 30 mph as the cold front pushes through late tonight. Therefore, get prepared with flashlights and charged electronic devices in the case of power outages.
San Antonians can expect this active weather pattern Thursday night around 11 p.m. to 4 a.m. Friday morning.
The cold front arrives around midnight trailing storms developing behind the front. Some storms could be severe with large hail over a quarter in size.
Another risk with this front are straight-line winds bringing wind gusts of 60 mph. Therefore, bring inside any outdoor decorations that could get blown away.
The winds will be strong near 40 mph through about 10 a.m. Friday morning. A combination of these wind speeds and morning temperatures in the 40s will create a chilly St. Patrick's Day.
You'll want to bundle up if you plan to be outdoors early with wind chills in the 30s. Brr…! High temperatures Friday will only be in the 50s.
Showers may continue throughout the day on Friday but severe weather should be gone by sunrise.
Weekend: Okay, here comes the cold stuff. As temperatures drop Saturday and Sunday mornings a couple of shortwave troughs will keep an active weather pattern going.
Some weather models show chances for a wintry mix to arrive for portions of the Hill Country with a small chance of some trailing into northern portions of Bexar County on Saturday morning.
However, since surface temperatures will be above freezing in San Antonio we are not expecting any major impacts to occur. We will keep updating our forecast for future changes.
Next week: The cold weather and rain stays with us through Tuesday. Monday and Tuesday showers continue but high temperatures warm back up in the 60s by Tuesday.
Although, the past five days will be cold and dreary much needed rain should arrive to San Antonio where we are still in Extreme Drought.
Original News Source

Running For Office? Conservative Campaign Management – Election Day Strategies!