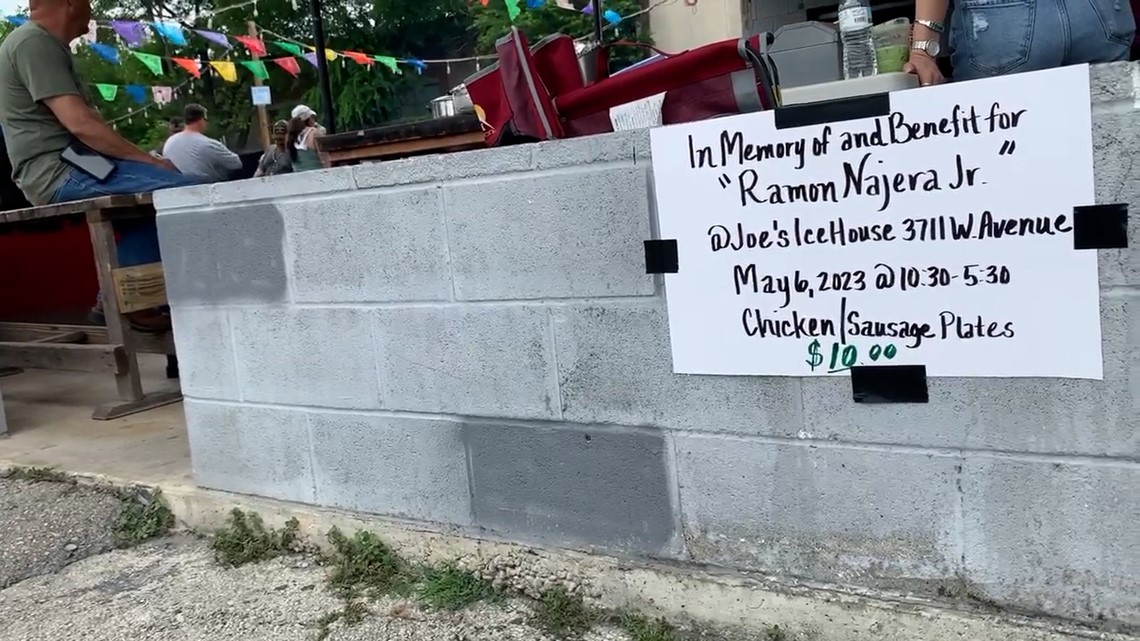 81-year-old Ramon Najera was killed on a dog attack on the west side. Three people were injured, including Najera's wife, Juanita.
SAN ANTONIO — February 24, 81-year-old Ramon Najera was killed on a dog attack on the west side.
Since then, his son, Raymond, has fought for change so no other family will experience a similar tragedy.
"This support feels really, really great," said Najera, sitting on a bench outside Joe's Ice House.
On Saturday Najera's Edison classmates, fellow veterans and childhood friends came together for a fundraiser.
For $10 people could buy a BBQ plate, benefiting Najera's stepmother Juanita.
The dog attack off Depla Street injured three people, including Juanita.
The dogs were euthanized; Their owners, Abilene Schnieder and Christian Moreno are facing charges in connection to the deadly attack.
"Her wounds as far as physical wounds have been healing. Now she's just dealing with her emotional stresses," said Najera about his stepmother. "It's part of a PTSD, she's still dealing with that. The loss of her husband, my father, losing him."
Last month, Najera and his family testified in a committee hearing at the State Capitol in support of House Bill 4759.
The bill increases the criminal penalty for dangerous dog owners and removes the required victim's affidavit for quicker action by authorities. HB 4759 would deem a dog dangerous if it injures someone, if a police report is filed or if the owner is arrested. It would also protect the identity of anyone who reports the animal.
"For the previous resident that had these dogs, the neighborhood called and called and called for different types of issues, not just the dog," explained Najera. "Different types of issues that were closed out, but they weren't looked back upon like, 'Hey, this is a cumulative amount of calls to one person.' There's gotta be red flags risen when they see this."
Animal Care Services joined Najera Saturday, helping educate others about city ordinances related to animals and how to report dangerous animals.
"We've been working closely with the Najera family since the tragic incident that happened on Depla Street," said Shannon Sims, Director of Animal Care Services (ACS).
Next month will kick off the department's Good Neighbor Program where all data from 911 and 311 will be analyzed to identify problematic animal owners.
"If a location has had multiple calls on it for a variation of reasons, we can now come together and say, 'Ok, this may be a problematic house that we need to be involved in right now'," said Sims.
State law defines a dangerous dog as a dog who:
Makes an unprovoked attack, AND
The attack was outside the dog's enclosure/owner's property, AND
The attack caused bodily injury
OR
A dog someone reasonable believes will attack and cause bodily injury if able to get out of its yard or property
An aggressive dog is one that attacks another animal, either on or off the owner's property.
Sims says if all owners keep their animals on their property at all times and spay or neuter their pets, that would prevent 60% to 70% of problems officials see in our neighborhoods.
The west side home off Depla Street had 114 calls to 911 and 42 calls to 311 in almost three years.
Saturday's plate sale sold out, raising more than $5,000. If you missed the fundraiser, but would still like to donate to the Najera family, visit their GoFundMe page.
[embedded content]
Original News Source

Running For Office? Conservative Campaign Management – Election Day Strategies!