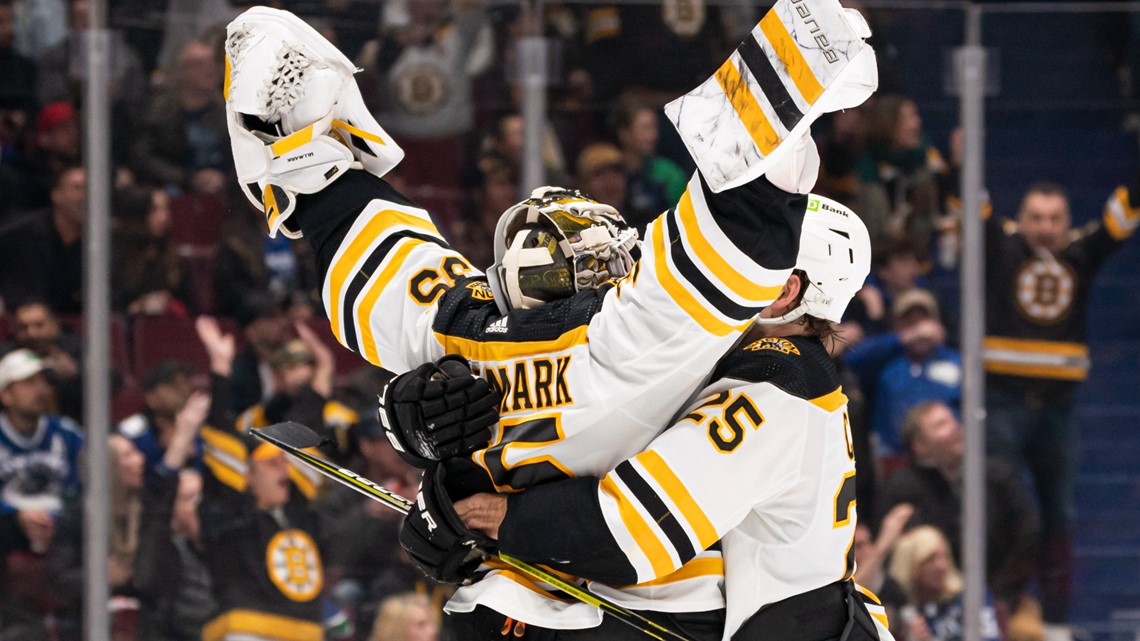 Boston's Linus Ullmark became the eighth goalie in NHL history to score a goal on his own shot, with a wrist shot into an empty net on the other side of the ice.
BOSTON — Dreams do come true.
Boston Bruins goalie Linus Ullmark fulfilled one Saturday when he shot the puck into an empty net with 48 seconds remaining in a 3-1 win against the Vancouver Canucks at Rogers Arena on Saturday.
He also made 26 saves in the win, impriving his record to 30-4-1 with a league-leading .938 save percentage.
Ullmark attempted to score in the Winter Classic, narrowly missing the net. After pulling it off Saturday, he was mobbed by teammates and skated to the bench for traditional post-goal high fives.
"The reaction on the bench and the postgame hug between Ullmark and Jeremy Swayman is what made it even more special", said Locked on Bruins host Ian McLaren.
"It's always cool to see a goalie score. It's one more example of how special and tight-knit these Bruins are."
Ullmark is the 13th goalie to be credited with a goal in the NHL, and he joins an even shorter list of goalies to shoot the puck directly into an empty net:
Linus Ullmark, BOS; Feb. 25, 2023, at VAN
Pekka Rinne, NSH; Jan. 9, 2020, at CHI
Mike Smith, PHX; Oct. 19, 2013, vs. DET
Evgeni Nabokov, SJS; March 10, 2002, at VAN
Jose Theodore, MTL; Jan. 2, 2001, at NYI
Martin Brodeur, NJD; April 17, 1997, vs. MTL
Chris Osgood, DET; March 6, 1996, at HFD
Ron Hextall, PHI; April 11, 1989, at WSH
Ron Hextall, PHI; Dec. 8, 1987, vs. BOS
"It's one of the dreams I always had that I wanted to score a goal," Ullmark said. "I'm ecstatic inside."
Ullmark has been one of the most important players for the Bruins this season, and he's certainly appreciated by his teammates.
"I'm sure he'll be on the power play next," Bruins forward Brad Marchand joked. "He's been phenomenal, great to see him do that. I kind of got the sense that at some point it was going to happen, either him or Swayman. They both shoot the puck very well, and I think both of them were itching to do it. … Incredible to see."