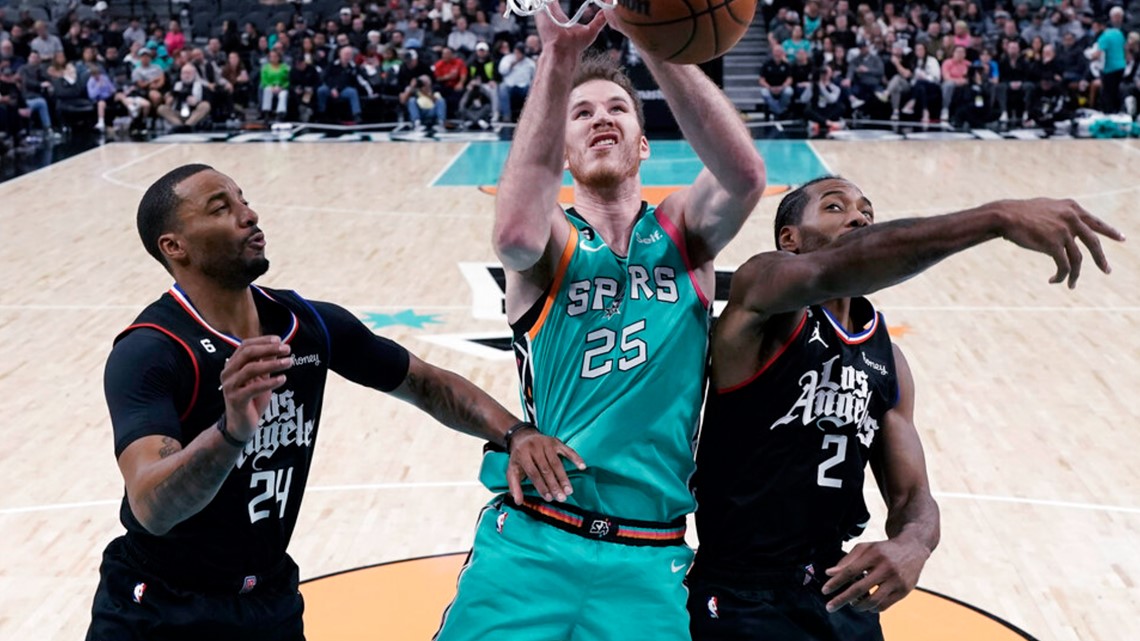 "We put ourselves in positions to win games most of the time," Zach Collins said.
SAN ANTONIO — The San Antonio Spurs went 0-3 against the Los Angeles Clippers after losing at the AT&T Center, 131-126.
Keldon Johnson had 23 points and three rebounds to lead the team while Jeremy Sochan added 16 points. Zach Collins finished with 17 points and four rebounds while Josh Richardson recorded 17 points and four assists in the loss.
The Spurs are now 14-32 on the season and will next face the Portland Trail Blazers Monday night in Portland.
Here's a sample of what the teams said after the game courtesy of the Spurs.
"The team, I thought, they were spectacular," Popovich said. "They never give in. They're playing more physically than they have all year. They're assisting. Playing with each other and playing the right way. Those guys [Clippers] made shots down the stretch. At times that's the difference."
"It sucks to lose though. We're trying to win games. We put ourselves in positions to win games most of the time. Obviously, they [Clippers] are a very talented team. They got guys who can score," Collins said. "We had a chance to win so that's definitely a positive."
"The Clippers are a really good team," We had a couple of slip-ups in the third and the second. We tried our best at containing those two guys [Kawhi Leonard and Paul George] and even though we did lose, we have a lot to hang our hats on."
"This team [Spurs] does a good job of catching and going, driving in, slot-cuts, and [Coach Popovich] has those guys playing the right way every single night," said Lue. "This was a tough game for us and I knew it would be, but I just felt tonight was going to be a good night for us. Even though we got behind, we still had the right spirit, we played the right way."