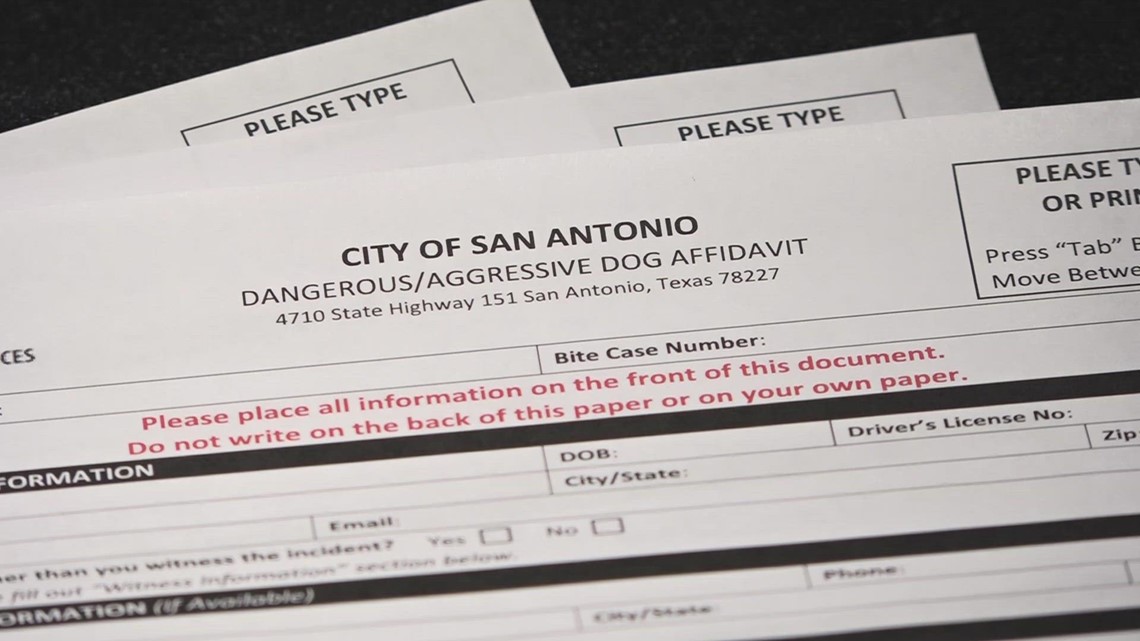 Dangerous dog affidavits allow ACS to investigate dog attacks. Over 100 dogs in the city are designated as dangerous.
SAN ANTONIO — There are more than a hundred dogs in the City of San Antonio designated as dangerous, according to Animal Care Services.
The designation forces owners to follow additional state requirements in order to keep the dog in their possession.
After Friday's deadly mauling, KENS 5 has learned that two out of the three dogs involved did not have the designation, despite a history of biting neighbors. According to ACS, previous victims did not file dangerous dog affidavits after their attacks in the west side neighborhood.
"There has been nobody who has come forward," said Lisa Norwood with Animal Care Services.
Norwood said the city follows state law when it comes to dangerous and aggressive dogs. Without an affidavit, Norwood said it effects the department's ability to investigate a potential public safety issue.
"[The dangerous dog affidavit] provides us that support to move forward with the investigative process," said Norwood.
When dogs are deemed dangerous by ACS, the designation is for the rest of the dog's life. Norwood said dogs can meet the criteria if it can be proven the attack was unprovoked, the dog was off their owner's property and the victim believes another attack can happen.
Within the last year, ACS has performed more than 300 dangerous dog investigation. Some cases went unfounded or did not meet the legal threshold, said Norwood.
If dogs do meet the criteria as a dangerous dog, their owner has options such as following heightened requirements made by state law.
"Those are things like a dangerous dog license. They have to carry a $100,000 in liability insurance. The animal has to have a secured enclosure that is inspected by animal care services," said Norwood.
Owners also have the choice to surrender their animal to the city, which Norwood said ACS would not knowingly adopt out an animal that had been deemed dangerous and euthanize the animal.
However, an affidavit must be on file to even begin the investigation process. Norwood said officers can assist victims or witnesses with filling out the document. ACS officers are also notaries and can notarize the document for free.
"If transportation is an issue, our officers have gone to people's homes to assist," said Norwood.
If the dog attacked another animal, a aggressive dog affidavit can be filed on the incident. That designation, according to officers, is usually temporary.
Norwood said ACS will also launch a customer service team soon as another way to connect with residents.
"But one of the only things that we cannot do is make people be better, more humane pet owners. That's something that they need to to do themselves. And we're willing to help. We've got a lot of tools, a lot of resources to help people do that."
[embedded content]