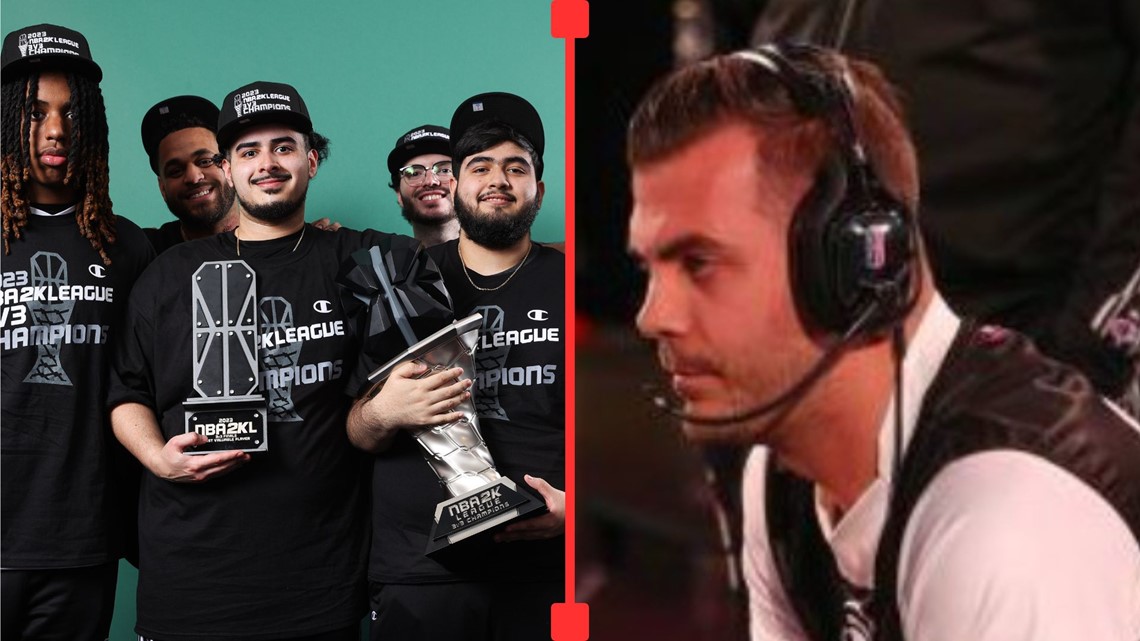 DUX defeated Pistons GT in a thrilling series and is coaching already in view for long-time league player, STEEZ.
DUX Infinitos – the NBA 2K League franchise representing Mexico City – took Pistons GT to a 4-3, double elimination, seven-game series to capture the 2023 NBA 2K League 3v3 championship.
It was one of the most thrilling playoff series in league history.
DUX joined the NBA 2K League in 2022 and is the first international expansion franchise League Champion. In April, DUX Infinitos also claimed the Coinbase 3v3 NBA 2KL SWITCH OPEN championship, the second of three in-season 3v3 tournaments.
Point guard Brian "Killeyy" Diaz was named the 2023 NBA 2K League 3v3 Finals MVP after averaging 11.3 points and 3.0 assists throughout the final series (games played to 21). Power forward Ashton "LowkeyGodlike" Agredano added 6.4 points and 1.7 rebounds.
DUX walked away with a first-place prize of $225,000 as the last team standing.
NBA 2K League action continues with the opening of 5v5 gameplay in THE TIPOFF Powered by AT&T Tuesday, May 23 through Saturday, June 17. All 25 NBA 2K League teams, including defending 5v5 Champion Bucks Gaming, will begin their pursuit of the 2023 championship and $1.9 million.
IS COACHING IN HIS FUTURE? NETS GAMING'S STEEZ HAS NO PLANS TO STOP PLAYING ANYTIME SOON
Long-time NBA 2K League veteran player, Alexander "STEEZ" Bernstein has seen it all playing in the league.
He was a part of the heralded Blazer5 team early in his career and now is providing guidance for Nets Gaming Crew while still making an impact on the virtual court.
STEEZ joined the NBA 2K League in 2018, drafted in round four, and one would think that after several years of playing, he'd be looking at taking the next step: Coaching.
But that is not on his immediate radar.
"Coach STEEZ? I don't know. I got a few more [years] in me right now," STEEZ said. "I'll be done with it [playing] when I am done having fun with it."
The Nets Gaming's forward is still a force behind the controller providing offensive and defensive punches for Nets GC.
But he isn't closing the door to the management side of the league when he is ready to put the controller down.
"There might be a little General Manager role for me later on," he said. "I think I can really help out a team if they ever need it or an organization."
"But right now I still focus on competing. I still wake up every day and I love what I do."
Needless to say, after all these years playing at the highest level, STEEZ still has a competitive mindset.
"I don't know why but that fire doesn't want to go away to grab a controller and start playing," he said.
For the latest news and updates on the NBA 2K League, San Antonio Spurs, and esports fans can sign up to receive emails at NBA2KLeague.com.
Original News Source

Click here for San Antonio HOA Management