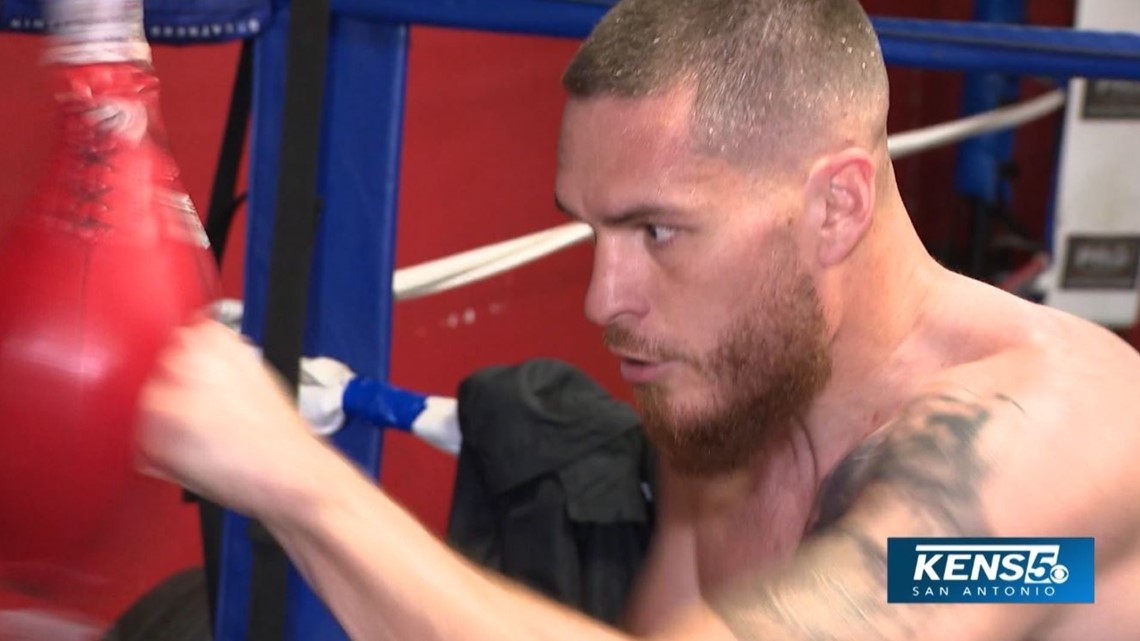 Professional boxer Eddie Ortiz was born and raised in west San Antonio. As a teenager at Southwest High School, he was active in sports but also admits he got involved in drugs and with the wrong people.
His family life was unstable, and his parents were separated and not speaking.
"For me, mentally, I was just kind of out of it. I just had a lot of aggression," says Ortiz. "I was always trying to fight in school. I said, 'Well, what's better (than) fighting in school than with guys you don't know?'"
"So I wanted to go and challenge myself with people who do know how to fight."
At the age of 18, he stumbled into San Antonio's Zarzamora Street Gym with a friend. Having never boxed before, Ortiz entered the ring… and was beat up by an opposing fighter.
Despite the bruises, he loved that feeling. The ring was a place he could fight for himself and find peace. At Zarzamora, Owner Tony Ayala Sr. took young Eddie under his wing.
"Going to that gym changed my life forever," says Ortiz.
:
A new name, a new reputation
Ayala was a legendary figure in the San Antonio boxing community, but had a reputation for being extremely strict in the gym. He gave Ortiz the nickname "The Hunter" because of his lanky 6-foot-2 size and a punching style that was reminiscent of a bow and arrow.
But Ayala also told Ortiz: "I see you hunting titles."
The nickname stuck around, and he went on to become an amateur champion in San Antonio, as well as a USA Olympics trialist.
Through his fights, his family reconciled and came together in his corner. The more time he spent in the ring, the more time they spent with each other.
"My brother wasn't talking to my mom and dad at the time," recalls Ortiz. "My mom and my dad were separated. They were still kind of talking but they weren't seen around each other much."
"So for me to see my family there, man, it gets me emotional now because I'll never have that high again. For me, that was big."
He turned professional at 24, and won his first fight by knockout in the first round. The stock rose on a boxing career that took Ortiz from Philadelphia to El Salvador.
:
Returning home
"The Hunter" went undefeated in his first 13 fights, with his family behind him every step of the way. In 2018, Ortiz fought at the Alamodome in front of his home fans. He walked out of the tunnel in a San Antonio Spurs jersey, and won the fight by decision.
"I'm San Antonio born and raised, man. It's always Spurs over everybody."
In 2020, during the height of the COVID pandemic, Ortiz fought at an empty Staples Center in Los Angeles on national television. He suffered his first loss.
Now 31, Ortiz returns home to San Antonio to fight Friday night at the Boeing Center at Tech Port, where he's featured on the main card against Symari Alexander (2-0-0).
Ortiz's perspective is different than when he was a 24-year-old wild card. His old mentor, Ayala, has long passed away. Ortiz himself now has a son, and spends his time working with young Texans in San Antonio, training and coaching to keep kids off the streets.
:
'The mindset has changed.'
It's also been over a year since he fought in a professional bout.
Having been all over the world, he's at peace with where his career has taken him. He admits that if this is his last fight, he's OK with it.
Family is now his biggest priority.
"I've gone from being a warrior to being a defender for my family. So now, the mindset has changed. Family comes first."
But he knows he has one more run in him. He's been getting back to his roots, training in a dive boxing gym on the west side and reminding himself of his first love.
In the political world of boxing, he knows that if he wins on Friday night, he may see more opportunities to come.
As Ortiz says: "It's still hunting season."
It's a story of character evolution, now coming full circle in the place where it began. Eddie Ortiz is a different person than when he first entered a boxing ring, but he's still trying to channel that nothing-to-lose spark that he had as an up-and-comer. There's no better place to do it than home.
Is Eddie's evolution complete? Maybe. We don't know for sure.
We may find out on Friday night.
>TRENDING ON KENS 5 YOUTUBE:
Original News Source

Click here for San Antonio HOA Management