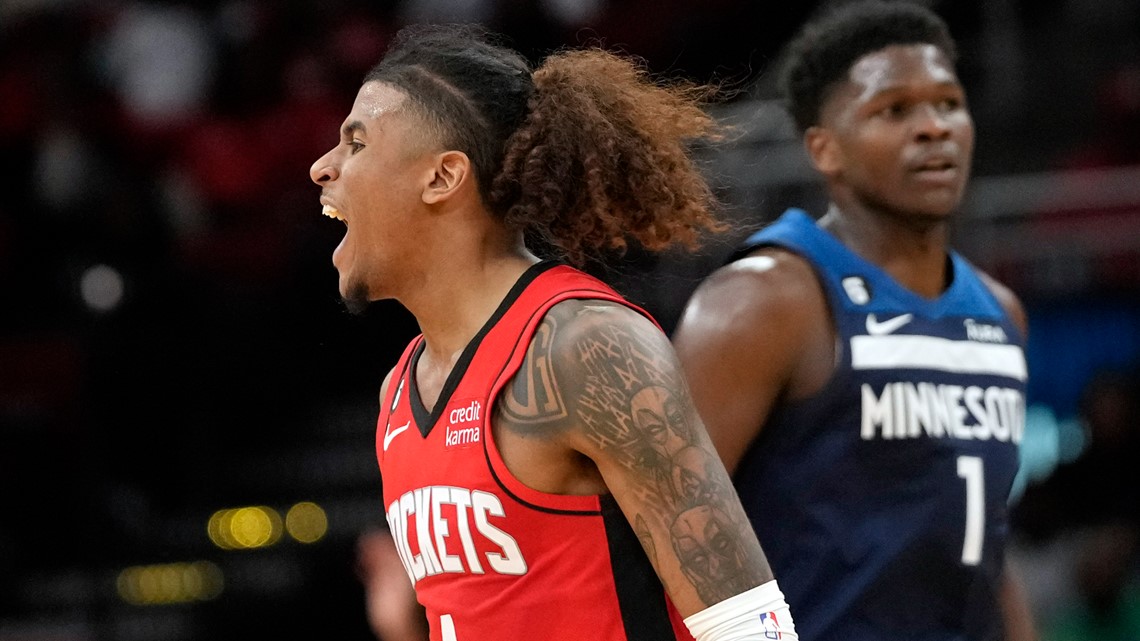 Green, the second overall pick in 2021, had 21 points by half and kept up his strong play in the second half to lead the Rockets to their first victory since Dec. 26
HOUSTON — Jalen Green scored a career-high 42 points and the Houston Rockets held on for a 119-114 victory over the Minnesota Timberwolves on Monday night to snap a 13-game losing streak.
Green, the second overall pick in the 2021 draft, had 21 points by halftime and kept up his strong play in the second half to lead the Rockets to their first victory since Dec. 26 at Chicago. They ended their longest skid of the season and also a 10-game home losing streak, winning at home for the first time since Dec. 13 against Phoenix.
Anthony Edwards had 31 points and D'Angelo Russell tied a season-high with 30 for the Timberwolves, who had won two straight.
The Rockets were clinging to a one-point lead before Green scored the next five points, capped by a 3-pointer, to make it 105-99 with two minutes to go.
Anthony Edwards made the second of two free throws before Green struck again, knocking down a long 2-pointer to leave Houston up 107-100 with 90 seconds to go.
Kenyon Martin Jr. then stole the ball from D'Angelo Russell and finished on the other end with a dunk to extend the lead to nine with less than a minute left.
Edwards made a 3 for Minnesota after that but Green hit a 3-pointer for Houston seconds later to make it 112-103 with 41 seconds to go. Minnesota closed within four with 12 seconds remaining but Green answered with a free throw.
Green swished a 3-pointer as time expired in the third quarter to leave Houston up 90-81. The Timberwolves used an 8-0 run, with five points from Russell, to cut the lead to 92-89 with about nine minutes left in the fourth quarter.
Houston went on a 7-0 run, with a 3 from Garrison Mathews, to take an 81-74 lead with less than four minutes left in the third quarter.
Austin Rivers made a 3 for Minnesota second later, but the Rockets scored the next six points to make it 87-77 with about two minutes left in the quarter.
TIP-INS
Timberwolves: Taurean Prince sat out with a sprained left ankle. … Rudy Gobert had 15 points and 16 rebounds in his return after missing three games right groin soreness.
Rockets: Rookie Jabari Smith Jr. missed a second straight game with a sprained right ankle. … Kevin Porter Jr. missed a sixth consecutive game with a bruised left foot. … Alperen Sengun had 21 points, seven rebounds and seven assists.
UP NEXT
Timberwolves: Visit New Orleans Wednesday night.
Rockets: Host Washington Wednesday night.