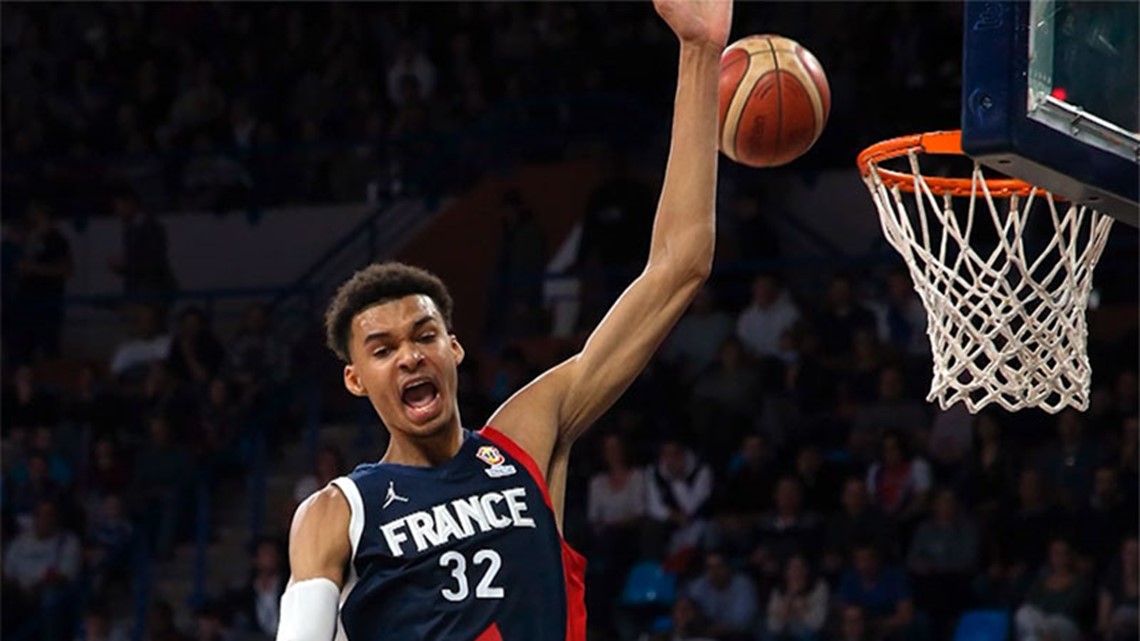 Parker believes Wembanyama will thrive in the NBA with the Spurs.
SAN ANTONIO — Another French basketball star is coming to the San Antonio Spurs and the greatest French player to put on the Silver and Black, Tony Parker, believes it was destined to happen.
With the Spurs winning the 2023 NBA Draft Lottery, the franchise will undoubtedly select Victor Wembanyama at the upcoming NBA Draft.
Many consider him a one-in-a-lifetime player with the ability to transform the Spurs franchise overnight and Parker could not be happier that Wembanyama is San Antonio bound.
"I feel like it was his destiny. He has everything to succeed," Parker said speaking with French media. "I'm so happy for Victor, for the city, for the Spurs. They have been preparing for two years by making moves to improve their position and put themselves in a position to choose first."
Parker knows exactly what is in the future for Wembanyama after spending 17 seasons with the Spurs.
San Antonio focuses on player development, fosters a winning culture, and has a soon-to-be Hall of Fame coach, Gregg Popovich, set to provide Wembanyama the perfect starting point for a successful NBA career.
"In San Antonio, he will be in a very, very good environment with Pop. I know he can only explode with the Spurs. There's a winning culture there, which will be great for him," said Parker.
"I think it's a good team for him. He will really improve there," he said.
Wembanyama is coming to the NBA with high expectations and with some questions.
There is no doubting his immense potential but can he live up to the massive hype? Can he handle the pressure of resurrecting the Spurs and follow in the big shadows of team greats David Robinson and Tim Duncan?
Parker believes Wembanyama can and will live up to the high expectations thanks to his experience playing at the highest level of basketball in France and his time playing for Parker's team, ASVEL.
In fact, Parker says the 19-year-old loves pressure.
"The pressure? He has had it for 13-14 years. He had enormous, constant pressure, and ranked as the biggest talent since LeBron James. When we had him at ASVEL, we saw that this pressure does not bother him," said Parker. "Moving to Spurs, moving behind Tim Duncan or David Robinson, the greats who have succeeded in this team. I don't think the pressure is going to get in the way."
Parker has high hopes for the Spurs and Wembanyama's success and maybe it is destiny he will ultimately land in San Antonio.
He played for Parker at ASVEL, is following Parker and Boris Diaw's French footsteps in San Antonio, and wore Parker's Spurs jersey when he was just a kid.
And Parker believes the team will rise back to the top of the NBA and add more titles with Wembanyama on the roster.
So long as he stays healthy and the other young Spurs players continue to improve.
And if Wembanyama proves to be all that he is billed to become, Parker sees a similar career to another Spurs legendary big man: Duncan.
"I hope that with Victor, we [Spurs] will return to the top," Parker said. "I hope he will stay healthy. This is the most important thing for him. If he stays, he has the potential to make a career like Tim Duncan."
Original News Source

Click here for San Antonio HOA Management