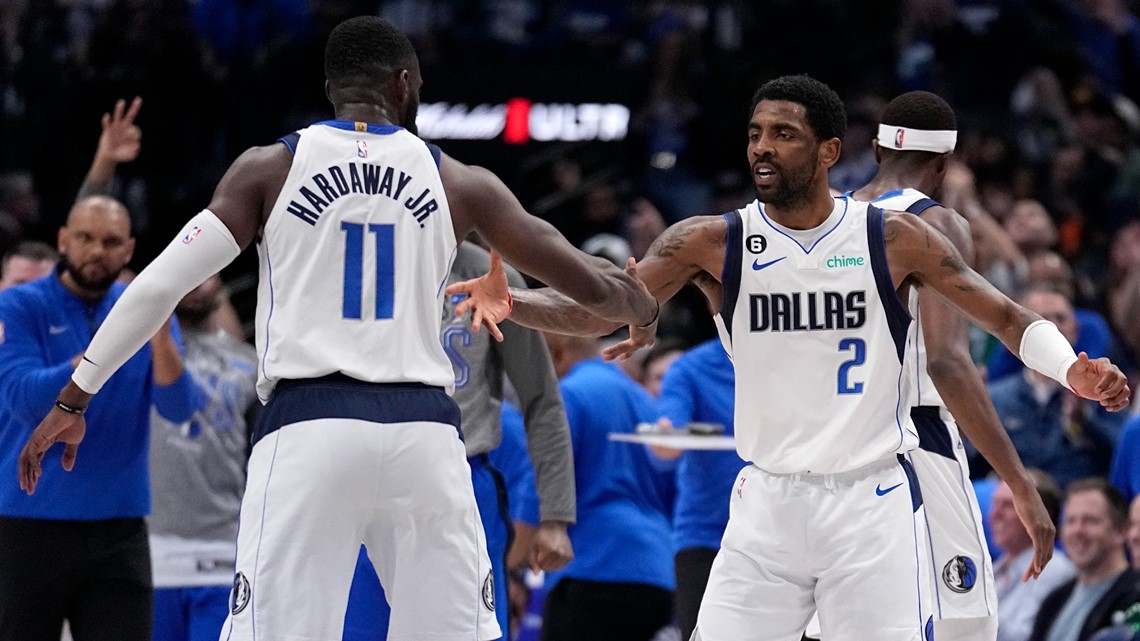 Kyrie Irving hit a clutch 3-pointer and scored 17 of his 33 points in the fourth quarter, and Luka Doncic added 29 points.
DALLAS — Kyrie Irving hit a clutch 3-pointer and scored 17 of his 33 points in the fourth quarter, and Luka Doncic added 29 points as the Dallas Mavericks beat the short-handed Utah Jazz 120-116 Tuesday night.
Utah trailed 118-115 with 3.7 seconds to play when Talen Horton-Tucker was fouled and sent to the line for two shots. After sinking the first, his intentional miss slammed directly off the backboard and didn't hit the rim, giving Dallas possession.
Irving's 3-pointer from the right side gave Dallas a 112-108 lead with 2:33 to play and was part of an 8-0 run that put the Mavericks ahead 115-108.
Tim Hardaway Jr. added 24 points off the bench, including 7-for-9 shooting from beyond the arc as Dallas finished a season-high six-game homestand 3-3.
Lauri Markkanen returned to the lineup after missing a game with a low-back strain and scored 33 points to lead the Jazz. Horton-Tucker added 21 points.
The Jazz lost their fourth straight and dropped to a season-low four games below .500. They played without two starters – shooting guard Jordan Clarkson (sprained finger) and center Walker Kessler (non-COVID illness).
The Jazz hit six of their first eight shots to lead 14-6 four minutes in before Hardaway scored 10 straight points for Dallas and helped the Mavericks to a 34-31 lead at the quarter.
Hardaway hit his first four 3-point shots. Seconds after he made his fifth in sixth tries to give the Mavericks a 51-37 lead four minutes into the second period, Hardaway backpedaled and his his left foot landed on Jazz coach Will Hardy's foot just inside the Utah coaching box. Hardaway went down, was helped to the bench and was soon back in the game.
TIP-INS
Jazz: Clarkson has sat out three of Utah's last four games while Kessler, the NBA's Rookie of the Month in February, missed a game for the first time since Halloween. … Guard Collin Sexton, averaging 24 minutes, missed his sixth consecutive game with a hamstring injury.
Mavericks: Improved to 3-5 in games in which Doncic and Irving played together. … Hardaway shot 5 for 6 from behind the arc for the second straight first half, matching his most career 3's in a half. … Reserve center JaVale McGee, who averages eight minutes off the bench, sat out with a sprained ankle. … Starting forward Reggie Bullock left with a right quad contusion after playing eight minutes in the first period. He finished with no points and two rebounds.
UP NEXT
Jazz: Visit the Orlando Magic on Thursday in the fourth game of a six-game trip, their longest of the season.
Mavericks: Complete a back-to-back at the New Orleans Pelicans on Wednesday.