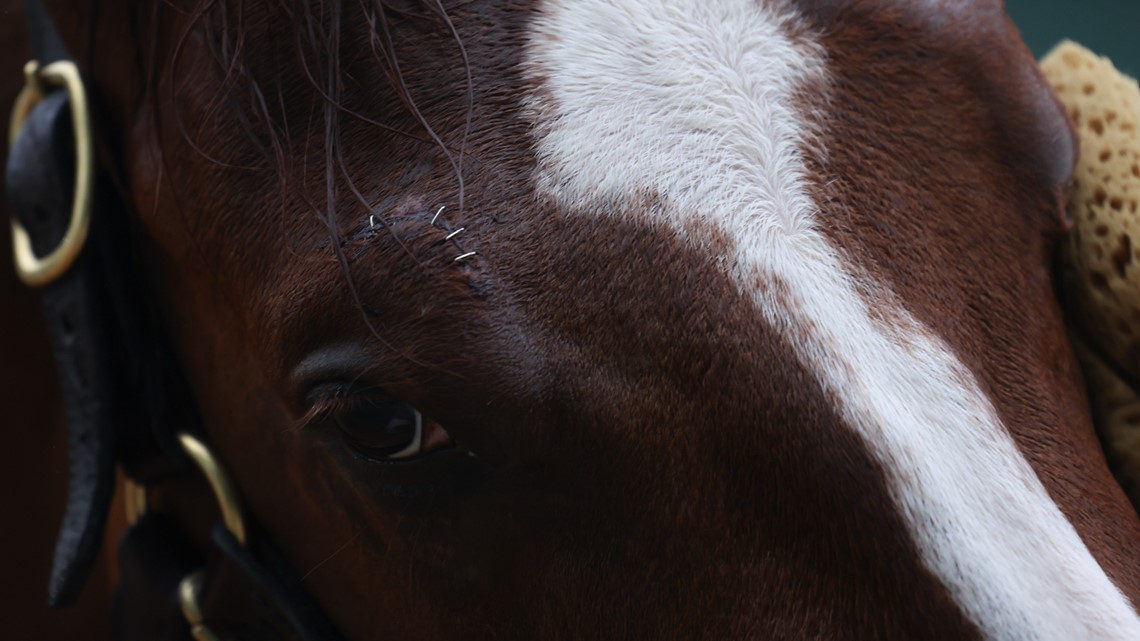 BALTIMORE — Preakness favorite Mage is good to go for the second race of the Triple Crown after bumping his head in his stall and getting a few stitches to close a cut above his right eye.
Co-owner and blood stock agent Ramiro Restrepo said the Kentucky Derby winner bumped his head Thursday, causing a superficial cut and receiving treatment from state veterinarians. Restrepo confirmed in a text message to The Associated Press on Saturday that Mage resumed training without any interruption.
Vets examined and cleared Mage and the six other Preakness horses to run in the $1.65 million race later Saturday. Increased prerace screening is in place in Maryland, including inspection of each horse in a the biggest stakes races by Stronach Group chief veterinary officer Dr. Dionne Benson.
First Mission, one of the other top Preakness contenders, was scratched Friday on the advice of veterinarians who expressed concern about his left hind ankle. Five horses were scratched in the leadup to the Derby two weeks ago, including favorite Forte.
Mage opened as the 8-5 morning line favorite for the Preakness and was the top choice at 2-1 seven hours before post time. Bob Baffert-trained National Treasure became the second choice in the absence of First Mission.
Original News Source

Click here for San Antonio HOA Management