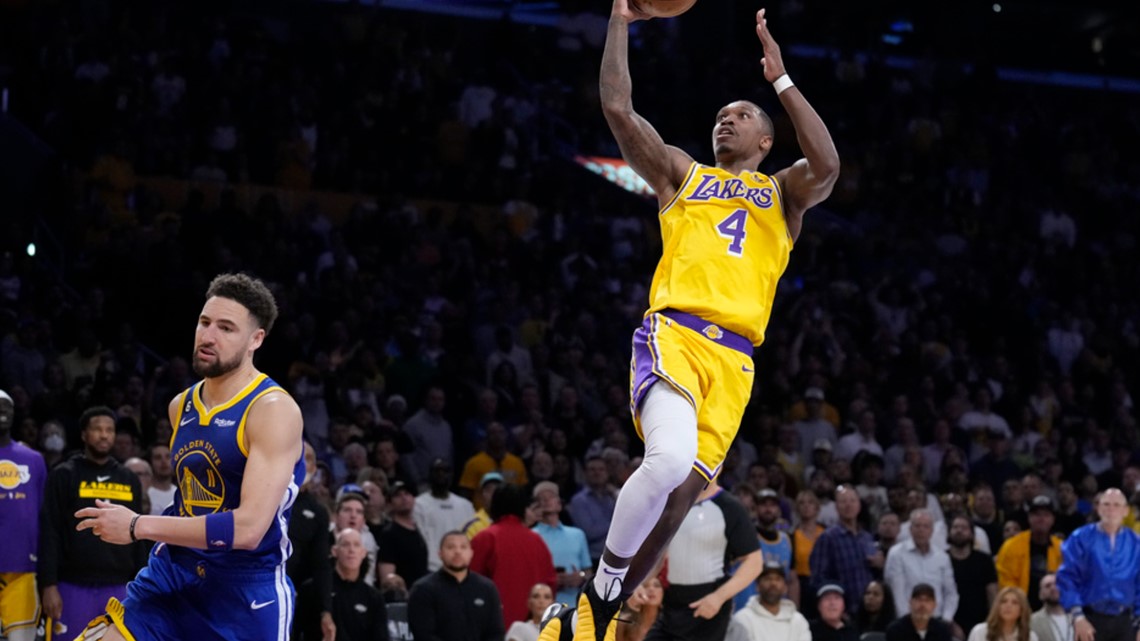 "Once my number was called, I was just locked in the entire time," Walker said.
SAN ANTONIO — Former San Antonio Spurs swingman Lonnie Walker IV had a playoff performance in Game 4 of the Lakers' series against the Warriors that had Silver and Black fans astounded.
Walker scored all 15 of his points in the fourth period pushing the Lakers to the win, drawing praise from LeBron James and his teammates while defending Stephen Curry.
"The game ball definitely goes to him. We don't win without him," James said postgame.
Following the game, Spurs fans showered Walker with praise for his outstanding game which has the Lakers up 3-1 on the Warriors in their semifinals series.
Here's a sample of what fans said about Walker:
And fans were not the only ones applauding Walker.
Some media personalities and current and former Spurs reacted to Walker's big night.
After his incredible game, Walker spoke about his night saying he was locked in and ready.
"Once my number was called, I was just locked in the entire time," he said.
"The greatest feeling you could ever imagine," Walker said with a smile after the game. "As a kid, this is something I've been dreaming of doing, not just being a part of the playoffs but impacting it, winning in the playoffs. I'm truly proud of myself. It really shows my capabilities and my mental fortitude."
Walker had fallen out of the rotation for the Lakers later in the season and hadn't played in the playoffs until the last few games.
"I think the hardest thing of being able to play a lot and then not playing at all is sticking with it," he said. "There's a lot of uncontrollable things that you can't control, and you've just got to take it day to day, stack the days, and every single day you're trying to be better than who you were yesterday."
Stay right here at KENS5 for complete Spurs coverage throughout the off-season.
Since going on the air in 1950, KENS 5 has strived to be the best, most trusted news and entertainment source for generations of San Antonians.
KENS 5 has brought numerous firsts to South Texas television, including being the first local station with a helicopter, the first with its own Doppler radar and the first to air a local morning news program.
Over the years, KENS 5 has worked to transform local news. Our cameras have been the lens bringing history into local viewers' homes. We're proud of our legacy as we serve San Antonians today.
Today, KENS 5 continues to set the standard in local broadcasting and is recognized by its peers for excellence and innovation. The KENS 5 News team focuses on stories that really matter to our community.
Original News Source

Click here for San Antonio HOA Management