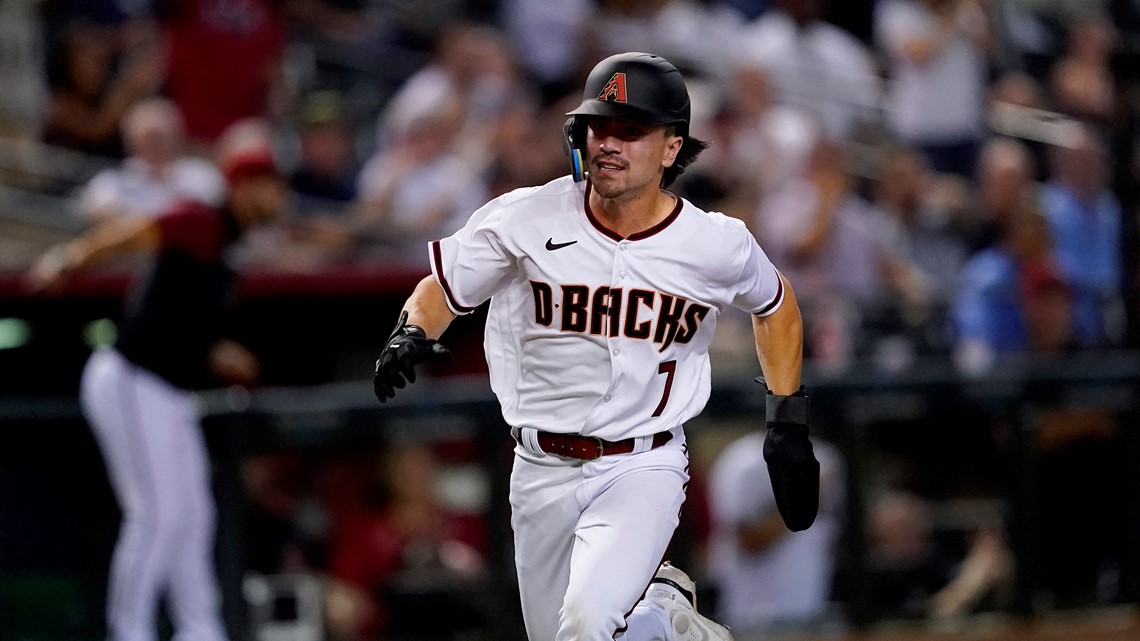 NEW YORK — Now that we're a few weeks into Spring Training, and we've some game action, it's time for more rankings to come out and this time, we're looking at the projected top rookies of each league for 2023.
Host Lindsay Crosby of Locked On MLB Prospects ranked the Top 10 Rookies for each league and detailed his rankings on the latest episode of his show.
They are in the order in which he believes they'll impact their team in 2023. We will be spotlighting the Top 5 in each league.
Carroll is one of the top prospects in baseball (ranked #1 on MLB Pipeline's list) so he's a favorite for most to do well in 2023. He's already had playing time in the bigs appearing in 32 games with the Diamondbacks in 2022. He hit .260/.330/.500 with four home runs and Crosby believes that bit of experience was the perfect amount of time for Carroll to get used to being in the big leagues and will be an advantage for him in 2023.
Walker is another top prospect (ranked #4 on MLB Pipeline's list) who Crosby believes can be an impact player in 2023 if he's given the chance to play for the Cardinals. Crosby said, "Walker is so good that St. Louis will find a way to get him in the lineup every day." Walker is young—he's turning 21 in May—and he's powerful. His grade on power is 70 and he hit 19 home runs for Double-A Springfield along with 31 doubles and he also stole 22 bases.
3) C Francisco Alvarez, Mets
Alvarez is ranked #3 on MLB Pipeline's list for 2023 and Crosby addresses the fact that this pick may be unconventional and that people may have questions because of possible playing time but he said, "I absolutely believe that he has what it takes offensively to be a force in the Mets' lineup." He added, "I'm not sold on Omar Narvaez and Tomas Nido as your two catchers blocking him in any way." Crosby believes the team could bring him up and split time between catcher and DH.
Vargas isn't as highly ranked as his predecessors (#37 on MLB Pipeline) but Crosby believes there is more playing time available for him this year with the Dodgers, especially after the Gavin Lux injury. Vargas can play first, second base, and third base, and with the shuffling around the Dodgers will have to do, it's possible Vargas can get a chance to play regularly. He played in 18 games last year and while he didn't dazzle—he only batted .170/.200/.255 in 47 at-bats with one home run—he now has experience which will help him in 2023.
Painter is ranked #6 on the MLB Pipeline list and the only pitcher in the NL's Top 5. Crosby said, "Painter is incredibly good." And added that he added a cutter to his arsenal this offseason in addition to the slider he learned to throw the year before which means he now throws a fastball, cutter, slider, curveball, and a changeup which means he has a ton of options with which to attack hitters. Crosby isn't sure if Painter will start the season with the Phillies and he thinks the team will be mindful of Painter's workload but he thinks Painter has the stuff to succeed at the big level and that he will be up sooner rather than later.
Rounding out the top 10 for the NL: 6) 3B Spencer Steer, Reds, 7) RHP Bobby Miller, Dodgers, 8) 3B Brett Baty, Mets, 9) SS Ezequiel Tovar, Rockies and 10) RHP Cade Cavalli, Nationals
Henderson is the number one prospect in baseball according to nearly everyone who does the rankings for baseball—he's number on MLB Pipeline's list and on Baseball America's list). We don't know where he'll play whether it's at shortstop or at third but he will start for the Orioles. He played in 34 games in 2022 and he batted .259/.348/.440 with four home runs and Crosby said about Henderson, "He's one the most dynamic prospects in all of baseball." Look for him to make a big impact for the Orioles in 2023.
Crosby said right away, "Normally I'd be hesitant to have a pitcher ranked this high (but) I think Hunter Brown's introduction to the bigs last year where he was able to do it at a high level all the way through the postseason and a World Series run was an invaluable experience." Crosby added that having such a strong rotation of guys around him will also help him in his first full year with the Astros as he will not be asked to be "the guy." He will be the fifth guy and that is not as pressure-filled as being asked to be the ace of the staff or even the number two.
Rodriguez is ranked #7 on MLB Pipeline's Prospect list and Crosby actually thinks Rodriguez is better than Hunter Brown talent-wise but whereas Brown will have the support of a strong rotation around him, Rodriguez will not have the same experience in Baltimore. Not yet anyway. Crosby believes Rodriguez could be slotted in as the number three starter for the Orioles in 2023. He hasn't accrued the same playing time that some of the other rookies on the list have but Crosby thinks Rodriguez will still do well enough to have a big impact this season.
O'Hoppe made his debut with the Angels at the tail end of the regular season in 2022. Crosby believes O'Hoppe could have the same kind of impact on the Angels as Adley Rutschmann had last season for the Orioles and their pitching staff meaning he can step right in and take over. The team already has O'Hoppe catching Shohei Ohtani's outings and bullpens this Spring so if that isn't a big endorsement of his abilities, what is? As for O'Hoppe's offense, Crosby said, "I'm confident that the offensive ability and the hit tool is there for him to have an impact in his first year."
Volpe may not start the year as the Yankees shortstop—he's currently competing with Oswald Peraza and Isaiah Kiner-Falefa in camp—but Crosby thinks even if he doesn't head up to New York for Opening Day, Volpe gets up to the bigs not too long after the season begins. Crosby added, "There will be enough time for him to settle in offensively." But Crosby points out that even though Peraza and super utility player Oswaldo Cabrera, who debuted with the Yankees in 2022, are better than Volpe at shortstop defensively, Volpe is the better choice offensively and you could see him up sooner rather than later.
Rounding out the top 10 for the NL: 6) 1B Triston Casas, Red Sox, 7) OF Oscar Colas, White Sox, 8) 3B Jace Jung, Rangers, 9) SS Oswald Peraza, Yankees, and 10) LHP DL Hall, Orioles
BE SURE to listen and subscribe to Locked On MLB Prospects wherever you find your podcasts!