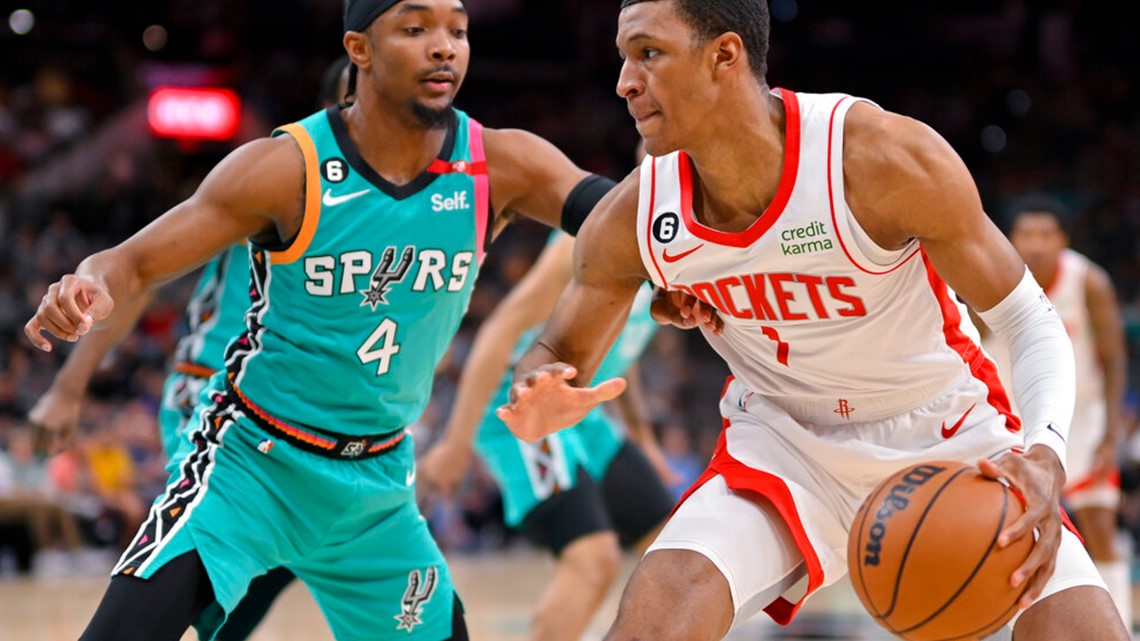 The Spurs' two-game winning streak is snapped.
SAN ANTONIO — The San Antonio Spurs saw their two-game winning streak snapped versus the Houston Rockets, 122-110.
Devonte Graham had 28 points and two rebounds to lead the team while Jeremy Sochan added 14 points. Zach Collins finished with 14 points and 10 rebounds while Tre Jones recorded 12 points in the loss.
San Antonio was 4-17 on 3-pointers in the second half and committed 14 turnovers for the game. Houston had 30 fast-break points for the game.
The Spurs were without Devin Vassell, Malaki Branham, Doug McDermott, and Keldon Johnson due to injuries.
The Spurs are now 16-48 on the season, and will next face the Rockets Sunday night in Houston in the second game of a back-to-back set.
Here's a sample of what the teams said after the game courtesy of the Spurs.
"I think overall we're very pleased with the effort. All those different lineups make it difficult for those guys in trying to run too much," Popovich said. "We didn't shoot the ball in the second half very well, 33 percent overall and 25 [percent] from three. That's going to make the half tough but we turned it over some more. Gave up 10 more points in turnovers."
"That's how we get better. That's how we're getting experience in this league," Bassey said. "We're just going to keep getting better. It's going to be a good off-season. Just keep going strong. We're just going to keep getting better."
"They [Houston] outran us tonight a little bit. Too many turnovers, second-chance points, and a lot of points in the paint for them. We gotta clean that up for tomorrow," Graham said.
"We wanted to make sure that we were getting out to their [Spurs] shooters more and just a little bit more intentional," Silas said.