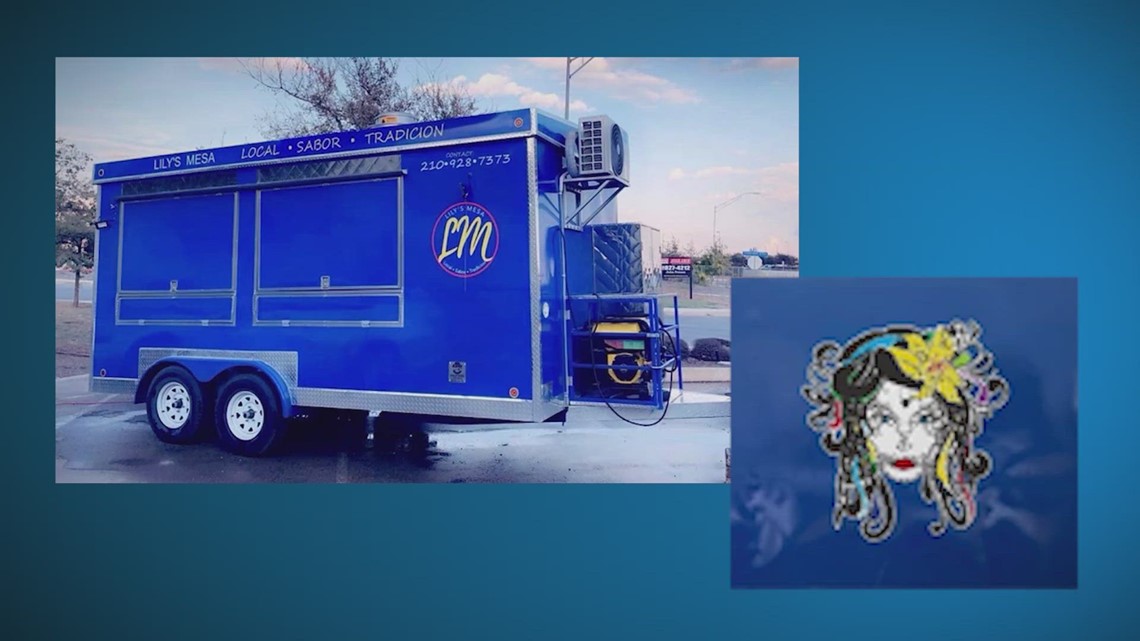 The truck is royal blue with silver trim and includes an image of a female sugar skull.
SAN ANTONIO — San Antonio police are searching for a food truck that was stolen from the city's north side last Friday.
The truck is a royal blue color with silver trim and includes an image of a female sugar skull. It was last seen the night before on the 15000 block of Tradesman Drive, where the owners of Lily's Mesa said they store their food truck every night.
Owners Edmundo Alonzo and Mauricio Rios said someone cut the bolt they used to secure down the food truck. The bolt and two cinderblocks are all that's left after the truck was stolen.
"We didn't even have the truck a year and now it's gone," said Rios.
The couple opened Lily's Mesa last August and serve all kinds of fresh Mexican food inspired by family recipes.
"On the back [of the food truck], it has a huge sugar skull. Hence, Lily," said Rios.
Lily was Alonzo's beloved grandmother.
He moved from El Paso to take care of her when she was diagnosed with dementia. Alonzo was close to his grandmother and they shared a passion for cooking. After her death in 2021, Alonzo sold the house he bought and shared with her to fulfill his dream of owning a food truck and named it after her.
"It was more than just a food truck. It was more than just a business. It stood for a sign of remembrance, a token of love, a token of livelihood," said Rios. "And to have that ripped away… it was so much more."
The night before the truck was stolen Rios said they were preparing for a big event they had Saturday night. Not only did someone get away with the truck but also about $20,000 worth of food and equipment.
Rios said the truck was insured but the process to rebuild Lily's Mesa will take time if they don't find the truck. The couple said they planned to continue operations at some point.
"It's a great loss to us but I can say the memories made in such a short time were priceless," said Rios.