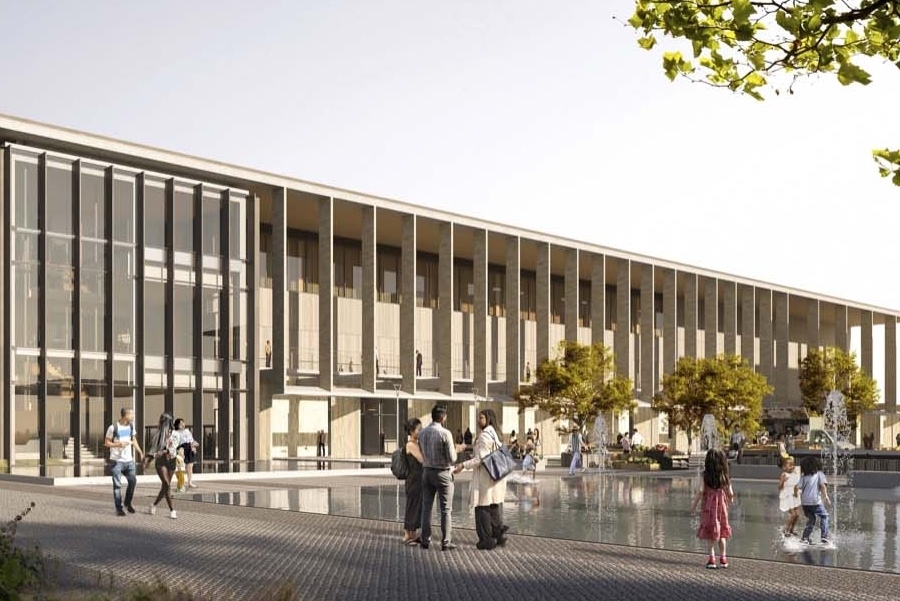 Spurs Sports and Entertainment, and local company Victory Capital Holdings on Jan. 18 announced a multiyear naming rights partnership with Victory Capital Management Inc. for the team's new performance center being built at The Rock at La Cantera on the northwest side of San Antonio.
Victory Capital has been named the official investment partner of the San Antonio Spurs and the performance center, according to a news release. Victory Capital, a global investment management firm with $153.0 billion in assets, relocated its corporate headquarters to San Antonio in 2019.
The 134,000-square-foot Victory Capital Performance Center is scheduled to open late this summer, and when finished, it will contain a training facility for the Spurs, the release said.
According to the release, the facility will feature state-of-the-art resources for Spurs players and coaches, including a motion capture shooting lab, an environmental training room, hydrotherapy pools, a sensory deprivation tank, a team dining room and performance kitchen, and a tour path for fans to get a behind-the-scenes look at a day in the life of a Spurs player.
SS&E CEO RC Buford said the partnership with Victory Capital will help to boost investment in the Spurs and its relationship with the city.
"Victory Capital is a leader among the next generation of companies that are choosing to move their businesses to San Antonio. Through our shared values and desire to invest in important life skills, such as financial wellness, we are striving to have a transformative impact on the communities we serve for generations to come," Buford said in a statement.
David Brown, Victory Capital Chair and CEO, said his company welcomes the chance to work with the Spurs and appreciates the franchise's commitment to giving back to the community.
"The Spurs organization is well known for its performance-driven and team-oriented culture, which are values that we share. We are proud to join the Spurs family and put our name on a cutting-edge facility that exemplifies innovation and highlights the future of this vibrant city," Brown said in a statement.
The release said the performance center will be the first mass timber-constructed training facility in professional sports and one of the largest mass timber construction builds in Texas. The development will incorporate solar energy along with specific building elements that will reuse and reduce water usage, the release said.
According to the release, the Victory Capital logo will be featured atop the new Victory Capital Performance Center and will be incorporated into other areas throughout the facility, including the practice courts. Off the court, Victory Capital and the San Antonio Spurs will collaborate on programs to promote financial wellness in the San Antonio community.