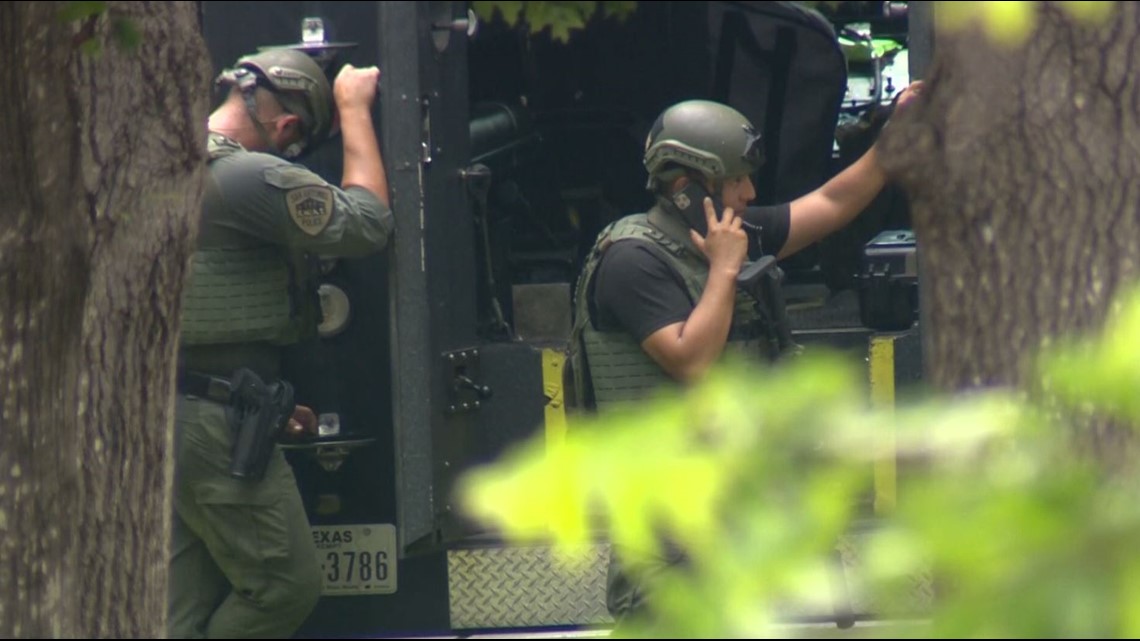 Police say they deployed chemical agents into the apartment building after hours of attempted negotiations.
SAN ANTONIO — San Antonio police say a prolonged standoff at a north-side apartment complex ended when four people were taken into custody on a slew of outstanding warrants, including one for a 2020 murder.
The suspects – one women and three men – have not been identified, nor did officials with the San Antonio Police Department (SAPD) immediately provide more information on what case the murder suspect was arrested for.
It began when a female suspect being monitored by police for alleged aggravated robbery arrived at The Maya apartments near Northeast Loop 410 and Harry Wurzbach around 6 p.m. Wednesday, according to SAPD Sgt. Washington Moscoso. Soon after, police realized there were three others inside, later identified as suspects linked to various crimes including aggravated robbery, burglary of habitation, assault and drug-related offenses.
"They immediately contained the suspects in that apartment, and did what they could to try and get them to come out," Moscoso said.
Once Wednesday night turned into Thursday morning, police say, backup arrived in the form of a SWAT team and police negotiators. The robbery suspect police were initially surveilling emerged first, but seven hours after negotiators arrived police shifted to other tactics.
"We did resort to chemical agents," Moscoso said, adding neighbors may have heard small booms as a result. "Once we deployed the chemical agents into the building, shortly after they came out."
Police said a nearby school was briefly placed on lockdown Thursday as a precaution.
>TRENDING ON KENS 5 YOUTUBE:
[embedded content]
Since going on the air in 1950, KENS 5 has strived to be the best, most trusted news and entertainment source for generations of San Antonians.
KENS 5 has brought numerous firsts to South Texas television, including being the first local station with a helicopter, the first with its own Doppler radar and the first to air a local morning news program.
Over the years, KENS 5 has worked to transform local news. Our cameras have been the lens bringing history into local viewers' homes. We're proud of our legacy as we serve San Antonians today.
Today, KENS 5 continues to set the standard in local broadcasting and is recognized by its peers for excellence and innovation. The KENS 5 News team focuses on stories that really matter to our community.
Original News Source

Running For Office? Conservative Campaign Management – Election Day Strategies!