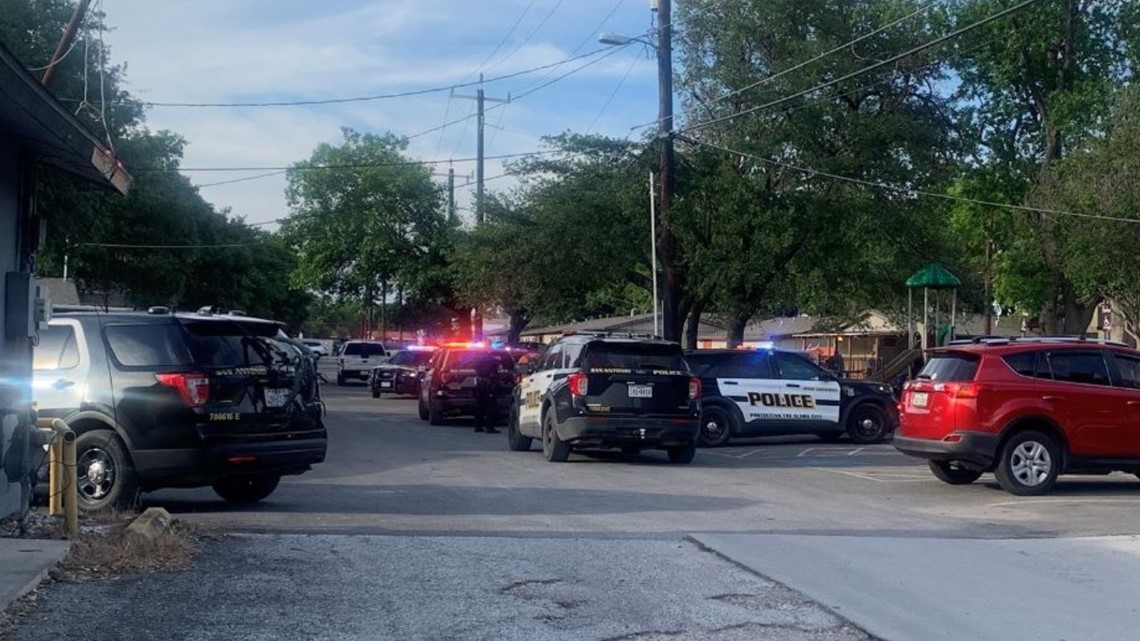 The man was accused of assaulting his mother, sister and girlfriend, according to preliminary information provided at the scene.
SAN ANTONIO — A man who allegedly held a knife to his mother's throat was shot by a San Antonio Police officer late Wednesday afternoon, SAPD Chief William McManus said.
Officers were responding to a call about a family disturbance on the city's northeast side.
The incident unfolded in the 6600 block of Fairdale Drive between Bloomdale and Hall Park Drive, just off Loop 410 and Interstate 35.
McManus said a man in his early 30s was accused of assaulting his mother, sister and girlfriend inside an apartment unit there.
The man then fled to the parking lot and was pursued by SAPD officers, he said.
His mother also came to the parking lot, and McManus said the man grabbed his mother and held a knife to her throat.
That's when an SAPD officer fired on the man, striking him in the thigh.
The suspect was transported to a hospital.
McManus said the man was expected to be charged with aggravated assault.
The officer who fired the shot will be placed on administrative duty pending investigation of the case.
This is the 10th shooting involving law enforcement to take place in Bexar County so far this year, and it's the seventh involving SAPD officers.
This is a developing story. Check back with KENS5.com for updates.
>TRENDING ON KENS 5 YOUTUBE:
[embedded content]
Since going on the air in 1950, KENS 5 has strived to be the best, most trusted news and entertainment source for generations of San Antonians.
KENS 5 has brought numerous firsts to South Texas television, including being the first local station with a helicopter, the first with its own Doppler radar and the first to air a local morning news program.
Over the years, KENS 5 has worked to transform local news. Our cameras have been the lens bringing history into local viewers' homes. We're proud of our legacy as we serve San Antonians today.
Today, KENS 5 continues to set the standard in local broadcasting and is recognized by its peers for excellence and innovation. The KENS 5 News team focuses on stories that really matter to our community.
Original News Source

Running For Office? Conservative Campaign Management – Election Day Strategies!