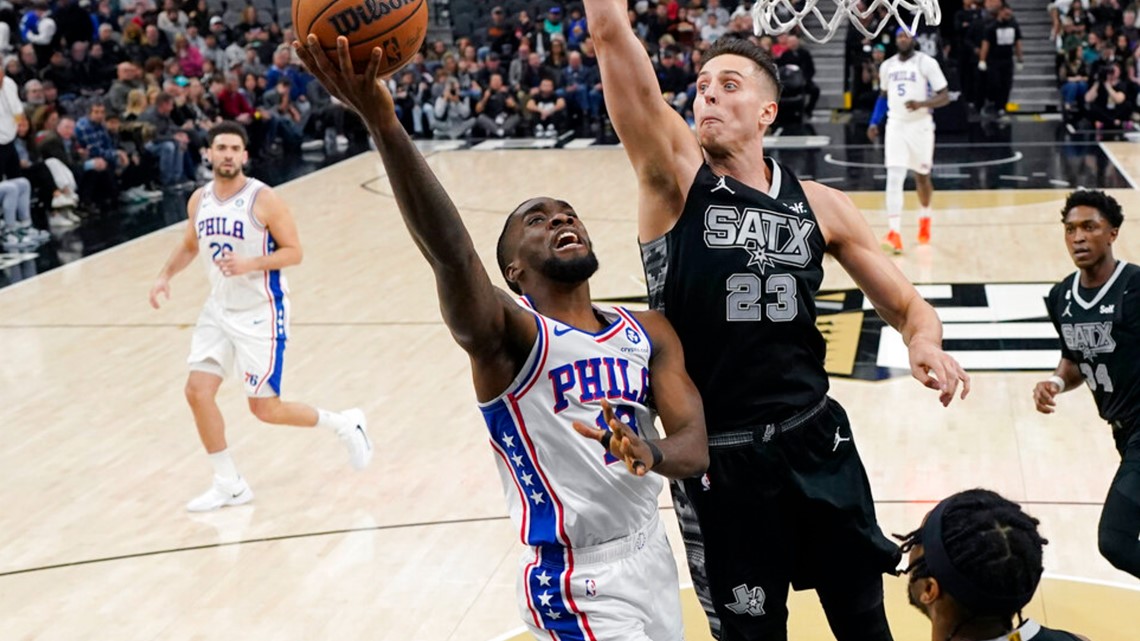 "There were too many of them [turnovers] and it definitely cost us tonight," said Jakob Poeltl.
SAN ANTONIO — The San Antonio Spurs lost versus the Philadelphia Sixers, 137-125, at the AT&T Center. San Antonio is now on an eight-game losing skid.
Malakai Branham had 26 points and three assists to lead the team while Keldon Johnson added 18 points. Jakob Poeltl finished with 16 points and 10 rebounds while Josh Richardson recorded 10 points in the loss.
Tre Jones, Romeo Langford, and Jeremy Sochan did not play due to injuries.
The Spurs are now 14-39 on the season, and will next face the Chicago Bulls Monday night on the road to start the Rodeo Road Trip.
Here's a sample of what the teams said after the game courtesy of the Spurs.
"Another carbon copy. They never give in," Popovich said. "I thought Malaki had a great game tonight. Blake Wesley after a while got his confidence and did some good things. Everybody on the court did things they should do but they [76ers] made more threes which is not unusual. We're in that situation a lot. Giving up 26 points off turnovers makes it impossible. That's the most disappointing part of the game."
"I feel like I'm just slowing down, picking my spots on the court, and just knowing what I do. It's as simple as it gets," he said about his game. "I turned it over a couple of times. Just trying to get better at that. They [76ers] had a lot of points off our turnovers. I feel like if we cut down on the turnovers, we probably would have won."
"Just us not being focused enough. Not being on the same page in all these situations. Maybe a couple of lineups out there that were different," Poeltl said. "Maybe we gave them [Sixers] too much respect on defense. I don't know what it was exactly. There were too many of them [turnovers] and it definitely cost us tonight."
"First half, I thought they stretched the lead and then in the second half they stretched the lead. Then, unfortunately, that last group we had to bring back the starters, which I absolutely hate. Pop and I were actually talking about that at the end," Rivers said. "We were asking, what's our number to bring guys back? We both said 12, you know in that area. But overall, it's a good win."