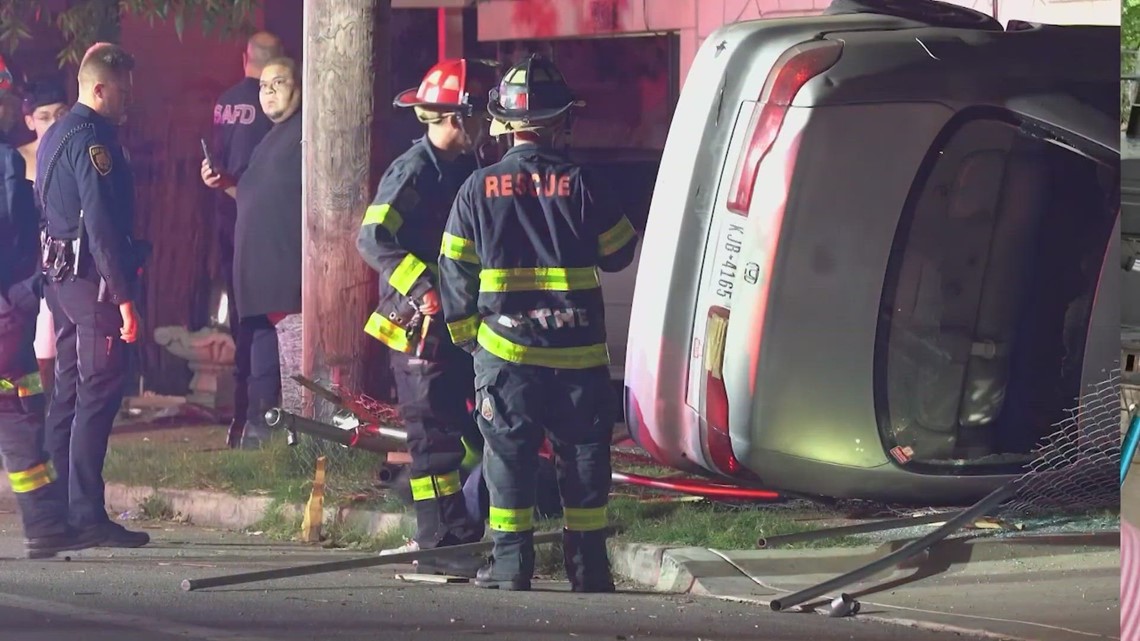 Angela Gonzalez said street racing, speeding, and drunk drivers putting children and families in danger.
According to San Antonio Police, the incident happened early Tuesday morning off the 300 block of W. Theo Avenue.
That's when officers said a man accused of driving drunk lost control of his car, hit a tree in front of the house, and the rolled until coming to a stop outside the home.
Angela Gonzalez lives in the home, and said her family woke up to a nightmare.
She said her children heard a crash and a loud sound, and then "came out to a car rolled over in our yard."
The car left a trail of destruction that knocked out her fence and clipped the front of her home.
"We just put in a new fence, everything we had in the front yard, it took everything," said Gonzalez.
But what enrages this mother the most, is that the driver nearly slammed into the house where her children were sleeping inside.
"The only thing he missed was my daughter's room, and the only thing that saved him from running into her was that tree we have in the front," said Gonzalez. "If that tree wasn't there, he would have run right into my daughter's room."
Despite the terrifying realization of what had just happened, Gonzalez said she and her family still jumped in to help the man get out of the car.
But when he finally was able to escape the mangled mess, Gonzalez said she was shocked at his reaction.
"When he got out he was careless. He came out smoking a cigarette," said Gonzalez.
Then she said, the driver tried to run away.
"But my husband and my kids held him down until cops got here," she added.
Now Gonzalez is frustrated and fed up. Her family moved in the house just three months ago, she said, and since then a similar incident happened at the house across the street, and a second time to another house a few blocks away.
"A month after we moved in, in March, there was another car that lost control, and went into a little old lady's house," said Gonzalez. "Nothing is being done."
Gonzalez said she reached out to District 5 City Councilwoman, Teri Castillo asking for help.
"I told them, 'It shouldn't have to take another house, or a life for ya'll to do something like speed bumps or something,'" said Gonzalez.
Less than 24 hours after the incident this family is left to repair the damages, and pick up all the debris left behind.
As for the driver, SAPD said he was arrested and charged with DWI.
Gonzalez said she will continue fighting for change, but moreover, she's grateful her daughter wasn't hurt.
"No matter how old your children are, they're your babies, and for some drunk driver, because he's drunk and lost control," she said, "I could have lost my daughter and she'd never come back."
"She's not comfortable sleeping in her room any more….we just moved here so she can feel comfortable," Gonzalez said.
We reached out to Councilwoman Castillo, and she sent us this statement:
"As of this morning, our office received a call from a resident in the area concerning this accident, and our office is working with Public Works on potential traffic calming measures to ensure that we have infrastructure that will minimize these issues going forward."
The statement also included how to officially submit a request for speed bumps:
"As a reminder, a speed hump application must be submitted to initiate a request for a speed hump, and we are happy to provide these at our constituent field offices. Our main constituent line can be reached Monday through Friday from 9 a.m. – 5 p.m. at 210-207-0960."
[embedded content]
Original News Source

Running For Office? Conservative Campaign Management – Election Day Strategies!