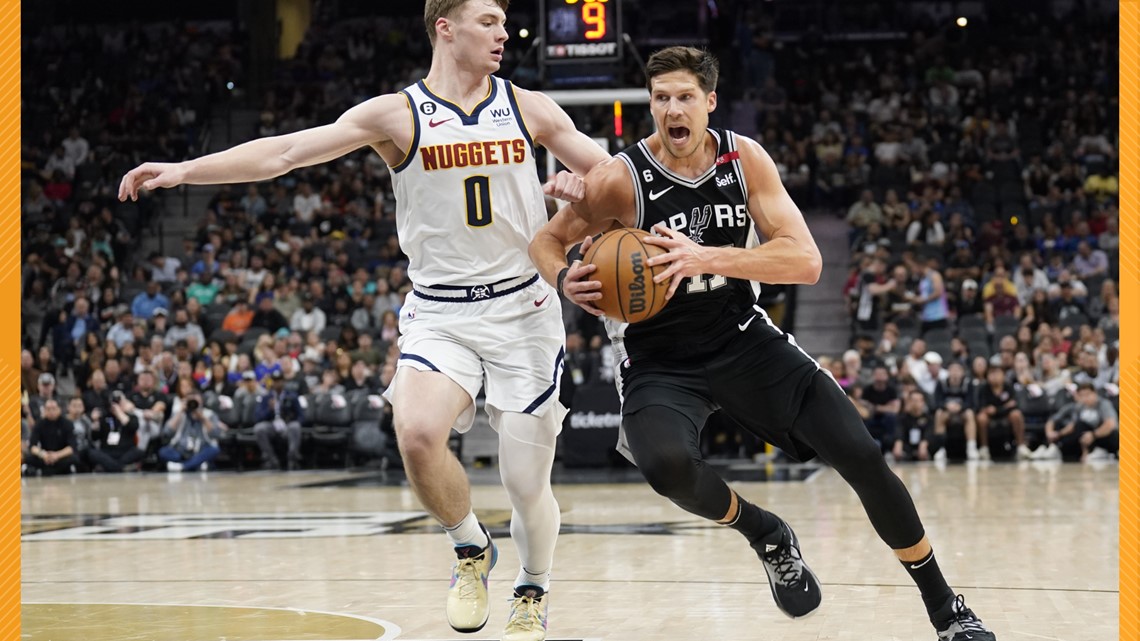 SAN ANTONIO — The San Antonio Spurs started their six-game home stand with a win over the West-leading Denver Nuggets, 128-120.
Keldon Johnson had 23 points and eight rebounds to lead the team while Doug McDermott added 20 points. Jeremy Sochan finished with 19 points and eight rebounds while Tre Jones recorded 14 points in the loss.
Zach Collins was ejected from the game after an altercation with Denver's Michael Porter Jr.
The Spurs are now 17-49 on the season, and will next face the Oklahoma City Thunder Sunday night in San Antonio.
Here's a sample of what the teams said after the game courtesy of the Spurs.
"It felt great, the fans were really into it. We put them [fans] to sleep in the first quarter but then we woke them up," Popovich said. "It was great to have all those people there yelling and screaming, they deserve to have a good night. We don't get into the paint, you don't get those 31 assists."
"I wanted to play Nikola [Jokic] so I brought my A-game today," Mamukelashvili said. "I can't say enough about my teammates. They were hyping me up. They were so great. They were hyping me up and just bringing positive energy and just trusting me."
"It [win] means a lot. It shows that we are growing. We're doing the right things every day. It's great to see us get rewarded with a great win against the top seed in the West," McDermott said. "I think it's great being at home in front of our fans. They stuck with us all year. They know it's a process this year."