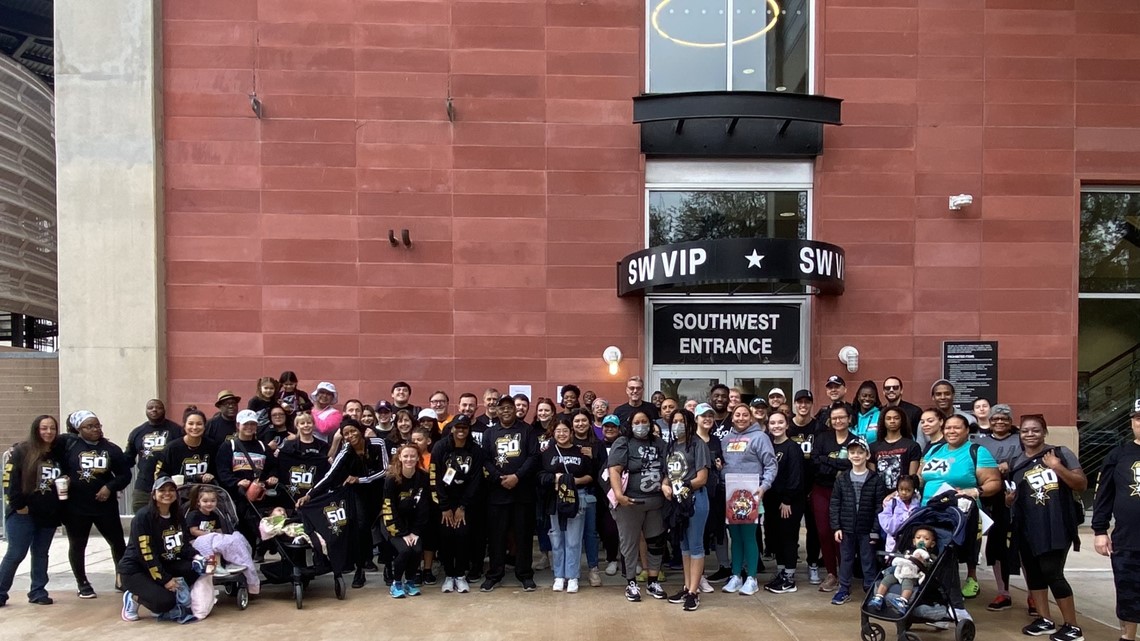 Let's catch you up on all the latest Spurs news you may have missed.
SAN ANTONIO — The San Antonio Spurs 2022-23 season is underway and there is plenty of team news and notes you might have missed.
Let's catch you up on the latest on the Silver and Black.
SPURS SPORTS & ENTERTAINMENT MARCHES ON MLK DAY 2023
Spurs Sports & Entertainment took part in San Antonio's 36th annual Dr. Martin Luther King, Jr. March celebration Monday afternoon.
The 2023 celebration began with the in-person march kickoff at the Dr. Martin Luther King, Jr. Academy, followed by a park celebration at Pittman-Sullivan Park.
Always great to see the franchise taking part in big community efforts like this.
MAJOR PARTNERSHIP ANNOUNCEMENT
The Spurs will be announcing a new major partnership tomorrow afternoon. Stay tuned for the latest on this here at KENS 5.
GET THE SPURS TO UTAH! ALL-STAR VOTING UNDERWAY
Spurs fans can now vote for the Silver and Black players to make it to the All-Star Game in Utah.
The Austin Spurs recently picked up a 112-98 loss against Stockton.
However, Spurs rookie guard, Blaker Wesley, had himself a night with 29 points. Dominick Barlow scored 16 points and six rebounds. Charles Bassey had 15 points and nine boards. Tommy Khuse had 12 points.
Austin will next face the Ontario Clippers on Friday to start a double-header weekend. Tip-off is slated for 7:30 p.m. at the HEB Center at Cedar Park.
Also, San Antonio has recalled Wesley from Austin. He'll be available versus the Nets.
GQ LOVES SOCHAN'S CRAZY HAIR COLORS
GQ Magazine recently felt the need to applaud rookie Jeremy Sochan's colorful hairstyles with a tribute on Twitter.
A NEW RING OF THE ROWEL EPISODE IS OUT
A new episode of the Spurs docuseries, "The Ring of the Rowel" is out and it focuses on the bond between the team and the San Antonio community. It is likely to move you to some tears of joy.
SPURS THANK FANS FOR PACKING THE DOME
The Spurs set a new NBA attendance record by having over 68,000 fans inside the Alamodome for a regular-season game.
And the team wants to thank you!
SPURS FAN SPOTLIGHT: CASTRO & SUNS SOLAR
Local San Antonio solar business, Castro & Suns Solar, knows where to go to get their Silver and Black Podcast: Locked On Spurs!
Do you have some Spurs news you want to share with us? Let us know on Twitter at @KENS5 and at @JeffGSpursKENS5.