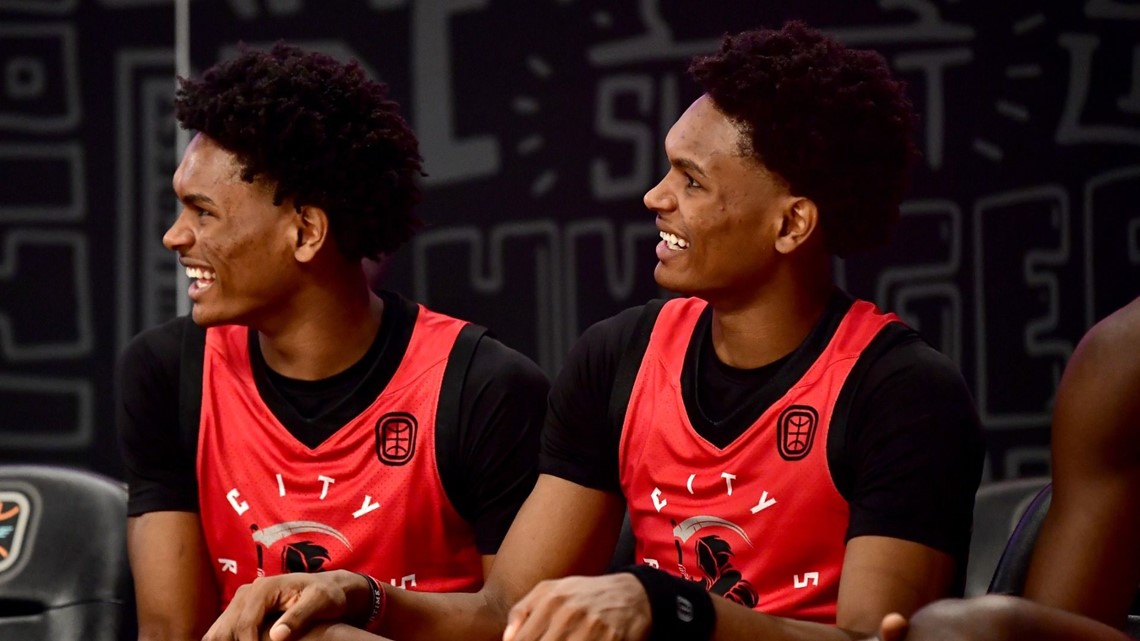 Explosive athletes with tons of skill and potential, the twins have similar strengths and weaknesses but some key differences in their games.
SAN ANTONIO — Identical twins Amen and Ausar Thompson have taken an unorthodox path to the forthcoming NBA Draft, but nonetheless positioned themselves as potential top-five picks thanks to their explosive athleticism and next-level skill.
The Thompson twins play in Overtime Elite, a professional league for players between 16 and 20 years old founded in Atlanta in 2021. They play against other OTE teams and a mix of prep and post-grad opponents, and on Friday the teammates will showcase their skills in the league's championship for the top-seeded City Reapers.
Both were homeschooled in sixth and seventh grade to focus on hoops. They eventually moved from California to Florida, where they started at Pine Crest School as eighth graders. As juniors they were co-players of the year in their county. Amen scored 43 in the state title game, helping erase an eight-point deficit with 45 seconds left in overtime.
The twins skipped their senior year of high school and went straight to the OTE. They don't seem to be behind on book smarts either.
The 20-year-olds are both about 200 pounds at 6'7″ with 6'11" wingspans, and like any set of twins they're very similar but not truly identical. That extends to their games, with similar strengths and weaknesses but a few areas where each outshines the other just a bit. Anything one of them does at an elite level, the other isn't far behind.
A look at the per-36 statistics shows just how close these guys are in terms of production.
Amen: 20.8 points, 8.2 rebounds, 7.9 assists, 4.1 turnovers, 1.0 blocks, 3.1 steals.
Ausar: 21.3 points, 9.1 rebounds, 7.9 assists, 4.5 turnovers, 1.6 blocks, 3.5 steals.
Any conversation about these guys begins with the otherworldly athletic gifts they possess. Both of them jump out of the gym with vertical leaps well over 40 inches. Combine that with a quick first step and they're up there with the most dangerous downhill drivers in this draft class, always a threat to put some unfortunate soul on a poster. Catching lobs is also a specialty. Both need to refine their touch around the rim, but they have the potential to be monsters here.
Amen (pronounced uh-Men) seems to have an edge in this category. It doesn't make any logical sense how quickly he goes from launching off of one or two feet to staring down into the rim. If you blink, you'll miss it and wonder when he got up that high.
That ability to explode off the floor and finish ferociously leaves help defenders with little recourse. His second jump is elite as well, and he can hang in the air for tough finishes.
That athleticism also translates to the defensive end of the floor, where each twin should be one of the top prospects in this draft. They have the length to check wings and disrupt passing lanes, the quickness to hang with guards, and the vertical and anticipation to block big men from the help side. They'll both look to add muscle so they can hang with some of the bigger ballhandlers in the NBA.
They do a good job of staying in front, and when they're beat they can recover with quick feet and stay attached to discourage and/or destroy layup attempts. They're hard to screen, and off the ball they can wreck whatever play the offense is trying to run with a well-timed poke.
Ausar (pronounced uh-Sar) is widely regarded as the better defender of the pair, though it may just be a matter of commitment on that end. He seems to be the more consistently engaged of the two, and puts up slightly better numbers. When it's time to knuckle down in big moments and big games though, Amen is right up there with his brother.
Playmaking will be crucial to both of their NBA careers. They're unselfish players who need to tighten up their handles a bit, but the bag is big and the potential is there. They're both smart guys who are shifty and solid at manipulating defenders, and that makes them absolutely menacing on fast breaks.
They played on different teams in their first OTE season, and it's so much fun to watch their chemistry now that they're back together. They throw a lot of flashy passes without turning it over as much as you might expect. Both have been working on their dribble moves so they can create advantages and put that athleticism to good use.
Amen has played more of a point guard role for the City Reapers this season, and rightfully so. He is right up there with the best passers in this draft class. There isn't a single type of pass he can't or won't complete, and he does things that wow spectators and scouts every single game.
Long outlets on a dime? He's got it. Live-dribble skip passes across the entire floor? Yup. No-look dump-offs to the dunker spot? Absolutely. Driving 180s to the opposite corner? Sure, why not? This unique talent is the same reason Josh Giddey rocketed up the board a few years ago, and Amen is similar in that regard but with way more bounce and defensive upside.
Jump shooting is the only real weakness for the twins. They've clearly both been working on it and improving, but they'll need to continue on that trajectory to unlock their full potential as players.
Ausar is more willing and able, shooting more 3s and hitting 30% of them compared to 23% for Amen. He's slightly more accurate from the free-throw line as well, 67% to 65%. Ausar has a quicker release, and Amen's form definitely needs a bit more work.
Without an accurate 3-point shot, defenders will be able to go under screens and leave cushion to limit their drives. And with one, there won't be a single thing these guys can't do, or a single good way to guard them.
So with all that said, who is the better prospect of the two?
Victor Wembanyama and Scoot Henderson are the consensus top-two picks, but after that opinions vary. Amen is higher than his twin on most boards, with many scouts putting him third overall. This is probably because the things he does better than Ausar at this point give him a bit of a higher projected ceiling. Explosive playmakers will almost always be viewed as more valuable than a similar prospect who is more of a finisher, and Ausar doesn't have enough of an edge in the shooting department to put him over the top.
The Spurs could lose every game and wind up with about a 73% chance of picking outside the top two. But they could still land a franchise-altering star if they manage to snag a Thompson twin.
[embedded content]