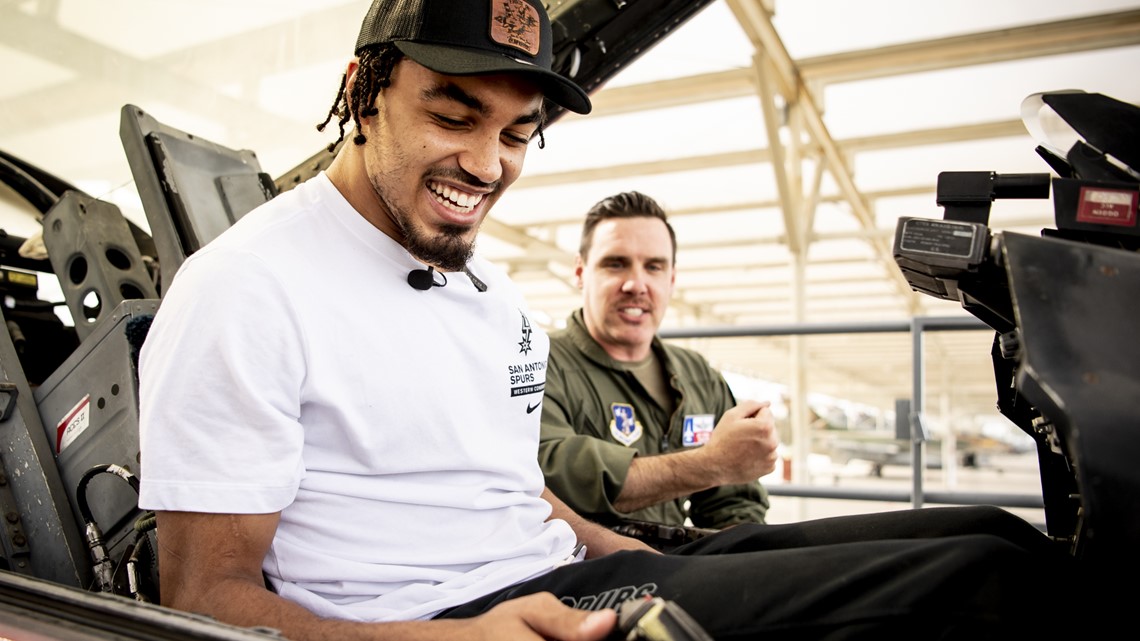 Jones met with members of the Air National Guard Wing Unit and the Spurs announced Military Appreciation Night details.
SAN ANTONIO — San Antonio Spurs' Tre Jones may feel the need for speed and join "Top Gun" after visiting Lackland Air Force Base.
With the team away from the court until Friday night when they host Denver, Jones took time to pay a visit with the members of the Air National Guard Wing Unit at JBSA Lackland.
There, he learn more about their experience and understand the skills needed for flying as a member of the 149th Fighter Wing.
He even got in flight gear (a Gravity-suit) and sat in the cockpit of one of the F-16 fighter jets!
Aside from the suit, he also tried on other Air Force equipment, felt the gravity suit inflate to experience how blood flow works in flight, toured a hangar, and snapped photos with the Wing Unit members.
To wrap up the visit, Jones presented a team City Edition jersey to the Air National Guard Wing Unit.
The Spurs make it a point to visit the city's armed forces and honor them during the season.
The team hosts "Military Appreciation Night" at the AT&T Center and last season, forward Keldon Johnson paid a visit to the 433rd Airlift Wing at Joint Base San Antonio-Lackland and took a virtual flight over downtown San Antonio.
"It was a great experience. I had a blast," Johnson said. "I got to do so many different things and learn so many new things as well. I got to fly on a simulator. I got to see a C-5."
MILITARY APPRECIATION NIGHT
The Spurs and USAA will host Military Appreciation Night on Friday, March 10 at the AT&T Center.
The event will start with a free basketball rally towel giveaway to the first 1,000 military ID holders and/or USAA members who enter through the USAA NE VIP entrance at the northeast corner of the AT&T Center starting at 6 p.m. The team's five NBA championship trophies will be on display outside Section 106 for fans to take photos, along with a military-themed photo station.
USAA members and Military personnel who show ID will receive $5 parking in Lot 6 for the game. Learn more at spurs.com/salute.
USAA is the Official Military Appreciation Partner of the Spurs.