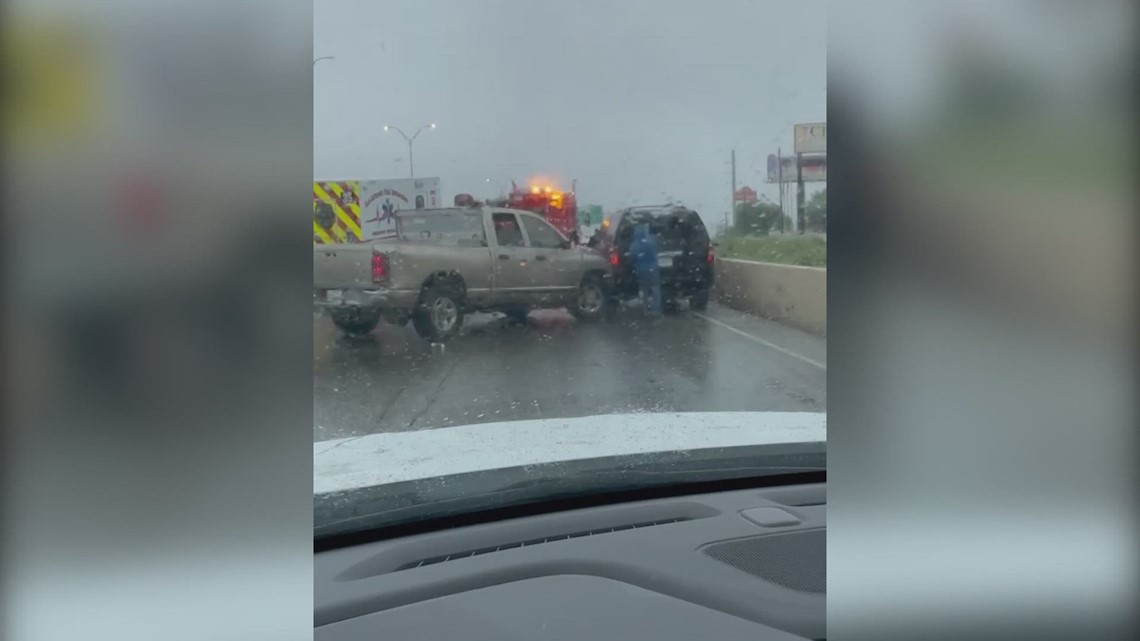 A witness recorded the suspect shattering the rear window of an SUV with a tire iron.
SAN ANTONIO — A local man is charged after ramming his truck into another vehicle and smashing the rear window in, according to an arrest affidavit.
In the filing, the Bexar County Sheriff's Office said 42-year-old Edgar Aguilar is charged with aggravated assault with a deadly weapon following the March 16 incident.
According to the affidavit, Aguilar followed the victim's vehicle from a subdivision along Talley Road. The female victim was driving a black Ford Expedition SUV with two female passengers.
Investigators said Aguilar began honking his horn while the SUV was at the intersection of Talley Road and Wiseman Boulevard. The honking stopped when the victim turned onto Wiseman.
As the victim began driving onto the highway, the affidavit said she told her passengers that she believed Aguilar was following behind them. At some point along 410, Aguilar drove his truck in front of the SUV which forced the vehicle to stop.
The affidavit said Aguilar left his truck and demanded the driver give him the 17-year-old passenger in the backseat. When the driver refused, the suspect attempted to open the door but the victims fought back. The passenger in the backseat hit Aguilar on the head with a fishing pole causing him to bleed and return to his truck.
Investigators said Aguilar rammed his truck into the SUV, and then got out to retrieve something out of his toolbox in the truck bed. A witness, who recorded the incident, said he grabbed a tire iron and smashed the rear window of the SUV in. The victims drove off and met deputies at a nearby gas station to report the incident.
Aguilar was later taken into custody by the Castle Hills Police Department, and recognized by the victims in a photo lineup.
It's unclear if the victims knew the suspect but the affidavit said he was recognized as a neighbor who lives nearby.
Original News Source

Click here for San Antonio HOA Management