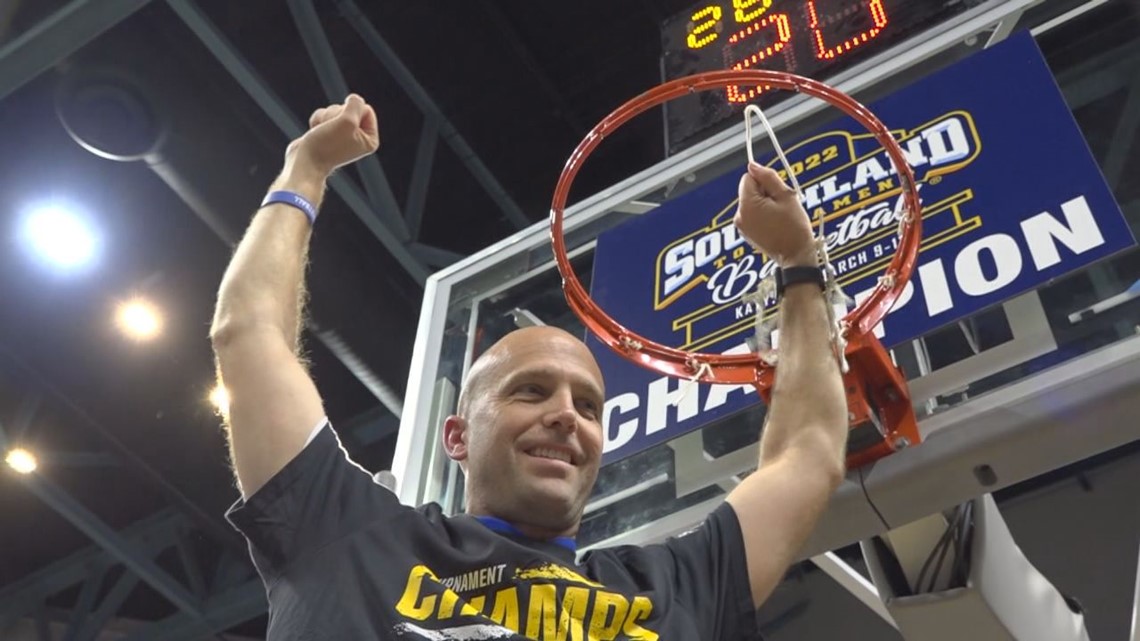 Lutz finished 47-23 overall in two seasons at TAMUCC and led the team to back-to-back NCAA Tournament appearances.
CORPUS CHRISTI, Texas — Texas A&M-Corpus Christi head basketball coach Steve Lutz is leaving, having agreed to terms to take over the program at Western Kentucky. The Islanders will now launch a national search to find Lutz's replacement.
"I would like to thank the Texas A&M-Corpus Christi community and family for the commitment, support and resources these past two years," Lutz said in part of a prepared statement. "My family and I will forever be grateful for the opportunity to work for such a great University. We will forever be Islanders."
Lutz departs Corpus Christi after just two years, but he is arguably the best coach in program history. He finished with a 47-23 record, one Southland Conference regular-season championship, two Southland Conference tournament championships, two appearances in the NCAA Tournament, and the program's first-ever tournament win.
"Steve's impact at Texas A&M-Corpus Christi over the last two seasons as a head coach is remarkable," said Western Kentucky athletics director Todd Stewart in a news release. "He inherited a program with four consecutive losing seasons and led an immediate turn around culminating in conference championships and an NCAA Tournament appearance each season.
"I hired Steve to be the head coach at Texas A&M-Corpus Christi in 2021 and he was outstanding from the moment he accepted the job," added former TAMUCC athletics director Jon Palumbo. "I would absolutely hire him again and I'm confident he will do a great job at Western Kentucky."
Lutz replaces Rick Stansbury at Western Kentucky, who was fired after seven seasons and who never reached the NCAA Tournament with the Hilltoppers. Prior to that though, the Hilltoppers were regularly in the tournament, going seven out of 13 seasons from 2001 to 2013. They've been 23 times overall and even made the 1971 Final Four.
What's next for the Islanders?
TAMUCC said Saturday that the search for Lutz's replacement is already underway.
"Our continued success in growing prominence as a mid-major breakthrough will not end with their departure – in fact, it has only just begun," TAMUCC President Kelly Miller said. "I am certain our men's basketball program, as well as our many other outstanding athletic programs, will continue to garner national attention. If you think the ride has been exciting so far, you haven't seen anything yet."
Rodriguez will immediately have a tough task of replacing Lutz and trying to keep the Islanders' momentum going in basketball despite the player transfer portal making it very realistic players could also follow Lutz out the door.
Sports Director Chris Thomasson spoke to Rodriguez just before tip-off of the Islanders' win over Southeast Missouri State on Tuesday. They tiptoed around saying Lutz would possibly leave but Thomasson asked him about this important hire and how to replace a coach as successful as Lutz.
"We've got an amazing stage. And certainly two years in a row here at the NCAAs… but we won seven Southland Conference championships this year. We've got amazing championship culture here with the Islander athletics and here on the island.'
"We've got an amazing thing going. Coach Lutz is an amazing coach, doing amazing things with our players. So we're doing everything we can to keep that legacy alive and continue our success.'
"You know, we just stay the course. We keep doing what's been working. We've got world-class athletes, the best coaches in all of college athletics, so we're keeping that momentum alive."
Original News Source

Click here for San Antonio HOA Management