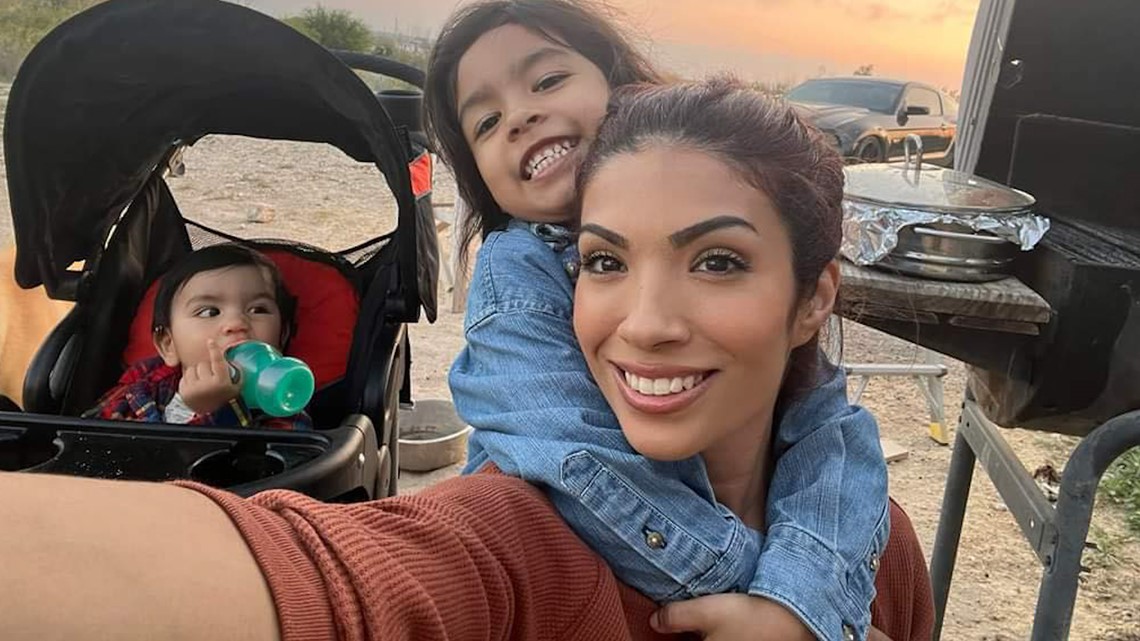 27-year-old Rayne Elaine Rice just won a singing contest, possibly securing her a spot on a reality TV competition.
SAN ANTONIO — A mother of two just won a singing contest, possibly securing her a spot on a reality TV competition.
For 27-year-old Rayne Elaine Rice, her dream was within reach until she was shot and killed along I-10 in San Antonio.
In their first interview, Rice's family spoke with KENS 5 via Zoom from El Paso.
"I feel like this person knows what they've done. They just didn't know who they did it to," said Rice's brother, Damien Lazo. "They're out there. I hope they don't hurt anybody else."
Loved ones are pleading for answers, following Rice's death three months ago.
"There's just so many questions," said Rice's father, Marco Lazo. "She was afraid that something would happen to her kids after that Uvalde incident. Some jerk, whoever did this, saw her and robbed her of her future."
Saturday, December 17, Rice was on the way home to Del Rio.
"They would go to San Antonio to visit family quite often," said Rice's mother, Pauline Lazo.
San Antonio Police say shortly after 7:30 December 17, Rice was riding in the front middle seat of a truck when she was shot. Family says Rice's husband was driving and her sister-in-law was in the front passenger's seat.
The incident happened on I-10 west before the upper/lower level split near downtown San Antonio. Investigators released photos of the suspect's vehicle, a dark-colored SUV, seen traveling westbound on Cesar E. Chavez and S. Flores behind a white hummer limo just moments before the shooting.
"The detective in her case said there was no motive, there was no reason for this to happen," said Damien. "There was no road rage incident. There was nothing."
Rice's two children, 4-year-old Nakoma and 1-year-old Malachi, were riding in the back seat of the truck during the shooting.
"They thought something hit the window or something. They didn't know what was going on. By the time he noticed Rayne was hurt, he pulled over and the other car sped off," Damien explained. "Somebody didn't get loved enough and it caused this to happen. She was going to give the vest life imaginable to her kids and now they don't have a mom."
Marco mentioned how his daughter was in the middle of building her house, with big plans for the future. He says she touched many lives, from San Antonio, to Del Rio, to West Texas at Sul Ross State University.
The family posted a video on YouTube in Rice's memory, urging people to come forward.
"I'm very confident that the detectives right now, as we speak, are getting really close to catching them. I would advise they come forward," said Marco. "It's gonna eat you guys alive, whoever did this."
Crime Stoppers is offering up to $5,000 for tips leading to an arrest in this case. Call 210-224-STOP if you have any information.
You can remain anonymous.
"We've gotta get some kind of closure because this is just ridiculous. Her murder put a hole in our hearts. It really did. We're gonna have this for the rest of our lives," said Marco. "We have constant dreams where we're hoping that we wake up and she's here, and it was just all a bad dream, but she's never coming back."
"She was like something out of a movie," said Damien. "The most pure heart I've ever met in my life. She was too good for this place."
Original News Source

Running For Office? Conservative Campaign Management – Election Day Strategies!