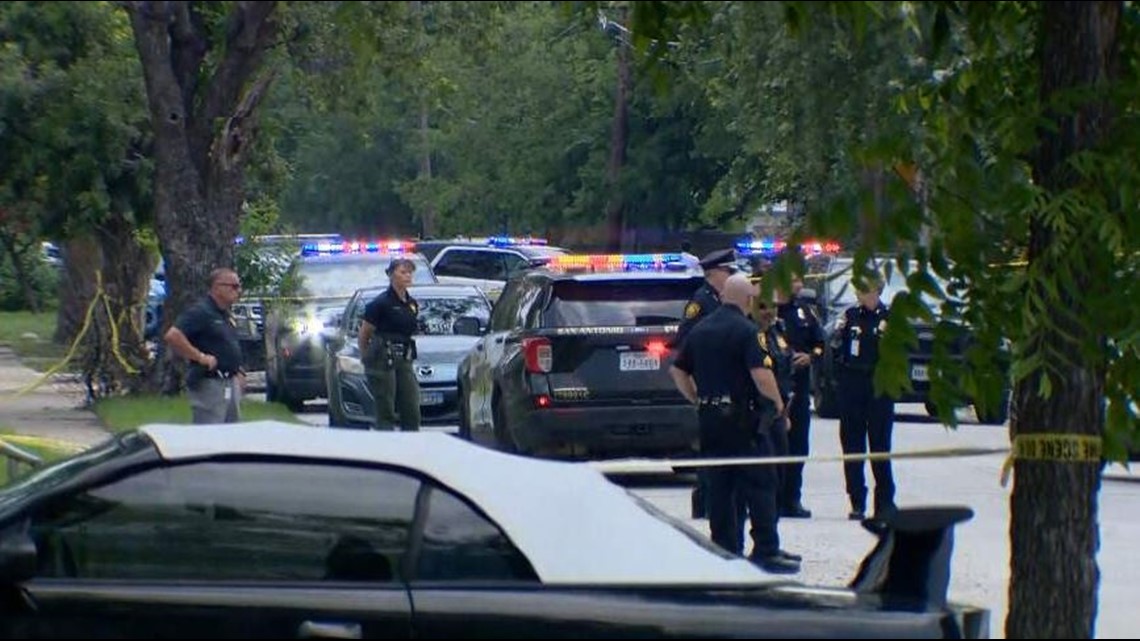 Going back to April 17, five San Antonio babies have been hurt in incidents involving gunfire.
SAN ANTONIO — When San Antonio police responded to a north-side home Monday and found a 2-year-old dead after an alleged drive-by shooting, it marked the latest incident of babies being hurt or killed by gunfire in the Alamo City in a short amount of time.
Over the last two weeks, three babies between 8 months and 2 years old have been struck by gunfire in unrelated incidents investigated by the San Antonio Police Department (SAPD). Going back to the April 17, the number of such incidents goes up to five while the victims turn younger.
According to police, three of those five situations turned out to be deadly for the young victims. At least one of them is believed to be accidental in nature, according to police.
Ernest Hernandez, who owns a gun store just west of downtown, said while parents can use certain devices to keep guns out of their kids' hands, education is an even greater resource.
"From a young age, exposing them to it, taking them out to a shooting range, showing them how it works, maybe letting them load it and letting them get a little bit of experience removes the curiosity," Hernandez said. "Curiosity is a bad thing. You don't want them to be curious about the gun, whether the parent is home or not home."
Here's where the investigations on each recent incident involving children and guns stand:
April 17
Police say a 6-month-old baby sustained shrapnel injuries after the driver of a car it was in started shooting at another commuter in a road-rage attack.
Police said at some point the suspect, 22-year-old Efrain Murillo, stopped at a business to drop off the baby and a 22-year-old female occupant before giving chase again. Murillo was eventually taken into custody and remains jailed as of Monday on child endangerment and aggravated assault with a deadly weapon charges.
April 18
Police say Rosalinda Martinez was fatally shot as her parents fought over possession of a handgun.
According to arrest affidavits, Alejandro Dominic Martinez was sitting in a car with the gun in his waistband and Ruby Marie Mora was standing with the baby in her arms when they started wrestling over the firearm.
Both Mora and Rosalinda were hit, authorities said, and subsequently taken to a hospital where the baby tied that same night. Mora was arrested immediately upon being discharged from the hospital, but Alejandro Martinez wasn't arrested until Saturday—more than two weeks later.
Both Mora and Martinez have been charged with reckless injury to a child, with Martinez also being charged with violating bond and assaulting a pregnant person. They remain jailed as of Monday afternoon.
April 27
A 2-year-old boy died after he was shot in the head by a gun that fell off a shelf and went off, according to San Antonio police. It happened inside a home along the 9900 block of Kents Store, on the far west side.
According to police, the boy's father took him to a local hospital around 3:14 a.m. He told authorities his son had accidentally pulled down the gun when reaching for something else.
Police are holding off on further investigation until the Bexar County medical examiner determines an exact cause of death.
May 6
A 2-year-old may have been playing with a gun when it went off and he was shot in the face, according to SAPD officials.
It happened in the evening inside a northwest-side home. Authorities said the child was rushed to a hospital in critical but stable condition.
Police say they arrested the baby's father, 20-year-old Fabian Cardenas, on child endangerment charges Sunday. According to online court records, he was released on bond the same day.
May 8
On Monday afternoon, SAPD Chief William McManus said police arrived to a north-side neighborhood after reports of a shooting, where they found a 2-year-old girl dead after an apparent drive-by. Five other young kids inside the home weren't injured.
"This was a pathetic act by someone who really didn't care who was going to be hurt in that house," McManus said.
As of about 2:45 p.m., police were working a lead on a potential suspect, but have not identified them as of yet.
>TRENDING ON KENS 5 YOUTUBE:
[embedded content]
Original News Source

Running For Office? Conservative Campaign Management – Election Day Strategies!