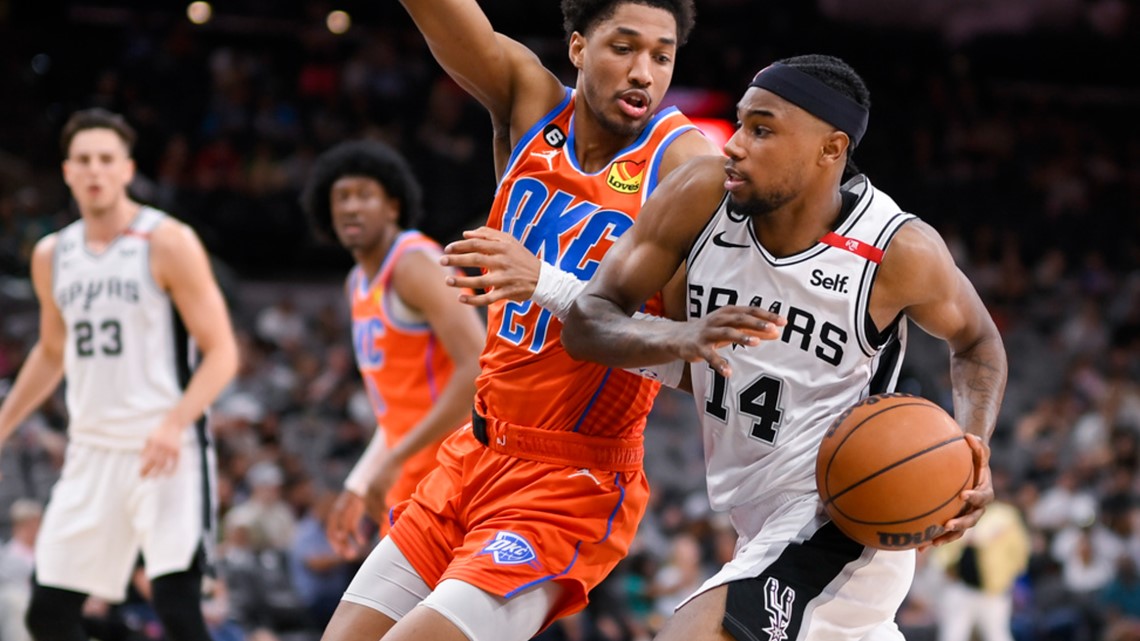 San Antonio could not pick up a win at home against the Thunder.
SAN ANTONIO — The San Antonio Spurs (17-40) could not pick up a home win versus the Oklahoma City Thunder (33-35), losing 102-90.
Zach Collins had 23 points and 11 rebounds to lead the team while Devonte Graham added 20 points. Doug McDermott finished with 20 points and two rebounds while Charles Bassey recorded eight points in the loss.
The Spurs were without Keldon Johnson, Jeremy Sochan, and Tre Jones due to injuries.
The Spurs are now 17-50 on the season, and will next face the Orlando Magic Tuesday night in San Antonio.
Here's a sample of what the teams said after the game courtesy of the Spurs.
"Not a great offensive show by either team except they got to the rim a lot more than we did especially at the start of the game," Popovich said. "We can't spot people. We're not built to spot people 10 points like we did in the first quarter. You spot them 10 [points] and then you turn it over 19 times and you're probably going to be in trouble."
"He [Devin Vassell] was out for two months. If you're out for two or three games, trying to get back into it is tough. Being out for a couple of months is always hard. He works extremely hard. He's in the gym all the time. He's a gym rat," Collins said about Vassell.
"I've been on a part of a bunch of rotations, injuries, and guys being out, and next man up and stuff like that," Graham said. "I feel like it is kind of good for this team. Guys having to make sure they stay ready, and stay professional. Not knowing when you might get in or when you might play. It's just a part of the process of being in the NBA."
Head coach Mark Daigneault