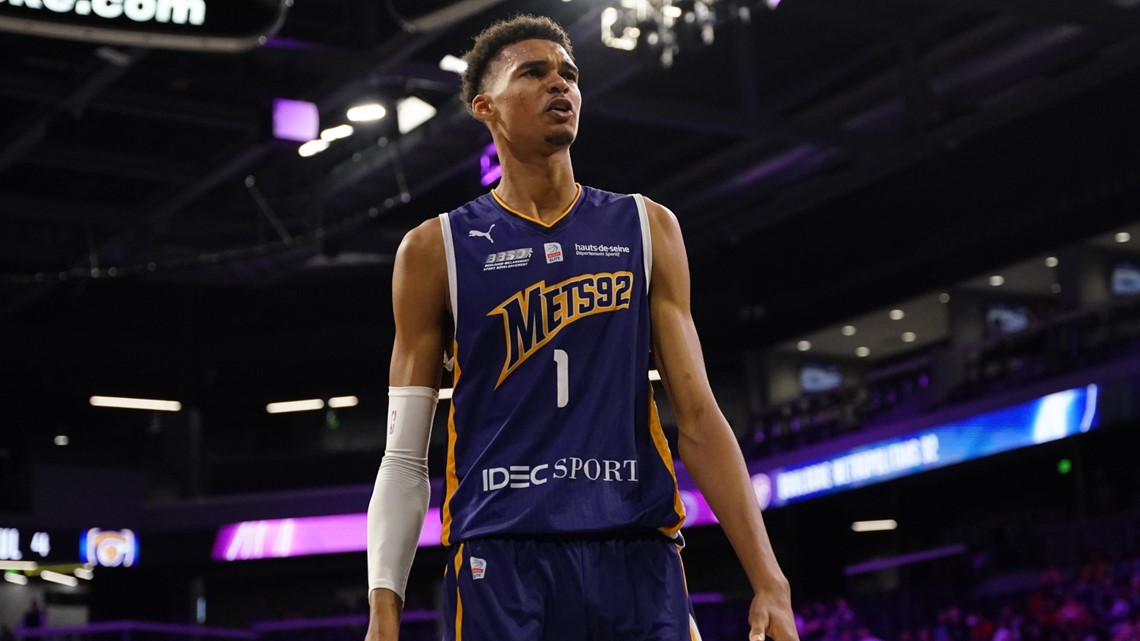 "There is no question he will be No. 1 in the [NBA] Draft," Parker said.
SAN ANTONIO — The 2023 NBA Draft Lottery is inching closer and San Antonio Spurs will have a 14% chance at winning the lottery and the right to select French basketball phenom Victor Wembanyama.
He is the hands-down projected No. 1 pick and is considered a generational-type player who can transform a franchise on and off the court.
And Spurs legend Tony Parker is hoping that Wembanyama is wearing a silver and black jersey.
"There is no question he will be No. 1 in the [NBA] Draft," Parker said to French media via French site Sport. "It would be huge if he were drafted by the Spurs."
Parker knows a lot about Wembanyama's immense potential. He played with the French club ASVEL owned by Parker in 2021-22.
Now playing with France's LNB Pro A league, he currently averages 21.8 points, 10.3 rebounds, 3.1 blocks, and 2.4 assists in 32.2 minutes per game in 32.3 minutes played for the Metropolitans 92.
He is a force on both ends of the court, and San Antonio is well positioned to select him should luck be on the team's side.
That's something Parker notes when it comes to seeing Wembanyama potentially land in San Antonio.
"I think we have a 12% chance [14%] of having the first choice in the [NBA] Draft. There's San Antonio, Detroit, and Houston. Then it will be fate," Parker added.
But Wembanyama's impact won't just be felt on the court but off the court as well. He could fetch the team a sizable financial windfall.
According to one NBA scout, the French center could net an NBA team a projected half a billion dollars in franchise value.
"With Wembanyama, you're seeing him on Twitter, and the NBA already had his games being broadcasted on the NBA app," an NBA Scout said to HoopsHype. "He's projected to add half a billion dollars in franchise value. There's no chance anyone's going ahead of him."
Parker is also hoping there will be some NBA Draft Lottery magic next week like the team experienced in 1997.
"We will have to have the same luck as in 1997 when the lottery balls made it possible to have Tim Duncan," said Parker.
But how would Wembanyama feel about being selected by the Spurs or any team lucky enough to win the lottery?
According to him, it would not be an issue.
"There is no wrong team. I am not worried; there is no bad organization," he said. "I never tell myself I don't like to go there."
Original News Source

Click here for San Antonio HOA Management