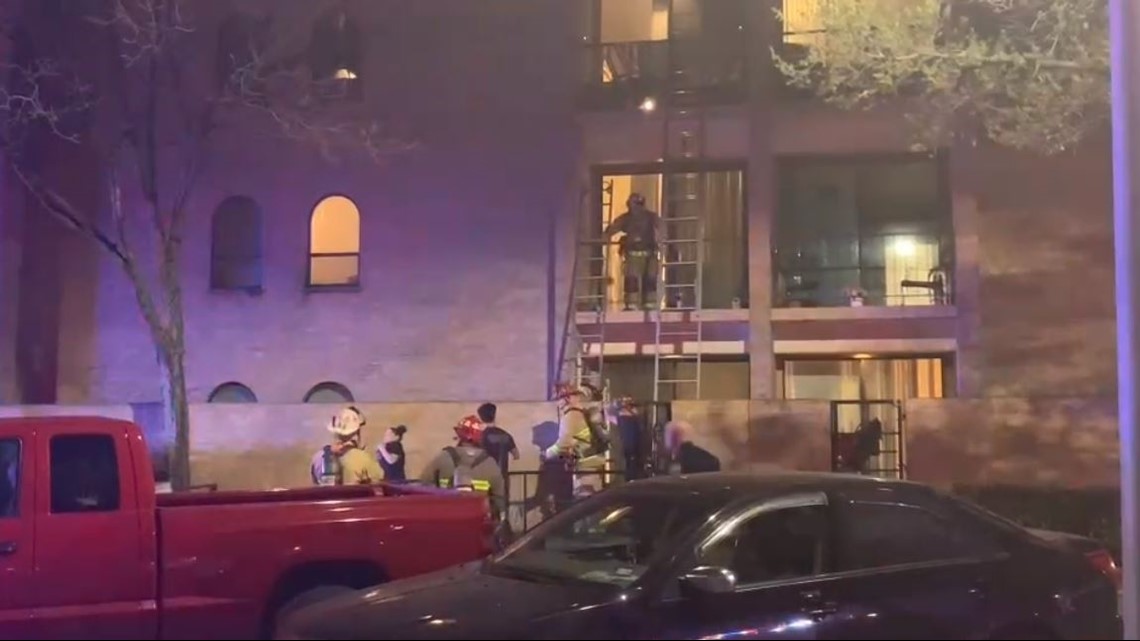 Officials said around 10 p.m. that the blaze was extinguished, and the cause under investigation.
SAN ANTONIO — More than 40 engines and about 100 firefighters responded to a north San Antonio apartment building to rescue residents from flames and smoke.
Two were hospitalized with smoke inhalation and were in critical condition as of Tuesday night. The cause of the fire is still under investigation.
San Antonio Fire Department Chief Charles Hood said crews arrived shortly before 9 p.m. to Blanco Apartments – a single-structure complex located off West Huisache – where a fire broke out in a third-floor unit. As some crews extinguished the flames, others worked to rescue "probably 15 to 20 people," Hood said, via the building's balconies.
"We took a 98-year-old lady down a ladder," he added. "From my understanding she was very calm."
Firefighters broke into the office door upon arriving in order to get and use a master key, as a way to "minimize damage" and avoid having to break down doors to individual units, officials told KENS 5.
"We're very fortunate tonight that the weather is warm," Hood added. "If not, we would have all these people that do not have a place to go in buses right now."
Officials say that more than 100 folks were evacuated from their homes due to the heavy smoke inside the building.
"I just started smelling like gas. And I just went ahead and looked out the balcony and next thing you know everybody's going there's a fire on the third floor," said Brenda Gallegos. "Next thing you know there's smoke coming in and I was already trying to get off the balcony, but they were telling me don't jump so I waited for them to put up the ladder so I could get down."
Two VIA buses were provided to offer residents a place to be while the building was cleared.
Late Tuesday night, fire crews went from unit to unit checking carbon monoxide levels and worked to clear the building for residents to return overnight. The full extent of the fire damage itself is unknown, but Hood says "smoke can cause a lot of damage." Chief Hood said the fire originated and stayed in one third-floor apartment.
Blanco Apartments is managed by Opportunity Home San Antonio (formerly the San Antonio Housing Authority) and mostly serves elderly and disabled residents. One resident told KENS 5 there was a false alarm earlier in the day that SAFD also responded to, something she said was a common occurrence at Blanco Apartments. She knew Tuesday night's situation was different when she smelled what could have been gas and started feeling lightheaded.
This is a developing story. Check back with KENS5.com for updates.
>TRENDING ON KENS 5 YOUTUBE:
[embedded content]
Since going on the air in 1950, KENS 5 has strived to be the best, most trusted news and entertainment source for generations of San Antonians.
KENS 5 has brought numerous firsts to South Texas television, including being the first local station with a helicopter, the first with its own Doppler radar and the first to air a local morning news program.
Over the years, KENS 5 has worked to transform local news. Our cameras have been the lens bringing history into local viewers' homes. We're proud of our legacy as we serve San Antonians today.
Today, KENS 5 continues to set the standard in local broadcasting and is recognized by its peers for excellence and innovation. The KENS 5 News team focuses on stories that really matter to our community.