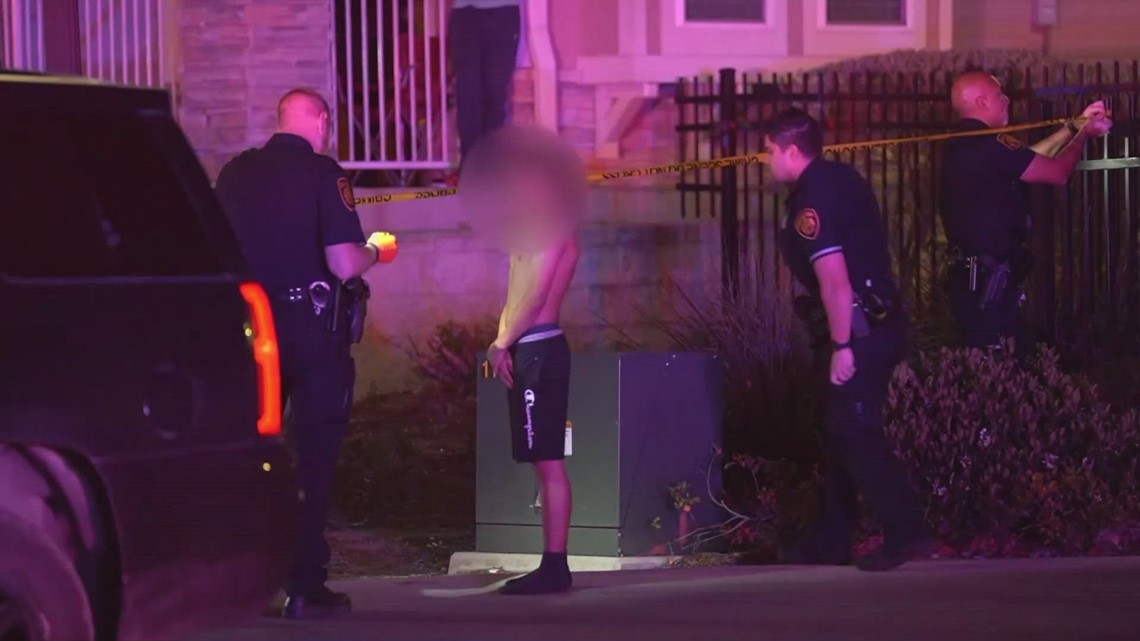 "If there's no investment by the city or county in community programs, no boots on the ground, it's going to be a hell of a fight here," one local organizer said.
SAN ANTONIO — When shots rang out in the east-side Promise Zone Tuesday night, multiple people called police to ask for help.
Arriving officers said they found a 17-year-old who had been shot near the corner of Burnet and Walters, the same place a shooting one week ago left the intersection littered with about 50 spent shell casings. One man died in that attack and another was wounded.
In both cases, the bullets were flying adjacent to a Bexar County Bibliotech library location that is surrounded by multi-story apartment buildings.
San Antonio Police have released little information about who might be responsible for either shooting.
With regard to the latest attack, police said the victim and another younger male pulled up near the intersection, when another vehicle pulled along side of them and opened fire, striking the victim's vehicle several times. Police said the victim was taken to the hospital with life threatening injuries, but nobody else was hit.
Police said the investigation is ongoing.
Bennie Price runs Big Mama's Safe House nearby, a non-profit focused on bringing peace to the east.
Price said he is not at all surprised by the continuing violence, but he does hope the city and the county will work together to do more to reduce violent crime in what should be an area on the way up.
Price said that while his group works with law enforcement, he believes policing alone isn't the best answer.
"This is supposed to be the community's job. The community is supposed to reduce and prevent the gun violence," Price said, adding that more support is needed for grassroots organizations like his who are putting volunteers on the streets to make a difference..
"If there's no investment by the city or county in community programs, no boots on the ground, it's going to be a hell of a fight here," Price said.
Price said while there are plenty of outreach activities for young children, it is teens and young adults who are struggling with no support.
"Where am I supposed to send these youth?" Price asked. "We don't have a community center around here that's open for the public where the gunfire is happening. We have never had a community center of our own."
Price said his group is grateful they recently received some funding from the city of San Antonio, but more is needed
"We can only do so much with what we have. We're working basically on a volunteer basis," Price said, adding their current funding isn't enough to hire even one full-time employee.
"We want to hire people because we are doing this on a volunteer basis and you can't expect people to give the kind of hours that you need on a volunteer basis because they have full time jobs," Price said.
Price said he feels promises have been broken in the area.
"We're here today because our youth and our community was promised something, and I just believe that the city or the county has not fulfilled that promise to this community," Price said.
Price praised other non-profit efforts like the Midnight Basketball league but he said recreation is just one need.
"Where are the jobs near the people? Where are the community centers? Where are the youth programs? Imagine what would happen if the city would say we are going to do something different?" Price said.
Arguing that many solutions that have failed in the past have not had community input, Price said a bottoms up approach should be considered.
"They come to the community and they say this is what we are going to do. They don't ask the community what should we do?" Price said.
The San Antonio Independent School District has a program they call Handle With Care to help youngsters deal with trauma, but historically they only reach out to the families directly involved in a violent incident.
The San Antonio Police Department recently held a series of meetings introducing a new violent crime reduction plan.
One near term strategy of the plan is something they call "Micro Hot Spots Policing."
The effort would put highly visible patrol vehicles in places identified as troublesome, where they would stay for 15 minute intervals, to keep criminals on edge. Police would not say if this intersection is on their targeted list.
The District 2 council office was asked to respond to the latest incident and when we learn more, we will pass on their reply.
With regard to possible solutions, the Bibliotech East location at 1203 North Walters opened in April of 2018.
At the time, it was touted as a state-of-the-art place for neighbors to come together, but the building, which is not yet five years old, has been closed for repairs for about six months. Signs outside the building indicate staff is available to deliver resources to the door, but the study rooms, community room, public computers, business services and community programming have been unavailable in a place Price said the services are desperately needed.
Big Mama's Safe House, on Blue Bonnet, can be reached through their website.
[embedded content]