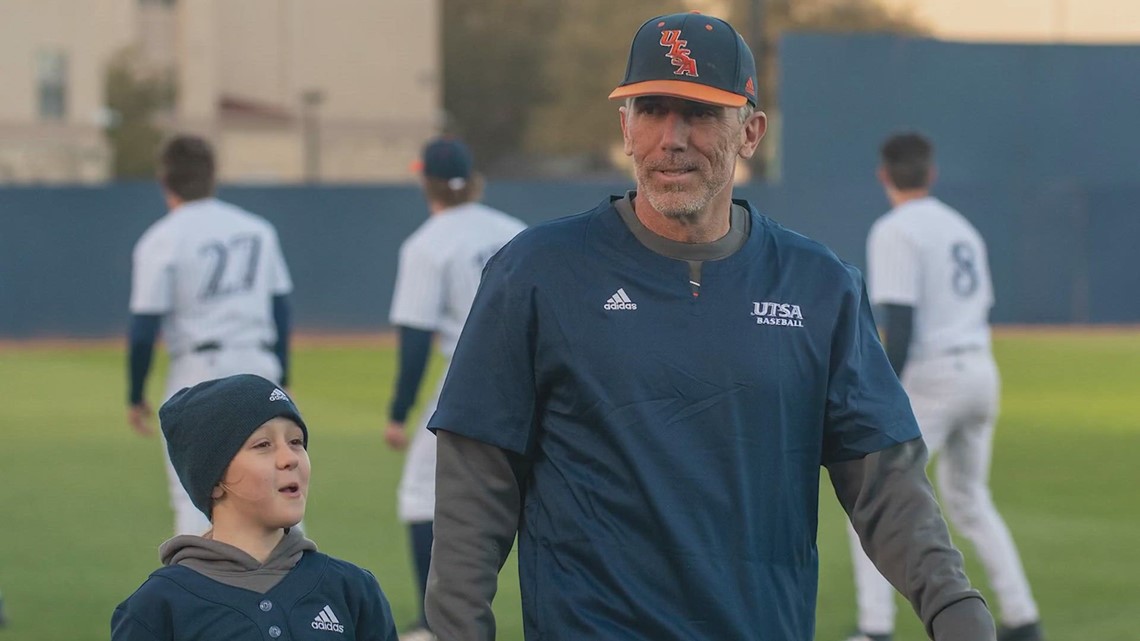 Roadrunners baseball is pushing toward the postseason, and their MVP never even takes the field.
SAN ANTONIO — Something organic happened at a UTSA home baseball last year.
It wasn't planned, nor was it expected. It just happened.
"I'm the UTSA batgirl," said Georgia Hallmark, the daughter of Head coach Patrick Hallmark.
Georgia grew up in a baseball family, and even plays Little League herself. So how did she come to be the batgirl for one of the biggest teams in town?
"One day I just came into the dugout during a game, and my dad asked me if I had my helmet," she said. "He asked me if I wanted to get the bats and I said yes."
And Georgia has been doing it ever since.
"I know it (started) sometime last season," recalls Patrick Hallmark. "She wandered in during a game and it just kind of took off."
Coach said she gets a little bit chatty from time to time, but mostly it is all good.
Georgia's job is simple: She goes from UTSA's dugout to the home plate area to retrieve the Roadrunners' bats after each plate appearance. She also takes baseballs to the home plate umpire when needed.
That got us to wondering: Has Coach Hallmark ever had his daughter take out baseballs and deliver messages to the ump about his strike zone?
"I've told her to say it, believe it not," he said, laughing. "But I don't think she has."
(Georgie said she's never done it, either.)
Being the UTSA batgirl obviously comes with in-game responsibility. Georgia walked us through that process. ]
"After I get a bat, I gotta put it in the bin," she said. "I have to shove through a bunch of people to stand right there. Sometimes I stand there and right when I have to go get the bat I have to push them out."
Georgia loves being the batgirl, but there is one part of the gig that she likes more than any other.
"The players that I get to talk to," she said.
Georgia says that she keeps them in line, and only smiles with embarrassment when relaying the players' message that she takes her job seriously.
The Roadrunners say they love having her in the dugout on gamedays.
"She is great to be around," said sophomore pitcher Braylon Owens. "Being around her makes everybody relax, have fun and not be so serious about everything."
"I love it," added junior pitcher Drake Smith. "She is always playing games with me, doing all these different handshakes. Just always keeping me on my toes, really."
We noticed at this season's road game across town at UIW that Georgia was in prankster mode, having lots of fun with the players in the dugout.
"Sometimes they (the players) put water in each others pockets," she said, although she swears she's never partaken.
The batgirl explained to us why she's so comfortable with all the guys. It goes back to growing up with a dad and big brothers at home who all love the game.
"I know lots about it," she said. "I can relate to it really well."
Coach Hallmark said he's sometimes surprised she stays in the dugout for all nine innings. Yet she always does, game in and game out.
"She likes the guys. She likes shooting the breeze with all the guys."
For Georgia, being the batgirl is like having 37 big brothers who all share a little sister.
"It is nice to have her in there. When things are not going so well, she reminds me of what it is all about," Coach Hallmark said, getting emotional. "It's memories, right? That's what we are doing. We are making memories."
[embedded content]
Original News Source

Click here for San Antonio HOA Management