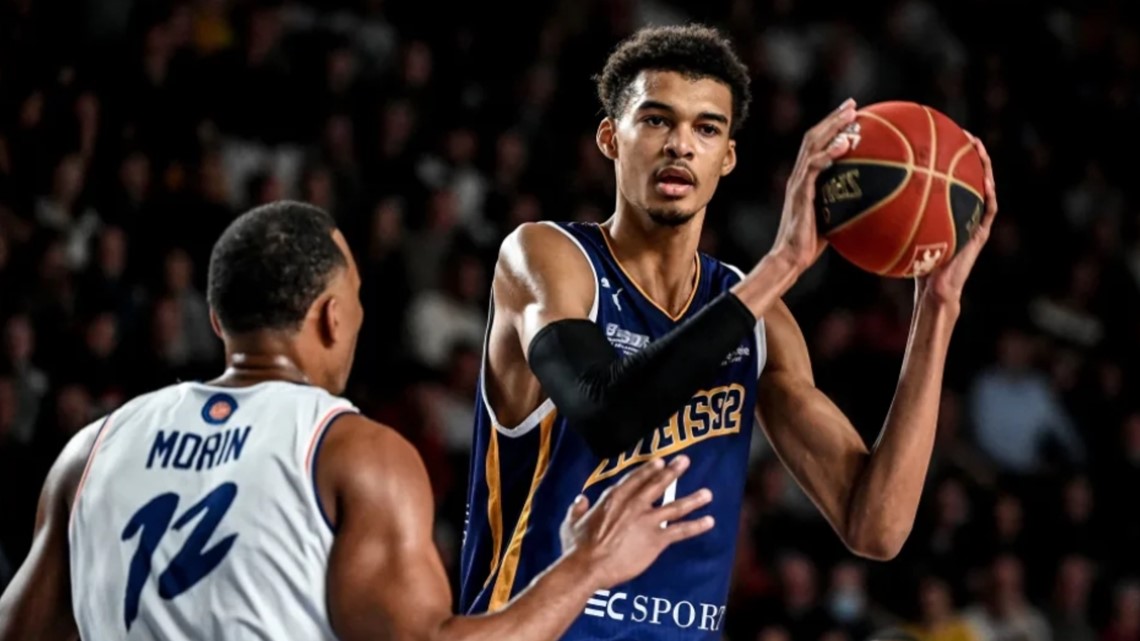 The NBA announced that Wembenyama will attend the event in Vegas alongside Kareem Abdul-Jabbar and current NBA stars.
SAN ANTONIO — French basketball star Victor Wembanyama is not officially in the NBA but will already be helping the league usher in a new event once he is drafted.
The NBA announced that Wembenyama will be part of a star-studded lineup of basketball stars for the first NBA Con.
The event blends the interests of NBA players and fans into a celebration of the best of hoops culture and will debut at Mandalay Bay in Las Vegas from July 7-9, 2023.
Tickets for NBA Con are on sale now at NBACon.com.
NBA Con will bring together the fashion, music, cuisine, art and technology that make the NBA a cultural phenomenon into a three-day event, highlighted by the game's brightest stars and biggest personalities.
Wembanyama will join other notable basketball stars such as Basketball Hall of Famer Kareem Abdul-Jabbar, Minnesota Timberwolves' Mike Conley, Indiana Pacers' Tyrese Haliburton, New Orleans Pelicans' CJ McCollum, Atlanta Hawks' Trae Young, and 2023 NBA Draft prospect Scoot Henderson
NBA Con tips off the opening weekend of NBA 2K24 Summer League which begins 10 days of NBA action on Friday, July 7.
"NBA Con is for every fan," said Joey Graziano, Head of Event Strategy and Development, NBA in a release. "It combines our players' and fans' passion for the game with their authentic off-court interests to create unique experiences that could only come to life through NBA fandom."
The NBA is definitely anticipating the arrival of Wembanyama.
His games with the French team Metropolitans 92 are shown on the NBA App and many consider him to be a generational-type player like the league has never seen before.
Spurs great Tony Parker recently chimed in about the 19-year-old saying he will live up to the hype and embrace everything that is coming his way.
"The pressure? He has had it for 13-14 years. He had enormous, constant pressure, and ranked as the biggest talent since LeBron James. When we had him at ASVEL, we saw that this pressure does not bother him," said Parker. "Moving to Spurs, moving behind Tim Duncan or David Robinson, the greats who have succeeded in this team. I don't think the pressure is going to get in the way."
If you can make it out to Las Vegas, it'll be your first chance to meet-and-greet Wembanyama and take part in a fun-filled event.
Original News Source

Click here for San Antonio HOA Management