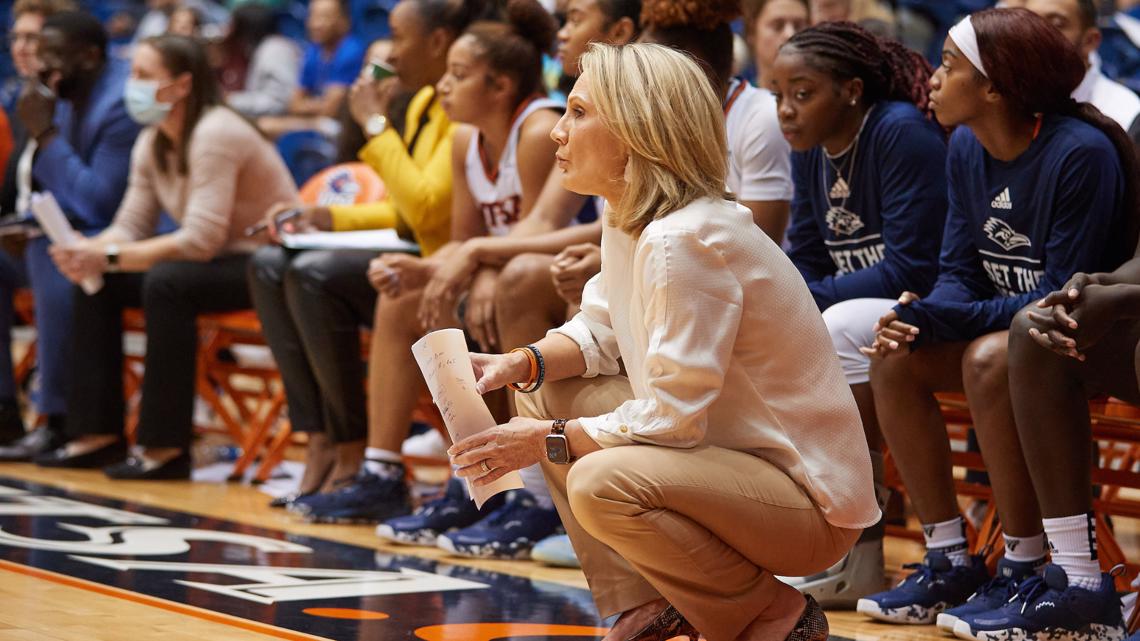 UTSA women's hoops has turned things around in recent weeks and is a force to be reckoned with heading into the tournament.
SAN ANTONIO — The UTSA women's basketball team (11-18) is putting it all together at the right time at the tail-end of a tough season, having won four straight and seven of their last 10 after going 4-15 to start the season.
"Winning is fun," said Roadrunners guard Sidney Love. "That's the kind of culture it brings to practice. Every day you just wanna keep stacking wins."
Love and her teammates hope to keep the victories coming and the win streak alive as they prepare for the start of the Conference USA Tournament this week. Up first: a matchup with the C-USA basement-dwelling Florida Atlantic Owls (12-17), losers of eight straight.
"This whole season were were like, 'When are we gonna peak?'" said junior forward Jordyn Jenkins. "'When are we gonna get things going?' We finally feel like we have something clicking."
Second-year head coach Karen Aston said she's pleased to see the payoff finally happening. She likes the vibe within the program over the last month and change.
"Just seeing this team grow as a unit has been quite amazing to watch," said Aston, who went 7-23 in her first year at the helm.
She inherited a program that was stagnant and had no direction. It's been six years since UTSA has racked up as many wins in a season as it has now, and the Roadrunners haven't finished with a .500 mark since the 2014-15 season, when they went 16-15.
It has taken some time, but her program is now on the move, and the excitement is trending up.
"I knew it was gonna be a process," Astron said. "I knew it was going to be slower than we all wanted, but they definitely gelled into a really good basketball team."
The program's recent success has been anchored by Jenkins, a USC transfer whose 21.1 points per game ranks 12th in all of women's college basketball. And with other local talent staying at home, like Steele's Sidney Love, big things are happening at UTSA.
"I'm glad that I chose to do something different," said Jenkins. "It will show lots of people that, at the end of the day, it is just playing basketball. Wherever you go can be great."
Love said the growing success shows that you can't count UTSA out these days.
"There were initial thoughts about what UTSA was, especially because it is a rebuilding program," she said. "But I think the potential is endless for us."
Aston agreed, saying the run her team is on sends a big message that the word is getting out.
"I think people are starting to believe in our program," she said.
UTSA opens Conference USA Tournament play Wednesday at 2 p.m. against Florida Atlantic at the Ford Center in Frisco. Tipoff is scheduled for 2 p.m.
[embedded content]