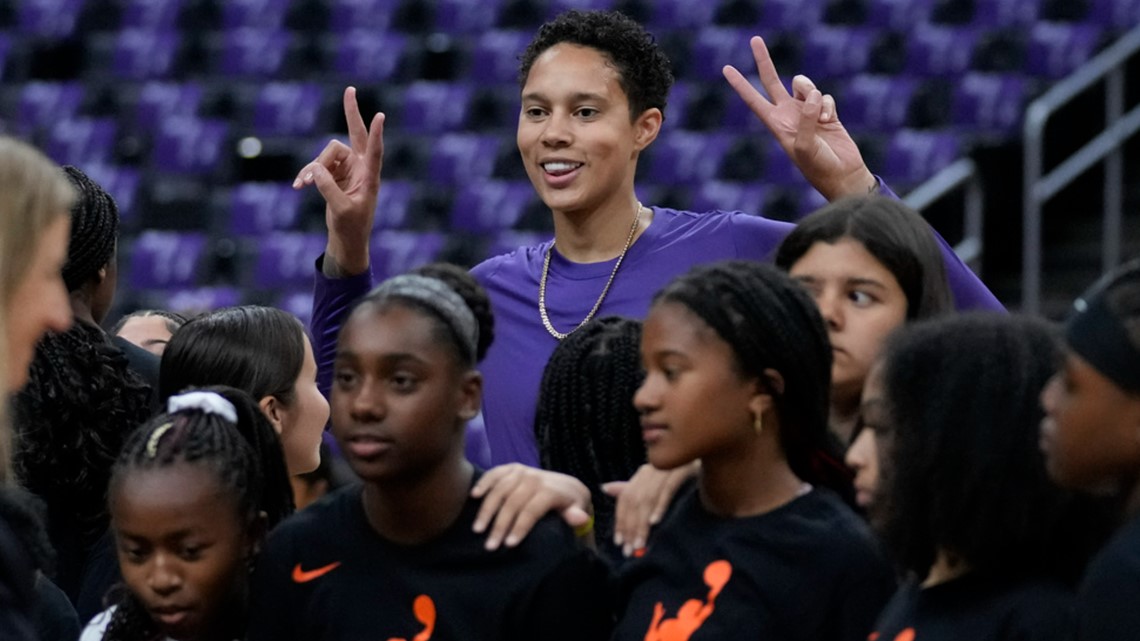 Griner has been free since December when she was part of a high-profile prisoner swap.
LOS ANGELES — Brittney Griner wasted no time making her presence felt in her first WNBA regular-season game since she was jailed in Russia.
She fired a pass to Moriah Jefferson, who hit a 3-pointer to open the Phoenix Mercury's game against the Los Angeles Sparks on Friday night. Griner went 2 for 3 with three rebounds and two blocked shots in the first four minutes while helping the Mercury to a 7-0 lead.
For the first time since last season, Phoenix coach Vanessa Nygaard opened her pregame comments without announcing how many days Griner had been jailed.
"Until the day we got the news in the morning that she was on her way home, no one thought that it was going to happen," Nygaard said. "We did our jobs probably with less joy than professional athletes do. It was heavy every day."
"Today is a day of joy," Nygaard said. "An amazing, amazing thing has happened."
Griner and the Mercury were greeted with a standing ovation when they came on court for pregame warmups, although the biggest cheers were reserved for the Sparks.
Griner hugged Vice President Kamala Harris and first gentleman Doug Emhoff as they left the court after Harris was presented with a No. 49 Sparks jersey. Earlier, Harris posed for photos in the Mercury's locker room.
Griner patted her heart and applauded in return during a brief video welcoming her back to the WNBA.
Griner scored 10 points in 17 minutes in an exhibition loss to the Sparks last week. It was the 32-year-old center's first game action since she was arrested at a Moscow airport in February 2022 after Russian authorities said a search of her luggage revealed vape cartridges containing cannabis oil.
"We brought back this Black, gay woman from a Russian jail and America did that because they valued her and she's a female athlete and they valued her," Nygaard said.
"Just to be part of a group that values people at that level, it makes me very proud to be an American. Maybe there's other people that that doesn't make them proud, but for me, I see BG and I see hope and I see the future and I have young children and it makes me really hopeful about our country," the coach said.
Fans arriving early to Crypto.com Arena wore T-shirts with Griner's name and jersey number on them. The 6-foot-9 Griner stopped to photo-bomb a group of young girls posing courtside before the game.
Billie Jean King and wife Ilana Kloss, who are part-owners of the Sparks, were on hand for the opener, as was Magic Johnson.
"She stands for so many people, so many different kind of people who can be undervalued in our society," Nygaard said. "She stands with pride and confidence and has never once has shied away from who she is."
Griner announced in April that she is working with Bring Our Families Home, a campaign formed last year by the family members of American hostages and wrongful detainees held overseas. She said her team has been in contact with the family of Wall Street Journal reporter Evan Gershkovich, who is being detained in Russia on espionage charges.
"She's an amazing person on and off the court," Phoenix guard Moriah Jefferson said. "I think her energy just inspires everybody every single day to show up and be the best version of themselves."
With all that has happened off the court, it's easy to forget Griner had arguably her best season in 2021. She finished second in the MVP voting after averaging 20.5 points, 9.5 rebounds and nearly two blocks per game. She was a major reason the Mercury reached the WNBA Finals before losing to the Chicago Sky.
Original News Source

Click here for San Antonio HOA Management