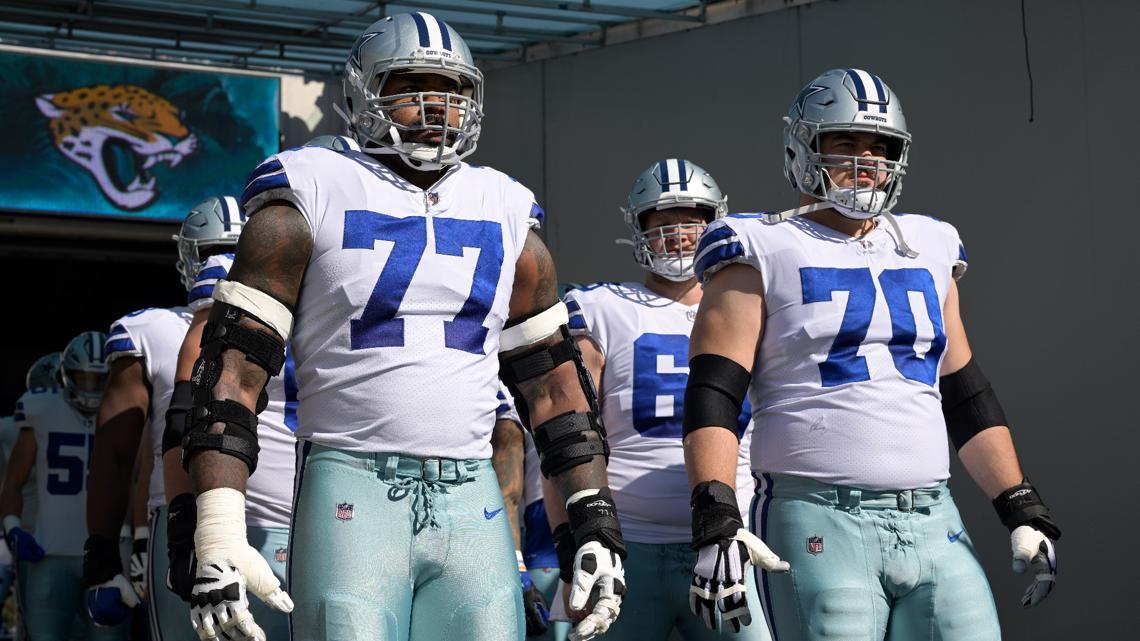 Ahead of the divisional round clash, the Dallas Cowboys are hoping to have learned from how hard the San Francisco 49ers play after last year's wild-card defeat.
DALLAS — The San Francisco 49ers' identity is shiftiness on offense and brutality on defense.
The Dallas Cowboys offense knows that they will have a slugfest on their hands when they challenge the 49ers on Sunday at 5:30 p.m. Central Time in the NFC divisional round contest from Levi's Stadium.
Cowboys right guard Zack Martin did not mince words when he referenced last year's 23-17 loss to the 49ers at AT&T Stadium in the NFC wild-card.
"Let's call a spade a spade: they got after us pretty good last year," Martin said. "And we go back and look at that tape, it's not the most fun to watch, but there is a lot to learn from. And I think it's going to be a physical game. It's going to be a four quarter game."
The 49ers' edge defense consisting of defensive ends Arik Armstead and Nick Bosa is a contributing factor in their 3.4 yards per carry surrendered against the run, tied with the Tennessee Titans for the lowest in the NFL in 2022.
"These guys do a great job of coming off the ball and really trying to set a tone for the game, and I think that's something that we like to do, too," Martin said. "It's going to be a physical game and we've got to come out ready to play from the first snap."
Running back Ezekiel Elliott noted that the linebacking corps headlined by Fred Warner and Dre Greenlaw, both of whom combined for 257 tackles, will stress the run game, which is the Cowboys' point of emphasis on offense.
Even if the 49ers are being stingy with the run, Elliott believes Dallas has to stay true on the ground.
"I think even sometimes when the run doesn't work as well, you've still got to commit that extra guy to the box so it opens up that play-action," Elliott said. "You commit to running the football, it's going to open other stuff up. We've just to find some type of success in that run game."
The Cowboys were stifled in the wild-card game a season ago with 21 carries for 77 yards and a touchdown. Elliott led the way with 12 carries for 31 yards.
Thanks to their physical style of play, San Francisco led 23-7 going into the fourth quarter. 49ers coach Kyle Shanahan would have preferred to have kept the Cowboys offense shutdown.
"I hated how it ended, how close it got at the end," Shanahan said. "I thought we made a few mistakes that made it closer than needed to be at the end, but not much."
If Dallas falls down by 15 points again, it may be much more difficult to surmount San Francisco. The Cowboys' key is to match the 49ers' physicality from the outset.
Do you think the Cowboys will be able to weather the physicality of the 49ers on Sunday? Share your thoughts with Mark on Twitter @therealmarklane.