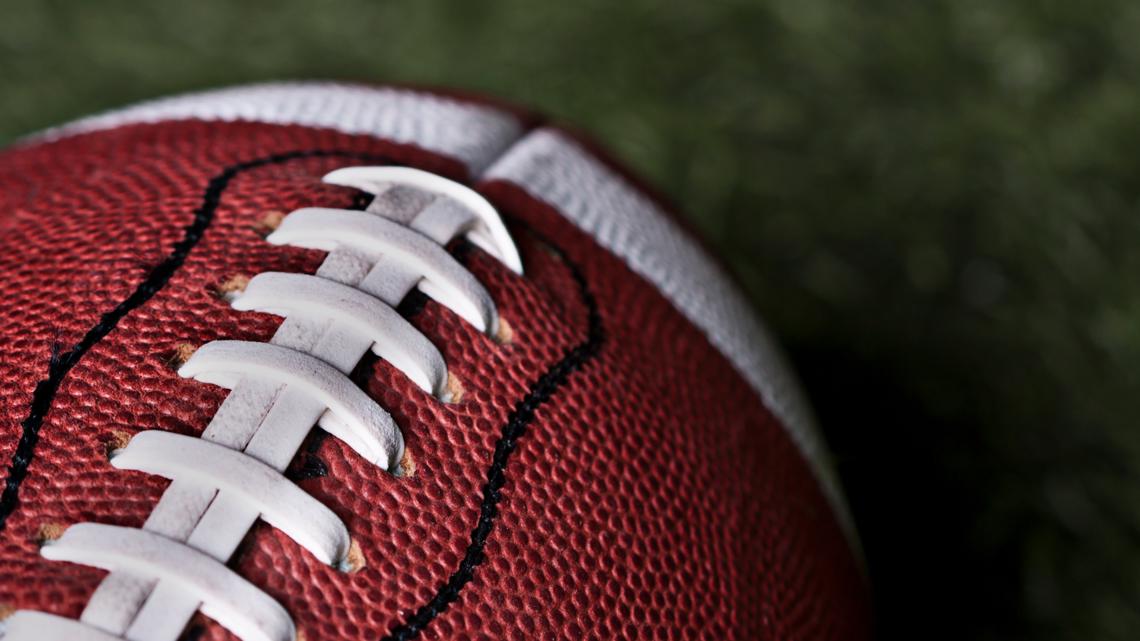 An official with the Texas Department of Family and Protective Services confirmed the investigation Monday. Coach John Harrell remains on administrative leave.
The workout involved student-athletes from Rockwall-Heath High School and hundreds of push-ups.
The DFPS official wouldn't say anything else other than that the investigation is confidential and results would be sent to the school board upon completion.
Coach John Harrell remains on administrative leave until the completion of a third-party investigation by local law firm Adams, Lynch, & Loftin, P.C., per a spokesperson with Rockwall ISD.
Last Monday, the district issued a letter to football parents relaying that Harrell was being placed on leave following the Jan. 6 workout.
The district only said that student-athletes were required to perform 'multiple push-ups' in the workout and that some children needed medical attention, including hospitalization.
Two parents, Dr. Osehotue Okojie and Maria Avila told WFAA Monday that their 15-year-old sons were required to do 368 push-ups during their athletic period and were hospitalized with rhabdomyolysis for days.
'Rhabdo' is a severe breakdown of muscle tissue that releases a damaging protein into the bloodstream. In serious cases, it can be fatal or cause permanent disability.
The district's letter didn't specifically mention rhabdo but listed common symptoms associated with it and for students to see a doctor right away if they're experiencing any.
Avila and Okojie said that the group was doing conditioning and made 23 mistakes over 60 minutes during the prescribed workout.
As a result, athletes were disciplined with one set of 16 push-ups per every mistake, they said.
The district wouldn't confirm those details — a spokesperson only told WFAA it would know more about the circumstances of the workout once the investigation was completed.
However, Brady Luff, a junior captain of the varsity team, told WFAA last week that the team often does sets of 16 push-ups to signify the number of games it takes in Texas to win a state title.
"Our motto, it's the number 16. Sixteen ball games to win a championship. We do these workouts and it's all about discipline. If we get them right, we move on. If not, we do 16 push-ups," the junior said.
Okojie and Avila also told WFAA their sons were interviewed by CPS while they were in the hospital.
They also said they were made aware that at least 15 students required medical attention and or hospitalization.
A spokesperson for Rockwall ISD also wouldn't confirm those details due to student privacy.
Harrell has yet to respond to a request for his side of the story.
'This could have been avoided'
Dr. Okojie is a local family physician and said that she notified the school that her son was experiencing symptoms of rhabdo last Monday.
"He was unable to lift his arms and his urine was a brown color," Dr. Okojie said.
"I immediately knew those were signs and symptoms. It's a very serious condition. It can lead to cardiac complications, kidney failure, and even dialysis. I was concerned that other athletes might not even recognize what's happening to them."
Dr. Okojie told WFAA that she urged the district to notify parents about the seriousness of rhabdo and its symptoms.
"I was appalled and absolutely disappointed that this occurred to my child," Okojie said.
Avila only speaks Spanish but told WFAA via her daughter Diana that her son went to the hospital after receiving the letter.
"Her son came home Friday from school with a lot of soreness. He was walking very stiffly and he could barely move his arms. He told my mother that he did almost 400 push-ups. She didn't know about the consequences until looking into it," Diana Avila said.
"She said that they're just kids and they shouldn't have to go through this. This is something that shouldn't have happened."
Okojie said that her son received robust hydration as treatment and that his CK levels (creatine kinase) were at 139,000.
"The normal is zero. There are long-term effects that we still don't know about when it comes to his condition," Okojie said.
Okojie said that she admitted her son to the hospital when he wasn't feeling better last Monday. She said that he didn't leave until almost a week later Sunday night.
Avila said that her son was admitted to the hospital Tuesday morning and was released Saturday morning.
Both mothers say their sons were interviewed by CPS and that they were informed they weren't alone.
"All of our kids, I believe, were interviewed by CPS as a standard. Anytime there's an injury that occurs to a child in that setting, you're going to have CPS get involved. From our understanding, it's anywhere from 15 to 19 children who needed medical attention," Okojie said.
Again, the district wouldn't confirm that number due to student privacy.
"This didn't fall out of the sky. Rhabdo doesn't fall out of the sky. This could have been avoided," Okojie said.
'His intent wasn't to harm our kids'
Okojie said that Coach John Harrell did call her when her son was admitted to the hospital.
"He said he was trying to educate himself on this. He said he was not aware of what rhabdo was or how severe it was," Okojie said.
Harrell hasn't provided any comment or validation to that conversation, yet.
WFAA has gone to his house, left a card and is waiting for a response.
Yet, Okojie did stand up for the coach at one point saying she didn't think he maliciously tried to hurt the children.
"I told him this was excessive. That it was a lot. But I don't think his intent was to harm our kids," Okojie said.
"However, I do think we have to still educate our coaches."
Okojie also said Harrell is receiving the brunt of the blame while there were other coaches at the workout who should be under review as well.
Avila echoed that sentiment.
"She has a large frustration about how people aren't taking this seriously," Diana Avila said.
"It's the responsibility of the coaches to understand the importance of making sure that these kids are protected while they do whatever it is that they're doing."
Okojie also mentioned to WFAA that she was concerned about the lack of water breaks during the workout and ongoing punishment for not doing things correctly.
'These kids should not be blamed'
One of the bigger reasons Okojie and Avila even spoke to WFAA is to set the record straight: their children are not wimps or soft.
Following the publishing of this story by WFAA, the internet did what the internet always does…
Keyboard warriors emerged from all sorts of hiding places and insulted the character of the teens that were receiving medical attention or hospitalized, including Okojie and Avila's sons.
Coach Jason Brown, best known as the former head coach of Independence Community College featured in the former Netflix series 'Last Chance U', even retweeted one of my tweets regarding this story and eloquently told his 154K followers:
"Man we are the softest f**kin country in the world you gotta be s**ttin me I feel your pain coaches out there!!"
Many of his followers and those with similar 'shock value' opinions regurgitated his dribble on my Twitter timeline.
I received notifications for days from people who constantly called these injured kids 'babies.'
Okojie and Avila said their sons read a lot of those responses while in their hospital rooms receiving care.
Some even accused them of taking supplements or being addicted to illicit drugs.
For the record, Okojie and Avila told WFAA their children don't drink, smoke or take any supplements.
"These kids should not be blamed," Okojie said. "When I read some of these things with my son while he was in the hospital fighting for his life, I felt like we can't let that stand. We have to be able to speak."
Avila said each child that was injured should be able to go back to school with peace of mind.
"She's worried about their mental health and what's going to happen when they go back to school tomorrow," Diana Avila said.
"It's unheard of to think that it's my kid's fault that he ended up in the hospital with a condition that could have been avoided… period," Okojie said.